Last week I began a three-part series for which I invited all current and former members of The Anxious Bench to help me tell the ten-year story of this blog. We started with our origins in the early days of Patheos, when Evangelical Portal manager Tim Dalrymple asked Patheos columnists Thomas Kidd and John Fea to organize a group blog about the "relevance of religious history for today." Philip Jenkins and John Turner joined right away in May 2012, followed a few months later by Agnes and Tal Howard. After Fea left in early 2013, the blog added two more American religious historians: Miles Mullin and David Swartz.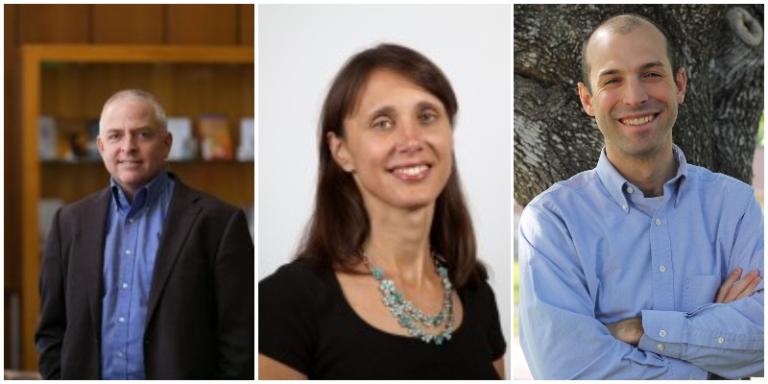 As we pick up the story in the fall of 2015, the first in a series of contributor changes starts to shift the focus and themes of The Anxious Bench.
(Editorial note: at this point, I find myself in the awkward position of being both historian and eyewitness/participant. So at the risk of this sounding too contrived… I did write answers to the questions I'd posed to other contributors and weaved some of my responses into this oral history, while I scaled back the amount of narration I added.)
Miles Mullin: I wrote for Anxious Bench for a couple years, but time constraints dictated that I step away when I took a position as a college administrator [at Hannibal-LaGrange University] for a time.
Beth Allison Barr: It was late summer 2015 when Tommy Kidd came to my office and asked me if I would consider joining the group blog. I was one year past tenure at Baylor and feeling more relaxed about my time. I also had written a guest post for him the year before that had been a lot of fun. So I said yes. My first blog post [in October 2015] tackled Donald Trump from a medieval perspective and my second, "Halloween is More Christian Than Pagan," ended up the next year in the Washington Post.
But the number of Baylor professors on the "bench" went back from three to two in May 2016, when Anxious Bench co-founder Thomas Kidd stepped down in order to launch Evangelical History, a Gospel Coalition blog he still shares with Crossway executive Justin Taylor.
BAB: Tommy ended up leaving the year after I joined when he was asked to write for The Gospel Coalition. I was so thankful when Chris Gehrz agreed to step in as our new blogmeister, since Tommy had filled that role for several years.
John Turner: When Tommy left behind his position as blogmeister, he asked me to take over in that capacity. In one of the few wise moves in my career, I realized that I didn't have the vision to take on that role. So I am pretty certain it was my idea to offer the position to Chris Gehrz.
Chris Gehrz: Having been a fan of Anxious Bench for years, you could have knocked me over with a feather when John Turner emailed me out of the blue in June 2016. I mean, I'd been blogging on my own for five years and knew I could bring a more eclectic set of interests to the AB mix. But I'm not really a religious historian by training, and I felt intimidated to blog alongside such well-published scholars — at that point my only two books were edited volumes — let alone to act as anything like their editor.
MM: When I found out that Tommy was stepping down and that Chris Gehrz would be the new editor, I thought to myself, "The blog is in great hands."
CG: I agreed to do it. But apart from arranging collaborations here and there, suggesting a topic or recruiting a guest writer every so often, then offering some perspective in year-end wrap-ups, I've always tried to keep a light editorial hand.
Daniel K. Williams: The Anxious Bench editor has given me the freedom to write on any topic that I'd like, with no editorial control. I don't have this same level of freedom with any other publication venue, and I very much appreciate it.
CG: In any event, I think the summer of 2016 ended up being a turning point for The Anxious Bench less because of my arrival than Kristin Du Mez's.
Kristin Du Mez: Beth Allison Barr recruited me back in 2016. I knew most of the bloggers and had written a couple of guest posts before joining.
BAB: I had been writing for a year and was one of only two women at the time. I had discovered that my posts on women and gender often got my largest audiences, so I naturally thought that Kristin's work would be a great addition. I also loved her first book, A New Gospel for Women, and thought her writing style was perfect for a blog. She turned me down at first because she didn't think she had enough time. I asked her to think about it because, from my experience (and this is what I told her), "writing more helps you write more." Obviously I convinced her. 🙂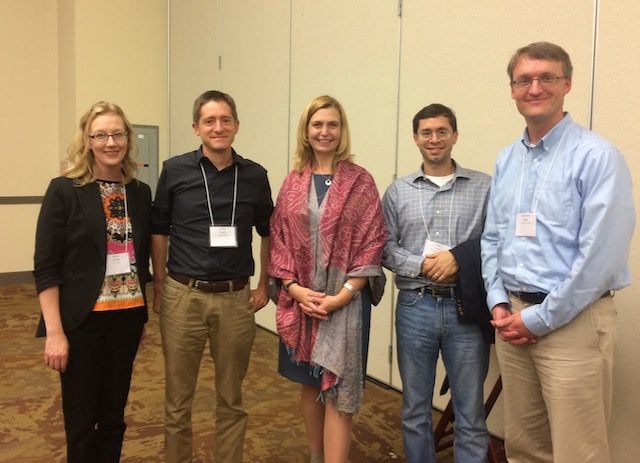 Joining at the same time as another former Notre Dame PhD, Tim Gloege, Du Mez helped steer The Anxious Bench in new directions. The author of a well-received biography of Katharine Bushnell, Du Mez joined Barr in adding more posts on the role of women within Christianity and its relationship with feminism.
John Fea: The blog began with a few male evangelical historians and has blossomed into a blog that better represents all the folks working in religious history today.
BAB: The Anxious Bench has moved from mostly focusing on modern and U.S. history (Philip Jenkins has always been the exception) to being a much more diverse blog, both in terms of subject matter and our bloggers. I love how much we focus on women's history, too.
Philip Jenkins: Our contributors are now dealing with very contemporary issues, rather than history as we normally think of it. That relates partly, if not necessarily, to the demographic shift, with significantly more women. (Any number greater than zero is a significant increase, right?)
KDM: I'm very proud to have recruited Melissa May Borja to The Anxious Bench [in July 2018]. We'd met at a conference at Harvard Divinity School and I began following her work from that point on. Since most of us were writing primarily on white Christianity, I knew she would bring a much-needed expansion of the topics we'd cover. I was not wrong, and I always love seeing "the relevance of religious history for today" through her eyes and expertise.
Andrea L. Turpin: Chris reached out in 2017, but I had just started contributing to the now-defunct Religion in American History group blog and knew myself well enough to know that I could not juggle both. A couple years later, as that blog was wrapping up, Beth reached out to me to see if now I might be interested in joining the team at AB. I'm so glad she did and that I said yes!
BAB: I had accepted a position as Associate Dean in the Baylor Graduate School and needed to reduce my twice-a-month writing to once-a-month. I asked Andrea to share the Wednesday space with me and David Swartz. I had worked with Andrea at Baylor since 2011 and knew she had both the research interests and skill in writing to be a successful blogger.
PJ: That [greater gender diversity] has been a great improvement in many ways, not least because Beth Barr and Kristin Kobes Du Mez have produced some of our most popular and widely read columns of recent years, by far.
CG: As I went on sabbatical in fall 2016, I remember being excited to learn that Kristin was going to write a biography of Hillary Clinton. But then the election that November went the other direction, and I wondered if she might want to do something to follow up on her wildly popular post about Donald Trump's speech patterns.
KDM: That one went viral and resulted in countless media requests to comment on Trump's distinctive linguistic style. But I think my favorite one to write — the one that pretty much wrote itself — was my response to John MacArthur telling Beth Moore to "Go home": "Hey, John MacArthur. You have a culture. It's called white (Christian) patriarchy." It's a post that ties together my first book with Jesus and John Wayne, and it was written in a tone that very intentionally refuses to show deference to powerful men who are not accustomed to being called out in this way, perhaps especially by a woman.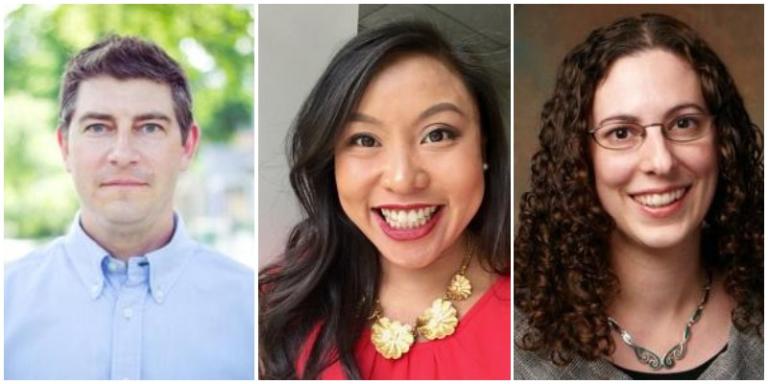 Tim Gloege left after six months, in December 2016, staying long enough to complete an influential seven-part series on "corporate evangelicalism." It was an early example of how AB contributors participated in the revision of evangelical historiography, even as the blog itself started to range farther beyond the history of evangelicalism.
PJ: This began as a blog about religious history from an evangelical perspective, with a strong focus on U.S. history. Hmm, things have changed…
JF: With the decline of Paul Harvey's Religion in American History blog, The Anxious Bench, though not as ecumenical, has really picked up the conversation.
DKW: Over the past decade AB has become less focused on American evangelical history and more diverse in its coverage. It's also moved toward a stronger focus on issues of social justice and especially of gender equity within the church.  Those changes reflect trends in the CFH [Conference on Faith and History, the leading professional society for Christian historians] and the larger world of Christian academia, so they're not unique to AB.
PJ: I am a bit puzzled by the evangelical thing, which was never me anyway, but it is not a particularly strong imprint on the blog these days.
CG: At one point in 2017 or 2018, we had to ask ourselves whether Anxious Bench remained a good fit for Patheos Evangelical. Whether because of evangelical support for Trump or older problems like those Beth and Kristin discuss in their bestselling books, several of us were wrestling with our relationship to evangelicalism. In the end, while not all of our contributors are personally connected to that movement, most teach at Christian colleges and universities, and we're still writing often about evangelicalism for a mostly evangelical readership.
The Anxious Bench reached its present lineup in 2020-2022, as two long-serving members decided to leave and another academic couple joined up.
DKW: I started writing for The Anxious Bench in the summer of 2020, shortly after George Floyd's death led to a new interest among many white evangelical Christians in racial justice.  I shared that interest myself.  My research on current political issues and my own personal reflections between 2018 and 2020 had led me to a deeper understanding of the centrality of racial injustice in the history of the United States in general and American white Christianity in particular, and I wanted to write about those issues in a way that would be helpful to white, theologically conservative, Protestant Christians. I therefore wrote a piece titled, "Why Do Americans Find It Easier to Denounce Abortion Than Racial Injustice? Maybe It's Christian Nationalism," and sent it to The Gospel Coalition, where I had published a couple pieces before.  When TGC decided not to accept it, I began looking for another outlet to publish this article.
ALT: I sort of helped Dan join the Bench. I was one of the writers to whom he reached out to see if we might be interested in him joining. I thought he'd make a great addition because his perspective on American religion and politics evinces such grace, precision, and nuance. I'm so glad he came on board!
Nadya Williams: I am here because of sheer nepotism 🙂  I'm married to Dan, so when I had a couple of ideas for blog posts, he ran them as guest posts [in summer 2021]. They were well received, so he recommended that I join The Anxious Bench as a regular, and I have been so grateful for this opportunity. Long before either Dan or I joined, I have been reading AB on a regular basis, so at the risk of sounding overly cheesy, this has been a wonderful dream come true.
DKW: I know that I'm not a completely dispassionate judge of this matter, but I do think that Nadya's expertise in ancient history and her personal knowledge of modern Russia and Eastern Europe have resulted in some fascinating posts that have extended The Anxious Bench's coverage of some important topics of contemporary concern.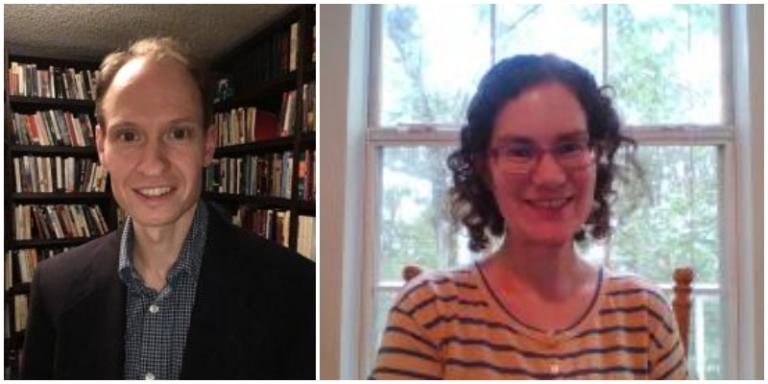 JT: I ran out of steam [in September 2021], especially in the midst of increased administrative responsibilities at my own university. I found myself trying to come up with topics and pieces on Wednesday night. (My posts ran on Thursday.) Blogging should be a joy, at least if one isn't getting rich doing it, not an item on a weekly list that gets harder to get done!
KDM: I left only a few months ago [January 2022], and only because I was having such a hard time keeping up with all of the writing requests coming my way. I did start a Substack newsletter, which gives me an opportunity to weigh in on things in a more informal way, and the advantage to this is that I'm not committed to an inflexible publication schedule. But I love The Anxious Bench and miss being a part of the club!
Next Tuesday, we'll wrap up this series with some closing reflections, including our contributors' favorite posts and what they've learned about writing for the public.