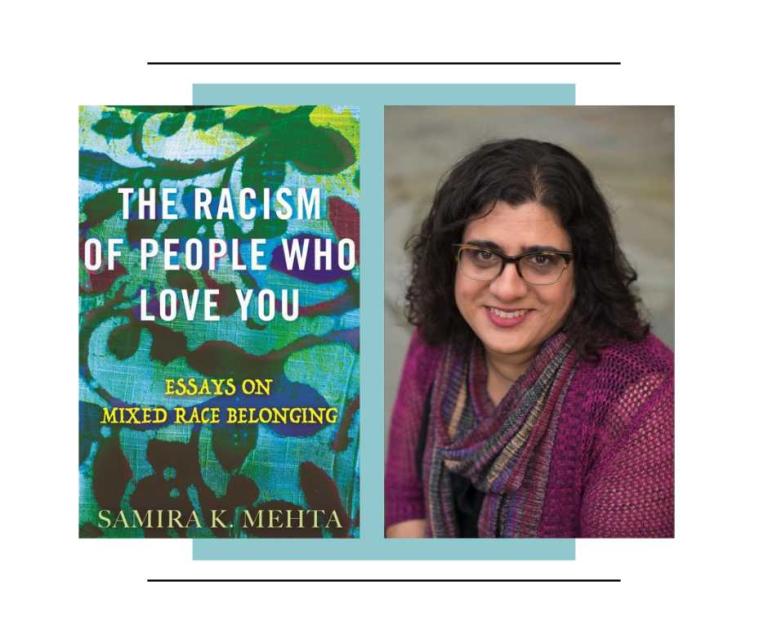 The fastest growing racial demographic group in the US is people who are mixed race. The U.S. Census counted 33.8 million people in 2020, compared to 9 million people in 2010–a 276% increase. How does this group of Americans navigate the complexities of race and religion in the United States? And how does their racial, religious, and cultural position shape their everyday lives?
Samira Mehta explores these questions in her new book, The Racism of the People who Love You: Essays on Mixed Race Belonging, published by Beacon this month. The essay collection has already garnered praise, landing a spot on several recommendation lists, including The Revealer's list of winter reading recommendations and Oprah's list of "Books We Can't Wait to Read in 2023."
In this collection of essays, Mehta explores themes of authenticity and belonging, cultural inheritance, and the day-to-day experiences of moving through the world as a person of mixed racial and religious background. These issues are ones that Mehta is ideally positioned to explore. Mehta is a scholar of American religion at the University of Colorado Boulder, and much of her academic research has considered the unique experiences of people who create lives that span social boundaries. In her first book, Beyond Chrismukkah: The Christian-Jewish Interfaith Family in the United States, she investigates how multiculturalism created opportunities for interfaith families to navigate differences in religious belief, practice, and identity. Mehta is also leading a Luce-funded project about Jews of Color. But while Mehta's expertise as an academic informs her newest book, it is her lived experience growing up as the daughter of a white American and a South Asian immigrant that brings nuance and sensitivity to her reflections on mixed race belonging.
I had the good fortune of discussing The Racism of the People who Love You with Mehta earlier this month. Here are highlights from our conversation, lightly edited for clarity and conciseness.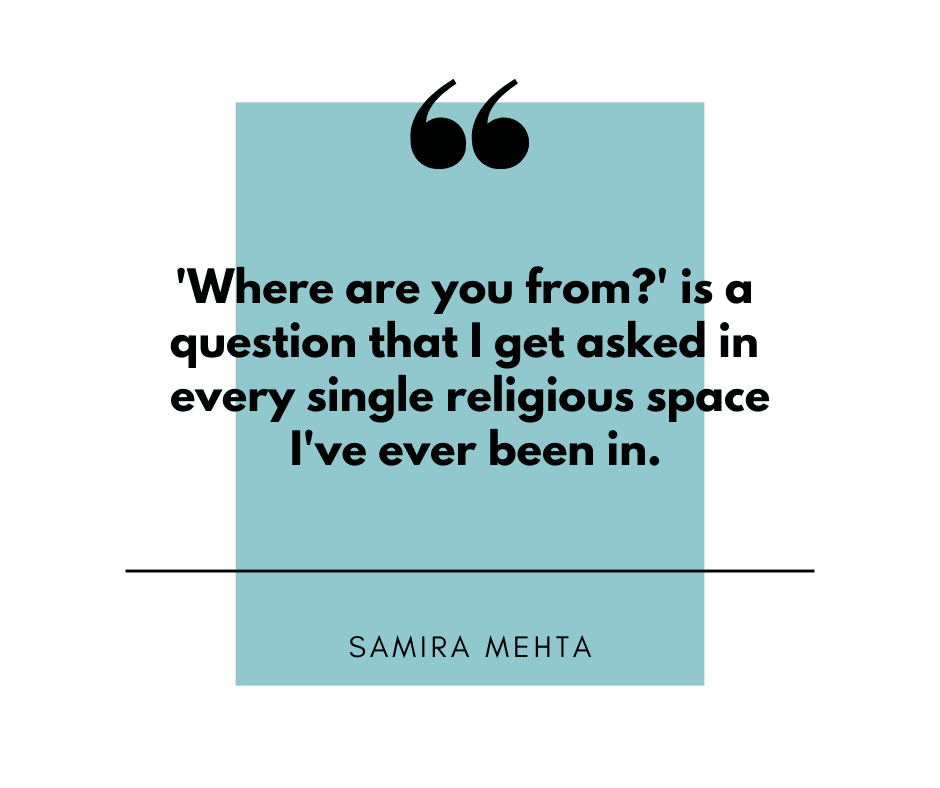 Melissa Borja: Religious communities are in the category of people who love you, and who, in turn, enact racism. How have you experienced racism in religious spaces?
Samira Mehta: I grew up in and continue to exist in primarily liberal religious spaces as a Unitarian and now [as a Jew] in progressive Jewish communities of varying sort of affiliations. I think that there's a lot of racism in those spaces because they're predominantly white spaces. There's unconscious bias. There's a lot of exoticization of Asians, right? These are communities that really value their yoga and their meditation, and they have a vision of, for instance, Hinduism and Buddhism as purer somehow than what they are. They can get very sort of affronted when your version of those religions from your familial context disrupts their idea of those spaces as somehow pure, and so they'll want to shut you down. I've had Hinduism whitesplained to me many, many times…
'Where are you from?' is a question that I get asked in every single religious space I've ever been in. And I don't mind that question at all. It's totally fine for people to ask me where I'm from. The problem is when they don't think that the answer of New Haven, Connecticut, is acceptable. Because they're such liberal communities, it's really hard to talk to them about it because their liberalism or maybe even their progressivism is so braided into their identity. They want you to understand that they're not being racist when they decline your answer of your personal biography. It becomes an identity question for them, so it can be really hard to work through it.
MB: One thing that's interesting about your position is you are the child of a religiously and racially mixed marriage. If you are in between groups and if you have partial pieces of a culture, how do you navigate some of the complicated aspects of each group?
SM: When my good progressive Unitarian and Jewish communities are screwing up, I am now pretty good at calling that [out] and anticipating it. But that is a really hard thing, right? That came from screwing up a lot. I don't think I've ever participated in really vitriolic anti-Black racism, but I think a lot of pieces of white supremacy culture have actually worked pretty well for me a lot of the time, and so I am prone to replicate them…
I think it's harder and more complicated for me to think about and see how those things play out on the Indian side of things…I really understand my mother's culture. I don't understand a lot of my father's culture. So, at some point, as I write about in the book, I had a fight with my aunt about moving spoons from vegetarian food [to] non-vegetarian food, and my mother explained that all of my impulses about how to be vegetarian are tied to Hinduism…So if you ask me why I'm vegetarian, you'll hear about animal rights, you'll hear about humanitarianism…but my mom was explaining that [my vegetarianism] has to do with how vegetarianism works in India…
I grew up in a community in which caste was never discussed, so I didn't think about caste. Caste was not relevant to my experience of Indianness. And I realized later, in my forties, that I didn't know whether that was because these people, like my father, would posit himself to be post-caste. [For] my father, his caste does not fit with his politics, so I didn't know. Like, is it because this is an entirely post-caste community? We got rid of that when we came to America–that's the narrative my father would have wanted…But basically everyone we ever hung out with were in the top two castes: the priestly caste and the warrior caste. You didn't have to think about caste because it was a homogeneous community. I don't know anything about caste because I live in this world of total caste privilege. It's like white people not knowing anything about whiteness. Then I find out that the very ways that I go about being vegetarian are implicated. Not just are they reflective of my caste identity, but they are an actual tool in India used by the upper castes to beat up on the lower castes. So, to me, I don't know what to do with that.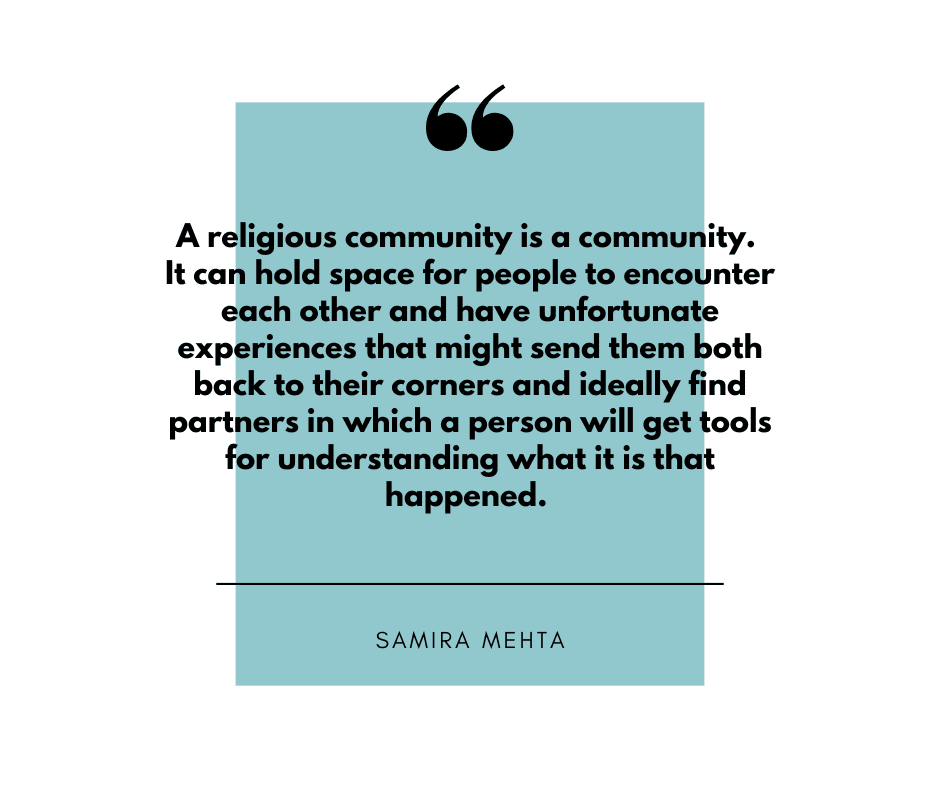 MB: I wonder if you could tell us a little bit about how religion can intervene in the problem of racism and if you think that religion can be a resource for people. Can religion be a positive force for addressing racism or the opposite? Do you see religion as intensifying racism and maybe hindering efforts to address it?
SM: Religion is a tool. It's not inherently good or bad. It's a tool for grappling with and understanding the world. You can use a hammer to build a house, which is a good thing that gives people structure, and you can also use a hammer to smash a house to smithereens and take away somebody's shelter. The hammer itself is sort of a neutral thing. I think religion is like that. I think that, at its best, there are many religions that really pursue a social justice goal, and combating racism and sexism and homophobia and all of those things are part of a social justice agenda. Religion provides communities of accountability for thinking about and struggling with those things…
[In a classroom setting] we talk about a 'brave space,' which is sort of a corrective to the concept of safe space. If a safe space is a place in which students will feel safe and comfortable and not experience triggers, a brave space is a space where students are challenged and deal with hard and stressful things. But the classroom community is a space of trust, and rules of engagement make it possible to have those hard and potentially threatening conversations or topics of study. I think at its best, a religious community can provide those things. It can give you a place where the assumption is nobody is perfect, and there's nothing fundamentally wrong with you or broken about you if you are not perfect, but together we might work in a supportive environment on those places where we all need to grow…
A religious community is a community. It can hold space for people to encounter each other and have unfortunate experiences that might send them both back to their corners and ideally find partners in which a person will get tools for understanding what it is that happened. The person with the power position and the person of color or the woman or the queer person will potentially have a community to support them through what was done. That's at its best…
I was teaching about reproductive justice at a synagogue recently, and the entire concept of reproductive justice is that reproductive rights is a movement led and originated by white women that focus on the concerns of white women, which usually focus on on sort of the ability and the right to not get pregnant or to not be pregnant. And while women of color want those rights as well and care about those rights and have unintended pregnancies and need access to abortion, they are also really looking for the right to good prenatal care. Black women die four times more frequently in childbirth than white women, right? They're looking for a broader collection of reproductive rights than white women, so they came up with the reproductive justice movement. I'm talking about this in a room largely full of white Jews, and they were like, 'Are you really saying that like we're somehow wrong? Why are you making these divisions? Why are you splitting us up when we could be one unified movement?' And of course, for the women of color, it never felt like one unified movement. It felt like, 'You can be part of our movement, but not if you bring your full self and all of your concerns to the table.' The argument is that reproductive justice is so big because it's trying to combat systemic racism. It worries about incarceration that takes parents away from kids. It worries about the foster care system. It worries about the lead in the water in Flint. It worries about all of these things.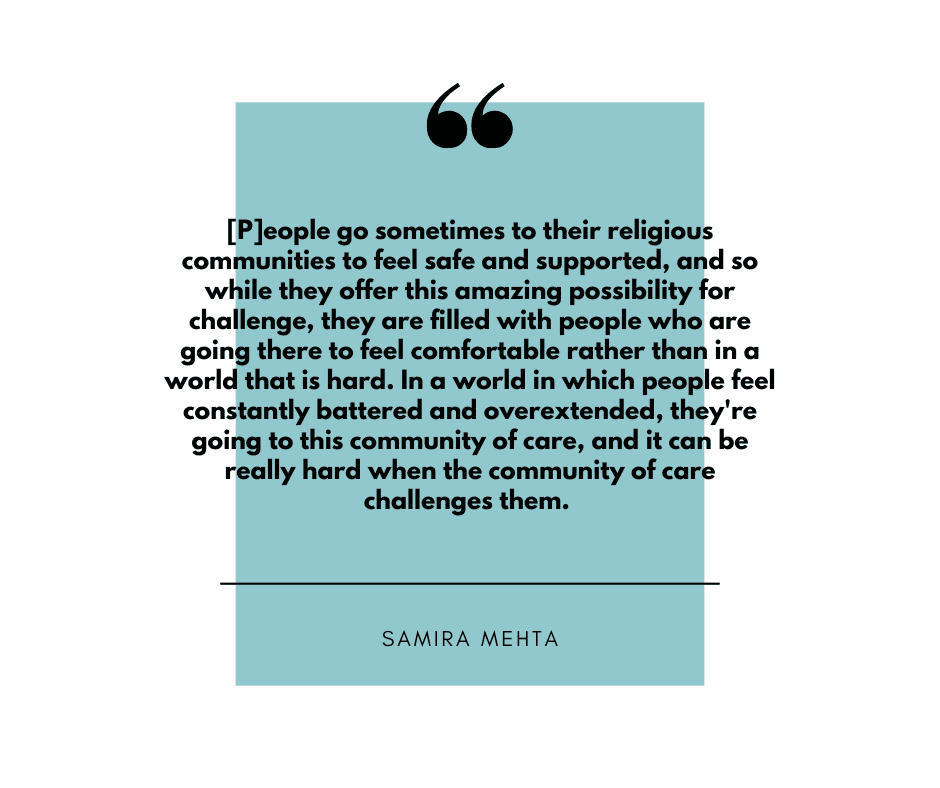 People were getting defensive. And what does a religious community have? They have clergy. So the white woman rabbi said, 'Allow me to offer you some framing about how I think it's important to receive this as a white woman.' And she said, 'You know, when I go out there and fight for my rights, which of course I'm going to do right now, I want to make sure that I'm not fighting for my rights at the expense of other people. So if I'm talking about this in language that suggests that I have these rights because I'm middle-class and educated and professional, I may be making rights harder to access for somebody who needs social supports that I don't need, right? I need to remind people that this isn't just about the right to not have children, but also about the right to have and parent your children. I need to remember that my rights can't come at the expense of other people and that there might be people whose rights I'm forgetting I don't know need fighting for.' And she did a beautiful job of that. And why did she do a beautiful job of that? Because part of her training as clergy is helping people deal with and address uncomfortable things in a way that isn't part of my skill set in quite the same way as a professor. I think that's something else religion can offer. I think that that's religion when it's going really well…
I think also people go sometimes to their religious communities to feel safe and supported, and so while they offer this amazing possibility for challenge, they are filled with people who are going there to feel comfortable rather than in a world that is hard. In a world in which people feel constantly battered and overextended, they're going to this community of care, and it can be really hard when the community of care challenges them. If you, like I, exist in liberal religious spaces, you're really hitting at people's identity issues when you challenge them for their microaggressions.