The stories of Christian heroes have long inspired Christian children, including my own. Saint stories are wonderful for teaching little ones about faith during a historical time period, about what it feels like to be a Christian during religious persecution, or how you can live out your faith if your parents are not Christian, or how to face martyrdom joyfully, knowing you will enter the Beatific Vision.
There are so many wonderful resources available to teach our children about Christian heroes and how their context affects their story – books, podcasts, radio theater, audio books, songs, cartoons, etc. – that I didn't think there was need for anything new.
I've changed my mind.
Modern parents now have another option for teaching their children about heroes in faith, a new show out on formed.org, a Catholic streaming service, called Littlest Saints, a show for kids starring kids. My daughter, Rosario, is one of them.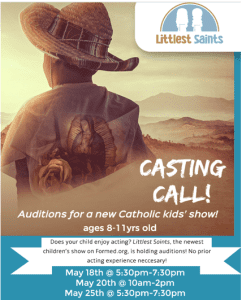 Despite living in Los Angeles surrounded by neighbors in "the industry," my husband and I have never been tempted to involve our children in acting. We changed our minds, however, when my Catholic homeschooling group forwarded a casting call for Littlest Saints. Curious, my children and I watched the trailer for the episode about San Juan Diego, and groaned when we saw the character had a painted-on black beard. Native peoples don't grow facial hair, my children nearly shouted. That's what comes of having a historian Mama who studies colonial Mexican native people and is writing a children's book about San Juan Diego. The trailer intrigued me though, because it gave the impression that a group of kids had gotten together and started acting out the story in a way that made sense to them. Because my children really wanted to try out, my husband and I decided to make the long trek down to the audition just for the experience, never dreaming that our daughter would be cast in the show as the cantankerous Carmelite in an episode about St. Therese the Little Flower, due out next week on formed.org.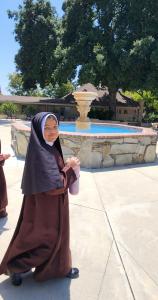 9-year-old Rosario in her miniature Carmelite habit on set at El Carmelo Retreat House
Rosario and I had a wonderful experience on location at a beautiful Carmelite retreat house in Redlands, CA as she helped recreate Therese of Lisieux's life. A nineteenth-century cloistered French Carmelite, Therese led an outwardly unremarkable existence, yet has been recognized for living an ordinary life filled with virtue by following a doctrine she dubbed "the Little Way," embracing spiritual childhood and doing the simplest task for the love of God. "I prefer the monotony of obscure sacrifice to all ecstasies," she wrote. "To pick up a pin for love can convert a soul." She spent her final days quietly suffering from tuberculosis, dying in 1897 at age 24, was canonized in 1925, and was named a Doctor of the Church in 1997; her spiritual autobiography, Story of a Soul, has popularized her Little Way.
Six girls between the ages of 8 and 11 acted in the Therese episode and most of them, like Rosario, had no prior acting experience. The Littlest Saints team – led by Catholic homeschooling couple, Nate and Marianne Broguiere – made the girls so comfortable and the experience so much fun that Rosario felt like she was playing a game with new friends, not working. The girls donned miniature, historically-accurate Carmelite habits akin to those worn by Therese and her community, including a brown scapular, tunic, black veil, and a real wimple. The result was precious, and at times comedic.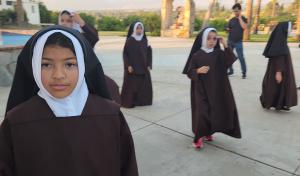 The cantankerous Carmelite and her sisters in Christ on set at El Carmelo Retreat House
Intrigued by the stylized storytelling that casts only child actors and uses voiceovers rather than capturing speech, and curious about the inspiration for the show and how it's meant to appeal to modern audiences, I followed up with co-producer Marianne Broguiere after filming wrapped.
It turns out my instinct about the Juan Diego trailer was right – Littlest Saints is meant to feel like a child's world using props and costumes that they chose, like it's a show made by little kids for little kids. It's brilliant!
The goal of Littlest Saints is to show children that being saints is within their reach. As Marianne pointed out, it's easy to become discouraged, because "how can the grain of sand become a saint when compared to the great mountains in the clouds?" For Marianne and her husband Nate, who serves as screenwriter, director, and co-producer, St. Therese holds the key. Her ordinary life and Little Way make it possible for anyone to reach the heights of sanctity.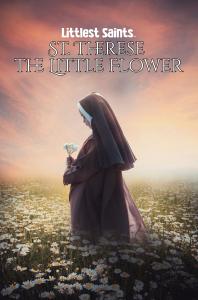 Promotional poster for the Therese episode scheduled to drop next week on formed.org
Inspired by their own children's enjoyment of silent film, Nate and Marianne decided to forgo memorized lines, depending instead on action and facial closeups for storytelling. Using voiceovers allowed filming to take place with less rehearsal, less time, and less takes, and lends itself well for dubbing in other languages, broadening its reach to a global audience. Not recording sound also made it more fun for the actors, who could say whatever they wanted in scene to get the right reaction from each other. It certainly worked for Rosario when she worked closely with the girl who played Therese, especially in one memorable scene where Therese pushes the cantankerous Carmelite in a wheelchair as she shouts insults over her shoulder at the saint.
The uniqueness of Littlest Saints is in its accessibility – children see children on screen and imagine themselves as those saints. "Imaginative play is such a significant part of child development," Marianne reminded me. Recognizing that children love dressing up in superhero capes or princess dresses, she wonders what it might be like if children pretended to be saints and donned a monk's habit or nun costume. "That's really the hope for the show," she said.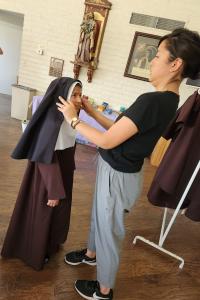 Co-producer Marianne Broguiere dressing the cantankerous Carmelite
While the show is not necessarily historically accurate because it's meant to be a put together by kids, for kids, it is a great way to start a conversation with our children about virtue and holiness, and about how to live out our faith in our own historical context. Should we, like St. Benedict, go out and live in a cave to seek the Lord? [There's one in Aliso Viejo, CA, used in the Benedict and Scholastica episode, that strongly resembles Benedict's cave]. Can we, like Therese, do even the simplest tasks for Christ? Would we, like Juan Diego, accept that God might choose us, even as children, to serve as his messenger? Can we be saints?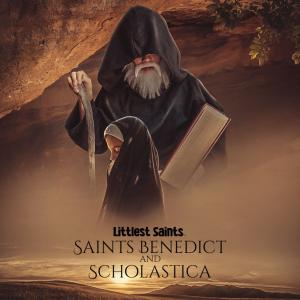 Promotional poster for the Benedict and Scholastica episode that dropped on August 28, 2023 on formed.org
FYI, my full interview with Marianne Broguiere should be published online soon; I'll update the post with a link when it's available.