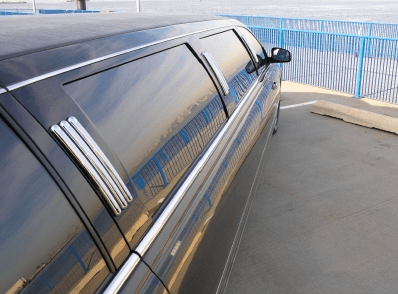 Recently, Tripp and I had to travel and I needed a ride to the airport. Unfortunately, my family was already out of town and I need to arrange for a car service to get me from Wasilla to Anchorage to catch our flight.
Usually they send a SUV or sedan to take us from point A to point B. But this time, they switched it up a little. As I was hauling the bags out of my apartment, with my whiney, tired, three year old on my hip, I looked up and saw a grey stretch limo.
So embarrassing!
There aren't many limos in Alaska to begin with, and people certainly don't use them as glorified taxi cabs!
I had no choice – I had a plane to catch, suitcases to put into the trunk, and a boy to calm down. When we showed up to the airport, I was afraid people might pay extra attention to whoever got out of such a vehicle! And I was right. As we approached our terminal, people definitely noticed the big car. Then, I realized I let Tripp dress himself for the plane ride… He was wearing Nike shorts and Xtra Tuff rain boots.
I'm sure people who were expecting someone glamorous were surprised to see two scrubby kids getting out of the limo!
You might also enjoy:
Connect with me further by: