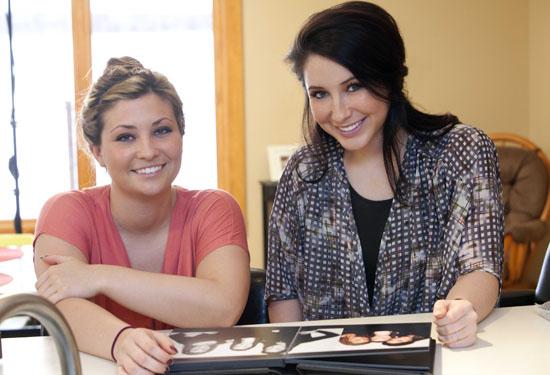 So, it's crazy to see your life unfold on television! Before the premiere of Lifetime's newest show, "Life's a Tripp," I was a little nervous. I'd almost gotten used to the cameras being around back when Mom filmed "Sarah Palin's Alaska," but this was different. This was my life. And honestly, I sometimes don't know what my life will hold. After all, I'm only 21 years old. Where will I end up living? What will I end up doing for a job? What sports will Tripp end up loving? Who will I end up marrying?
I look at my life as one big adventure waiting to happen. And most of that life has happened right here in Wasilla, Alaska. I love my home state. I want to raise Tripp in a true Alaskan-fashion – that means, I want him to know how to bait a hook, to play hockey, to ride snow machines, and to be able to withstand the below-zero weather that sometimes drives "flatlanders" away in the harsh winter months. Alaska is a part of me, just like it's a part of everyone in the Palin family. (In fact, my brother Track even got a tattoo of the Alaska flag before he deployed on his first tour.)
However, if you saw tonight's episode, you saw me make a decision to leave Alaska and head to Los Angeles. It wasn't an easy choice. I love dad, mom, and Piper. Oh, and there's Gino. Some of you might not have realized that I've been dating Gino off and on for several years. As you can see, he wasn't too happy about me packing my bags and heading to California. I think he was worried that I'd find someone in Los Angeles that would sweep me off my feet. After all, everyone there is much more glamorous than what we're used to. What he doesn't realize is that I'm not attracted to men who wear oversized sunglasses and skinny jeans. Please. Give me Carhartts and a flannel anyday.
And so he – reluctantly – gave me his blessing. Mom also encouraged me to go. She wants me to try big things, always with the assurance that I can come back home anytime. Of course, this is hard with a three year old.
That's where my sister Willow comes in. She rolls her eyes more than most people blink their eyes, but she's also my best friend. Well, depending on the day. We are four years apart, so we're sometimes best friends and at other times worst enemies. (You'll see both before this season is through!) When I asked her to leave Wasilla to help me take care of Tripp, she wasn't too excited. After all, she's an Alaska girl through-and-through. When she was a kid, Willow loved hanging out with Dad at Valley Polaris, which sold ATVs, watercrafts, and snowmachines. Mom said Willow was raised there on Dad's hip – that's where she learned mechanic lingo and became a "motor head." I couldn't imagine her living Los Angeles, but sometimes it's good to get out of your comfort zone!
Thankfully, she did decide to go with me. I wouldn't have been able to go without her!
On Monday
At the end of tonight's first episode, you saw at least part of the infamous bar scene, when a man called my mother a whore. On Monday, I'll talk about the next episode (and that scene in particular as well as the immediate aftermath when I called my mom to tell her about it).  Please come back to this blog for the whole scoop on that unfortunate incident.  I'd love to be able to completely explain what happened and why I reacted the way I did.  To make sure you don't miss any updates, please subscribe to my blog here!
You might also enjoy these articles on the Faith and Family Channel:
Connect with me further by: