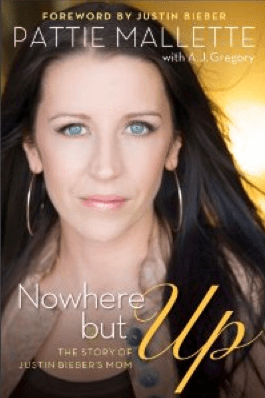 Well, we already knew this about Justin Bieber. Now, we might know why. According to a new book, "Nowhere But Up: The Story of Justin Bieber's Mom," his mother was advised to abort Justin when she got pregnant at 17 years old. Today Entertainment Reports:
By the age of 17, Mallette became pregnant with Justin, and at the time, she was encouraged to abort the baby. Of course, Mallette said that was an option she couldn't consider. "I just knew I couldn't. I just knew I couldn't. I just know I had to keep him," she told Gifford. "And, do the best. I — you know, I didn't know how I was going to do it. But I just knew that I couldn't — I couldn't abort. I had to do my best. I had to see what I could do. And I was determined to do whatever it took."
Now, that's a determined woman, and – as someone who also got pregnant at 17 – it's so inspirational to hear her story! I love hearing stories about people getting back up! It's not about the fall, it's about getting back up, and accepting your circumstances and making the best of them… Actually, one of my family's favorite quotes is, "Buck up or stay in the truck!" So to honor Pattie's strength, let's do a book giveaway! There are two ways to win:
1. Tweet @BristolsBlog and @pattiemallette with the hashtag #NowhereButUpGiveaway to enter to win a copy of Pattie Mallette's new book! (I'll pick a winner randomly on Friday at noon eastern, so stay tuned!)
2. On Facebook, tag me on your own wall with the language "Bristol Palin is giving away Justin Bieber's mom's new book Nowhere But Up!" When you tag me, I'll get an alert and you will be entered to win.
Thank you, Pattie, for telling your story! And let's have fun with this giveaway!
Read more on the Faith and Family Channel, follow me on Facebook and this blog on Twitter!