Elizabeth Scalia writes about the abortion video of the woman I mentioned earlier:
If you let yourself become distracted by what is coming from her mouth, you miss all that is revealed in her face, which tells the whole, and very different story. A month after the abortion — with the dramatic change in hairstyle that so many women effect when emotions are high and they need to feel in control of something — watch Emily, then. The light is gone from her eyes. The seeming disconnect between pc-fed head and instinctive heart is laid out in breathtaking and stark incongruity, even down to the shadows, the blue note, the lack of energy. Devastating. Cognizant of it or not, she is a mother in grief.
Here's what she's talking about. Though I'm not going to link to her video, here are screen shots of her before and after she aborted her own child: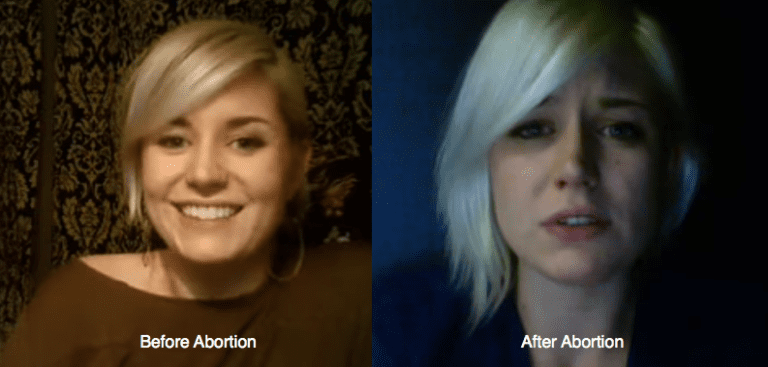 Elizabeth has some insight into this:
What this young woman now knows — what resonates so clearly in her assertion that if her house were afire, she would grab the sonogram of her extinguished baby, and run — is that when she consented to kill her baby, she killed a very real piece of herself.

Even after a woman delivers a baby, or miscarries, or aborts, there remains within her, for the rest of her life, microscopic bits of her child — of each child she has ever conceived. Look up microchimerism and you will understand there is no such thing as "getting rid" of one's baby, only of stopping it's life and disposing of it, while carrying it within one's very blood and sinew, forever.

A body is made of living tissue and living tissue has memory. Pretty it up on video however you like, the insertion of a vacuum into a woman's body and the perpetration a violent, limb-shredding execution within the deep recesses of her womb cannot help but reverberate like dark energy, throughout the woman's body, mind and soul. You want to grab a sonogram of the baby you killed because the living part of that baby, still residing within you, is calling out for more of you, all of you.

What a horrific, nightmarish way to have to live, and she is so young; actuarial tables suggest she will live for a very long time. No wonder she looks so very haunted.
Read more on the Patheos Faith and Family Channel, fan me on Facebook and follow this blog on Twitter!