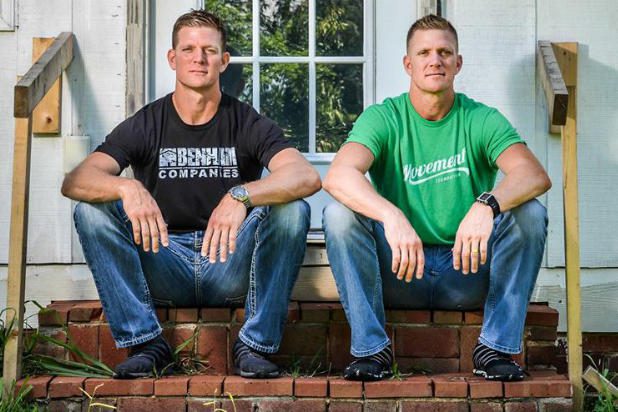 HGTV has canceled a pilot hosted by twin brothers, because they believe in Christianity. Last month, they announced this new "home-flipping" show starring twin brothers David and Jason Benham. Here's how they described it at the time:
"After a decade of flipping houses for profit, brothers David Benham and Jason Benham now help families buy the homes they never thought they could afford. In each episode, the guys help a deserving family find a fixer-upper and transform it into their forever home — with a healthy dose of sibling rivalry between the brothers along the way."
During the same announcement, the channel also said it had picked up Ellen DeGeneres's design competition show.
Then, anti-Christian activists discovered David and Jason believed in traditional Christianity. Of course, their beliefs were described as "anti-homosexuality" and "anti-reproductive rights."
In other words, they believe the same thing about sex and abortion as many Americans. (In fact, remember when Barack Obama spoke out against same sex marriage because it was "against his religious faith?" Too bad HGTV can't cancel his show!)
Here's my question:
Why does everything have to be "anti gay" when they talk about someone who supports traditional marriage? I don't understand it at all… The show was about getting houses for people who deserve them. Gay issues would never come up in the context of the show — so what does it matter that they are Christians?
When we turn on our television, we have shows like "My Five Wives" which show cases polygamy, or "Long Island Medium" which is about a supposed psychic talking to the dead. Not to mention all the shows on MTV/VH1 about high school sex and drug use.
Why is a show with blue collar, Christian men, flipping houses for deserving people is sooooo unacceptable now?
This is completely mind blowing to me.
The message that HGTV is sending is obvious: people with normal Christian views, sit down and shut up.
I'm so disappointed in their decision, I'll no longer be watching and supporting HGTV – the only channel I watched religiously.
Oops! I said "religious." Guess they didn't want me to tune in anyway.
Read more on the Patheos Faith and Family Channel, fan me on Facebook and follow this blog on Twitter!