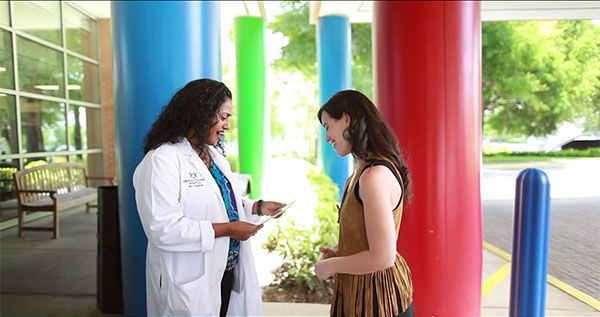 Gratitude is a powerful thing.
Ten years ago, Kellie Haddock and her husband AJ, along with their 3-month-old boy Eli, were in a horrific car accident. Suddenly all Kellie's dreams for her new family were shattered.
Her husband AJ was killed on impact. Kellie wasn't seriously injured, but baby Eli suffered a traumatic brain injury. Mom and son were airflighted to the hospital. So many different EMTs, nurses and doctors fought to save Eli's life.
Kellie was told he probably wouldn't survive, but less than a week later, she took her son home.
Kellie had to care for him through a long recovery, while she grieved her husband and adjusted to suddenly being a single mom. As her heart healed, she started to think about all the people who had helped save her son's life. She wished there was a way to thank them. She wanted to tell them the rest of the story — "how Eli survived and has defied the odds ever since. Not only did he live, but he is walking, talking and showing emotion – the very things we were told he would probably never do."
When Kellie married again, she talked with her husband Ted about how they could do that. Out of the blue, they met someone after a prayer meeting who made videos for Arnold Palmer Hospital for Children — the same place Eli was taken after the accident. They wanted to help Kellie with her "Thank You Project" and record it all for a documentary!
So that's just what they did. They tracked down as many people as they could who had helped Eli along the way, from the scene of the accident to the air-flight team to the doctors and nurses in the hospital. Kellie surprised each of them and told them what a big part they were in saving her son's life and how grateful she was.
Then she invited each of them to a special dinner and concert in their honor, where Eli's whole extended family could thank them.
The medical workers were so touched. Many of them said no one had ever come back and thanked them for their work.
On her website, Kellie says she appreciates people who work in the medical field even more after personally meeting so many:
I began imagining what it must feel like to do this kind of work. These medical professionals interact with trauma so they see people at their worst and families at their saddest darkest moments. If they do their job well, the patient moves on to the next person on the team, and the next as they gradually get better and move up the hospital floors until eventually being discharged. The trauma doctor or nurse is out of the picture by then, caring for their next touch-and-go patient. What a special person it takes to do a job like this!

I felt like I was standing before greatness.
Here, watch the video that was made of her Thank You Project and see if you can keep from tearing up:
Kellie told Today News, "We don't get to choose tragedy but we can choose how we respond to tragedy. I did not want to let that tragedy rob Eli and I of life." Kellie chose to trust God all the way and let Him heal Eli and heal her own heart. And now her story is impacting people in amazing ways!
She is a singer and songwriter too, and her latest album, Leave the Lights On, is another way Kellie is reaching out to people who are hurting.
What about you — Do you know any heroes? Who do you want to thank?
Read more on the Patheos Faith and Family Channel, fan me on Facebook and follow this blog on Twitter!