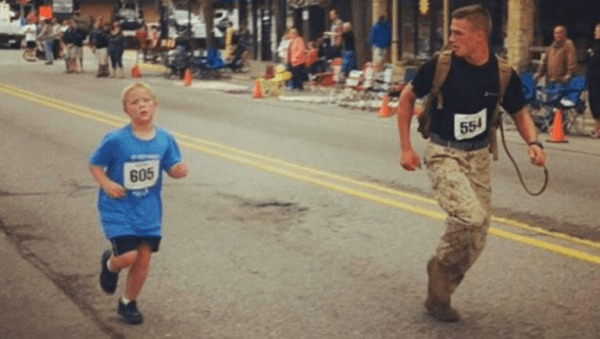 Lance Cpl. Myles Kerr was running a 5k road race with his Marine friends when he heard a little voice: "Sir, will you please run with me?"
Even though he was in a competition, he couldn't say no. He dropped back from his friends and ran the rest of the race with 9-year-old Boden Fuchs. He cheered him on when he was tired and made sure he finished that race!
Kerr's friends didn't know what happened to him. They finished several minutes ahead, and had just started back to look for Kerr when he rounded the corner with the boy. He even let Boden beat him by 5 seconds.
A picture of the two of them running together went viral when it was shared by Seal of Honor on Facebook. Kerr
responded humbly
to all the attention. He tweeted, "I was just doing what any man would do, but thank you!"
One commenter said, "the true measure of a man is what he does for those who can do nothing for him." Another example of the true heroes our military are, on and off duty.
Read more on the Patheos Faith and Family Channel, fan me on Facebook and follow this blog on Twitter!