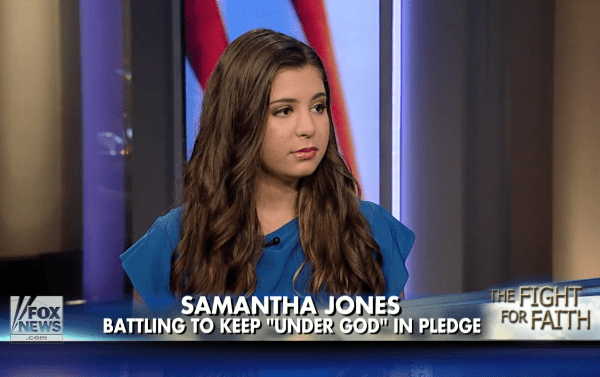 The American Humanist Association wanted a New Jersey school system to leave out the words "one nation under God" when they said the Pledge of Allegiance. One high school senior stood in their way.
Samantha Jones and her family, with the help of the Becket Fund for Religious Liberty, defeated the humanists and defended the Pledge.
After hearing the arguments, a state judge dismissed the humanists' case! Here's how Samantha reacted to the news:
I'm so grateful the court decided that kids like me shouldn't be silenced just because some people object to timeless American values. Ever since I was little, I've recited the Pledge of Allegiance because it sums up the values that make our country great. The phrase 'under God' protects all Americans—including atheists—because it reminds the government that it can't take away basic human rights because it didn't create them.
The Pledge is voluntary in New Jersey. If a student doesn't like it, even just a phrase, they don't have to say it. Samantha told Fox & Friends, "They have the right to remain silent, but they don't have the right to silence everybody else."
In her busy senior year, Samantha decided it was important to stand up for her own rights and the rights of all the other students in her school. And it paid off! Congratulations, Samantha!
Read more on the Patheos Faith and Family Channel, fan me on Facebook and follow this blog on Twitter!