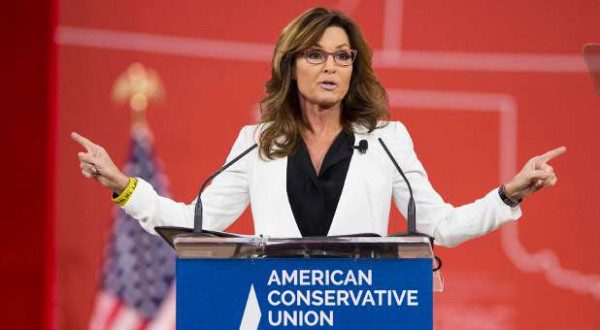 Sometimes when I'm just hanging out with Mom in Wasilla, it's easy to forget how other people perceive her. That's why I was so excited to go to Conservative Political Action Conference (CPAC) with her — it's just fun to see her in action.
The crowds just love her! They hang on her every word. And she always gives her time to talk with people. They know she's one of them.
Mom knocked it out of the park this week at the She talked about how we as a country should take better care of our veterans. This was a very personal speech for her and our family, since Track served in the Army and was deployed to Afghanistan twice.
I don't know anyone who loves our military more than my mom. She honors their service every chance she gets. The quote she shared from George Washington is what she wants too: "With a heart full of love and gratitude… I most devoutly wish that your latter days may be as prosperous and happy as your former ones have been glorious and honorable."
She had the guts to talk about the ways our country is failing our vets. They deserve more for their service than to return to wait for months and years for help from the VA, facing PTSD, unemployment, divorce, and suicide. "Bureaucracy is killing our veterans," she said. A truly grateful nation will do everything in our power to help them.
Watch a full video of her speech and a great introduction by Sergeant Dakota Meyer.
Over at Breitbart, Kevin Scholla summarized:
The overall message from Palin is a call for our veterans to be taken care of. She accurately blamed D.C. bureaucracy for killing our vets. She called out corrupt government and demanded we serve our vets before illegal immigrants. Palin, like those who were standing and clapping for her, believes veterans need to know their brothers and sisters who didn't make it home from the war on terror didn't die in vain… Like the problem solver that she is, Palin didn't just list what we want or need, she mapped out the way to achieve such things. She called for the election of an "honorable commander in chief". She also prescribed real action in the tinderbox that is the Middle East. Palin told onlookers that genocidal thugs can only be stopped by God and the Red, White, and Blue. How true.
Even people who aren't fans of my mom have to admit that "she had fire and passion," and she spoke "with an authority and an emotional impact."
Some have called her speech "un-Sarah-Palin-ish," but this is the mom I've always known and loved. It's the same person she's always been, and that's why the American people continue to love her!
Read more on the Patheos Faith and Family Channel, fan me on Facebook and follow this blog on Twitter!