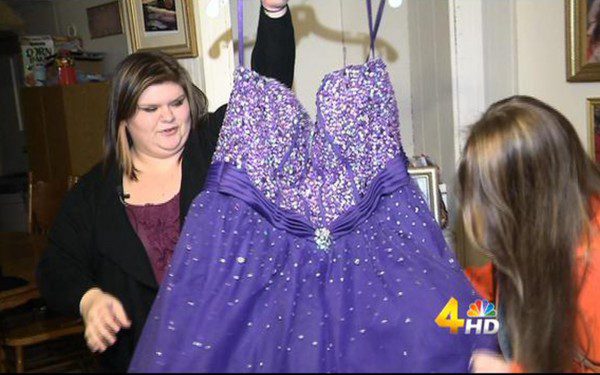 People can be so cruel, especially on the internet. Thankfully, there are other people who will stand up and do the right thing.
Kristen Lane decided to try a really smart idea to get her prom dress this year. She'd sell the dress she wore last year and use the money to buy a new dress for her senior prom. She posted a picture on Facebook of the purple sparkly dress that had made her feel amazing, beautiful, and like a princess, asking $350 for it.
That's where the meanness comes in. Two men went on her Facebook page and started relentlessly attacking her weight and appearance. I know what that's like, so I am super impressed with her response that calmly and politely told them this was not okay: "Can you please stop with the comments? Sorry that I'm not pleasing to your eye."
The bullies didn't stop, but Kristen says she's not concerned with them anymore. Because far more people jumped on her Facebook page and made positive comments to her. They told her she was beautiful inside and out.
And they didn't just comment either. Many people went to her Go Fund Me page and donated toward her dress fund. They sent a very clear message. Now Kristen has over $6000!
And then she gave more proof that she has a heart of gold – instead of selling her dress like she meant to, she gave it to another girl who couldn't afford it. Other people's kindness inspired her to pass it on. And with all that extra money, she bought another friend the prom dress of her dreams.
Kristen found her own dream dress too. But she's waiting until prom night to show all her new supporters a picture of it!
Kristen, I'm proud of your sweet response to all this! Enjoy your senior prom!!
Read more on the Patheos Faith and Family Channel, fan me on Facebook and follow this blog on Twitter!