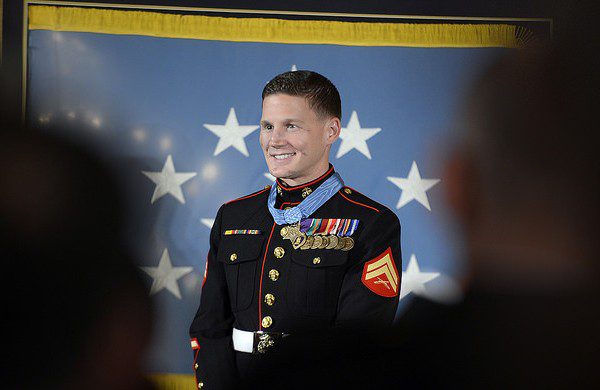 You could say I have a soft spot for Medal of Honor recipients… I'm going to marry one in less than a month (woot!), and today I'd like to share the inspiring story of another – Corporal Kyle Carpenter.
Carpenter was on a roof when a grenade landed between himself and a fellow Marine, who was also his best friend. He put himself between this friend and the grenade and absorbed the blast, saving his life. Humanly speaking, Carpenter really should not be alive – in fact, they thought he was dead when he came to the first hospital.
Kyle Carpenter was interviewed by David Letterman, who read out a list of his injuries. It's unbelievable:
Countless shattered bones — 30 in just one arm. Ruptured eardrums. Fractured skull. A collapsed right lung. He lost most of his jaw. He lost vision in right eye. He flat-lined three times, and the rescue team thought he was dead at the scene.
He spent 3 years in military hospitals and had about 40 surgeries in two and a half years. He not only survived and recovered, but went on to do a Mud Run, the Marine Corps marathon, and skydiving. He's proud of his scars, as he well should be! They show the sacrifice and determination he gave not only to defend our freedom, but basically to come back from the dead.
Carpenter was awarded a Purple Heart, then the Medal of Honor – the highest military honor in our country. He was the eighth living recipient chosen for the high honor from the wars in Afghanistan and Iraq, and the youngest.
His story also reminds me of Noah Galloway, another American soldier injured while protecting our freedom. He lost his left arm and leg, but recovered and went on to do lots of hardcore physical events. He's also competing on Dancing With the Stars this season (whether that's "hardcore" or not, I'll leave up to you!).
Our military men are made of tough stuff! I am so proud of them.
Read more on the Patheos Faith and Family Channel, fan me on Facebook, follow me on Instagram and follow this blog on Twitter!
Photo Credit: Joint Hometown News Service via Flickr.