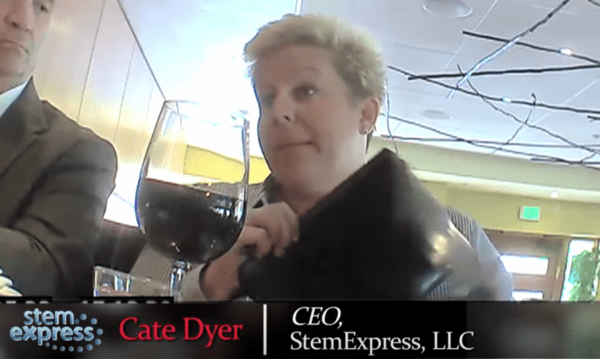 A judge decided to let the public see the rest of the secretly taped Planned Parenthood videos, and — brace yourself — they're as chilling as the others.  You can view the preview of the video below — the full video will be released shortly.  Here's the part that made my blood boil.  Here's a snippet of a conversation about how hard it is to ship severed baby heads.
Yep.
You read that right… And everyone gets a good laugh.
Cate Dyer laughs and jokes about researchers being squeamish about receiving baby parts in the mail:

SE: As you probably know, one of the issues with neural tissue, it's so fragile. It's insanely fragile. And I don't even know — I was gonna say, I know we get requests for neural, it's the hardest thing in the world to ship.
Buyer: You do it as the whole calvarium.
SE: Yeah, that's the easiest way. And we've actually had good success with that.
Buyer: Make sure the eyes are closed!
SE: Yeah! [laughter] Tell the lab it's coming!
Buyer: Yeah.
SE: They'll open the box, go, "Oh God!" [laughter] So yeah, so many of the academic labs cannot fly like that, they're not capable.
Buyer: Why is that? I don't understand that.
SE: It's almost like they don't want to know where it comes from. I can see that. Where they're like, "We need limbs, but no hands and feet need to be attached." And you're like, ? Or they want long bones, and they want you to take it all off, like, make it so that we don't know what it is.
Buyer: Bone the chicken for me and then we'll—
SE: That's it.
Buyer: And then I'll eat it, but.
SE: But we know what it is. I mean, [laughter], but their lab.
Buyer: But then it goes to that whole stigma.
SE: Oh yeah. And their lab techs freak out, and have meltdowns, and so it's just like, yeah. I think, quite frankly, that's why a lot of researchers ultimately, some of them  want to get into other things. They want to look at bone marrow, they want to look at adipose — sort of adult human, kind of adult based sampling. They want to avoid publishing a paper that says it was derived from fetal tissue.
PRO-LIFE? FAN US ON FACEBOOK 
Here's the trailer:

Hat tip Kate O'Hare 
Read more on the Patheos Faith and Family Channel, fan me on Facebook, follow me on Instagram and follow this blog on Twitter!