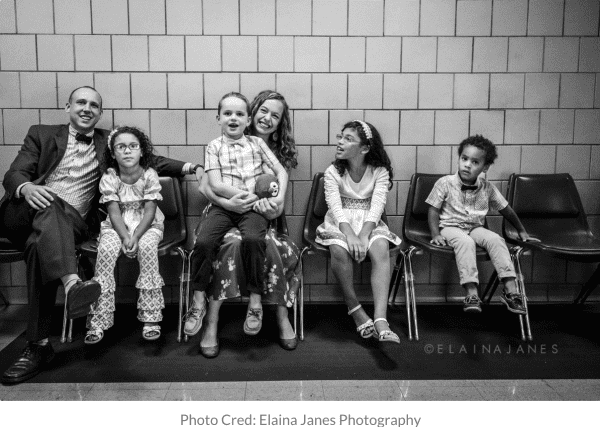 If you're like me, you need the perspective this sweet family brings today.
In Joshua Caleb Hutchens's blog post titled "Two Battles: Where the Pro-life Movement Won Yesterday," a father contrasts two events that happened on the day the Senate voted on whether to defund Planned Parenthood and an adoption hearing in rural Kentucky where he and his wife adopted three children out of foster care. He writes:
Two battles waged yesterday.

One was fought in a venerable chamber that for over two-hundred years has been inhabited by political giants like Henry Clay, Daniel Webster, and Lyndon B. Johnson. The media reported. Twitter followed the action move-by-move. We held our breath, hoping that we might see a great blow dealt against the murder machine called Planned Parenthood. But at the end of the day we were disappointed, and today our tax dollars continue to fund the crushing of babies and the dismemberment of their bodies for profit.

But the battle in Washington, D.C. was not the only battle that day. In a rural Kentucky courthouse, another battle waged—quietly. […]

Within a few moments, three children who had been in the custody of the Commonwealth of Kentucky (two of them for 1,635 days) legally became my very own children, as the attorney repeatedly said: "no different than those of natural birth."

In those moments, life won. The Satanic forces that crave baby blood, from the Nile River to Bethlehem to so-called Women's Health Centers, cried out in agony as true religion that is pure and undefiled shone light into their beloved darkness–as the Father of the fatherless wielded his sword–as the gospel of sinners adopted as sons through sacrifice was reenacted.
I love this! Although what is happening in Washington to end Planned Parenthood is super important, it is good to remember it is not the only place the movement for life is happening. It is also happening each time a pregnancy crisis center teaches a mother in crisis to love her unborn child. And each time a family chooses to adopt an orphan.
Life is winning! I am so encouraged!
Let's keep fighting on all fronts to ensure all children – both unborn and born – know how precious they are!
Read more on the Patheos Faith and Family Channel, fan me on Facebook, follow me on Instagram and follow this blog on Twitter!