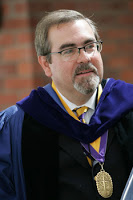 Rev. Gene Robinson, groundbreaking retired Episcopal Bishop of New Hampshire, writes this month over at The Washington Post about the recent election of Dr. Guy Erwin as the first openly gay bishop in the Evangelical Lutheran Church in America.  I wrote a bit on this historic shift here, and Robinson notes what a difference a decade makes:
Flash forward ten years from my election.  On May 31, 2013, The Rev. Dr. Guy Erwin, an openly gay, partnered Lutheran was elected to serve as bishop of the Southwest California Synod of the Evangelical Lutheran Church in America.  While Dr. Erwin's election has certainly been newsworthy (as well it should be), there has been nothing of the firestorm that occurred a decade ago.  And what a difference a decade (especially this last decade) makes! The response within and beyond the ELCA has not been exactly "Ho-hum!"  But there has been less of the divisive rhetoric and drawing of lines in the sand that we might have expected.

The statements coming out of this election are not unlike those of the decade before:  The bishop-elect expressed that he was merely seeking to follow God's call; the Synod and denomination stated clearly that this was not about making a political/religious/social statement, but rather a portion of God's people choosing the person they wanted to lead them in the next six years.  What has changed is the public's (both within and beyond the church) opinions and beliefs regarding gay, lesbian, bisexual and transgender people.
Much has been written about the growing public support for marriage equality, as well as civil rights and broader legal protections for gay and lesbian Americans.  For some, it's happened quickly.  For others, it hasn't happened nearly fast enough.
To some, we have come a long way from the Stonewall protests.  To others, rejection and resistance are as real and painful as they ever were.
This tells me that true social moments of transition are messy and difficult and never straightforward.
As long as we keep moving … forward.