If anything 2020 proved that some artists just keep on being creative.
This is the year these songs were released, proving that these artists still have a creative flair.
I Can't Go On Living Without You– Elton John
Living In A Ghost Town – The Rolling Stones
Seize The Day- Paul McCartney
Ghosts -Bruce Springsteen
Her Love Is Killin' Me -Huey Lewis & The News
Do What You Can– Bon Jovi
Who's Gonna Stop Me -Portugal. The Man – (feat. "Weird Al" Yankovic)
CONVERSATION | Michael W. Smith
Alive and Breathing– Matt Maher
TOGETHER for KING & COUNTRY – Kirk Franklin & Tori Kelly
BANG! – AJR
And this song of great artistry and beauty, which we can all sing as the go to feel good song of the year.
So with that song in our heads we now continue where we left off
Yesterday in 2020 Vision in Hindsight Part 1 where we covered
January – June
We Now Come To
July
July 1-A star has gone missing.
Not in our own Milky Way, but in a galaxy about 75 million light-years away. The star in question is so hot that it glows crystal blue, and it shines a couple million times brighter than the star we know best, our sun. Even as stars go, it's massive. Astronomers have studied it for nearly two decades, so it was pretty disconcerting when, one day last year, they looked at the latest observations and realized they couldn't find it anymore.
Marina Koren, Stars Aren't Supposed to Go Out Like This (July 1, 2020) The Atlantic
July 2– Warrior Nun premieres on Netflix.
Toppling over Statues and Canceling those we perceive as wrong continues…
July 6- Hamilton: An American Musical comes to Disney Plus.
JULY 10- Jimmy Akin's Mysterious Interview
July 21– Bishop Barron on Canceling Padre Serra
We must also remember that statue vandalism is not limited to riots; it is often perpetrated in more clandestine ways. Public rioting must be brought under control as quickly as possible, but I refuse to state that all direct action against statues is wrong. Indeed, not all that is illegal is morally wrong. As a general rule, though, the authorities should seek to protect the larger community against the destruction of both public and private property.
Dr. Jeff Mirus, On toppling statues and reading the riot act (Jul 17, 2020) Catholic Culture
July 30 – NASA successfully launches its Mars 2020 rover mission to search for signs of ancient life and collect samples for return to Earth. The mission includes technology demonstrations to prepare for future human missions.
Notable Deaths
Regis Francis Xavier Philbin August 25, 1931 – July 24, 2020 (aged 88) he holds the Guinness World Record for the most hours on U.S. television and hosted the US version of Who Wants to Be a Millionaire and was a devout Catholic.
Dame Olivia Mary de Havilland DBE July 1, 1916 – July 26, 2020 (age 104) She was the last major surviving star from the Golden Age of Hollywood Cinema and the oldest living and earliest surviving Academy Award winner until her death in July 2020. Her younger sister was the actress Joan Fontaine.
August
I'm racking my brain thinking of how to reword August in my own witty style,but have concluded that Wikipedia actually captures the information I want to convey the best.
August 4– A large amount of ammonium nitrate stored at the port of the city of Beirut, the capital of Lebanon, exploded, causing at least 204 deaths, 6,500 injuries, and US$15 billion in property damage, and leaving an estimated 300,000 people homeless. A cargo of 2,750 tonnes of the substance (equivalent to around 1.1 kilotons of TNT) had been stored in a warehouse without proper safety measures for the previous six years, after having been confiscated by the Lebanese authorities from the abandoned ship MV Rhosus. The explosion was preceded by a fire in the same warehouse, but as of November 2020, the exact cause of the detonation is still under investigation.

The blast was felt in Turkey, Syria, Israel, Palestine and parts of Europe, and was heard in Cyprus, more than 240 km (150 mi) away. It was detected by the United States Geological Survey as a seismic event of magnitude 3.3, and is considered one of the most powerful artificial non-nuclear explosions in history.

The Lebanese government declared a two-week state of emergency in response to the disaster. In its aftermath, protests erupted across Lebanon against the government for their failure to prevent the disaster, joining a larger series of protests which have been taking place across the country since 2019. 2020 Beirut explosion – Wikipedia
"For over a hundred years, Lebanon has been a country of hope. Even during the darkest periods of its history, the Lebanese have kept their faith in God and demonstrated the ability to make their land a place of tolerance, respect and coexistence unique in the region.For the good of the country itself, but also of the world, we cannot allow this heritage to be lost."- Pope Francis catholicworldreport.com
August 21– The film Words on Bathroom Walls is Released.
August 23- You would think police learned their lesson from the George Floyd incident. But officer Rusten Sheskey shot and seriously injured 29 year old African American Jacob S. Blake, in Kenosha, Wisconsin. Sheskey shot at Blake's back seven times when Blake opened the driver's door to his SUV and leaned in. Three of Blake's sons who were in the backseat at the time witnessed this event. Earlier during the encounter, Blake had been tasered and had scuffled with officers.
The police shooting was once again followed by another series of civil unrest, which included rallies, marches, property damage, arson, and clashes with police. And it also lead to this infamous confrontation.
Amid the Kenosha unrest, Kyle Rittenhouse, a 17-year-old from Antioch, Illinois, shot three protesters during multiple confrontations at two locations. He was armed, allegedly illegally, with an AR-15 style rifle and one of the victims had a handgun. The protesters had been chasing him and were physically confronting Rittenhouse at the time that they were shot. Kenosha resident Joseph Rosenbaum, 36, and Silver Lake resident Anthony Huber, 26, were killed, while West Allis resident Gaige Grosskreutz, 26, was injured. Two other protesters also chased and confronted Rittenhouse, and he either did not shoot at them, or missed.

Rittenhouse was arrested and charged with multiple counts of homicide and unlawful possession of a firearm, while Dominick Black was arrested and charged with unlawfully supplying Rittenhouse's rifle. Rittenhouse's attorneys claim he acted in self-defense upon hearing firearm discharge and in response to the numerous physical confrontations by protesters. Kenosha unrest shooting – Wikipedia
For a good analysis of this incident please read… Anatomy of a Catastrophe
The Good, The Bad, The Ugly, and The Beautiful Police and Protesters. gives an example of each kind of police and protesters.
August 28– A new version of Fatima and Bill & Ted Face the Music hit theaters.
Notable Deaths
Chadwick Bosman Nov 29, 1976 – Aug 28, 2020 (age 43) Hep played Black Panther in the MCU films. In 2016, Boseman was diagnosed with colon cancer. Boseman kept his condition private, continuing to act until his death from complications related to the illness in 2020. His final film, Ma Rainey's Black Bottom, was released posthumously the same year to critical acclaim
Some who dismiss superhero films and the Marvel Cinematic Universe craze might have a problem grasping the magnitude of losing Boseman. Yes, undoubtedly, MCU flicks are lava cake movies. That's how initial Marvel helmer, John Favreau, winked at fans (in a self-deprecating way) in "Chef."

How does one maintain artistic credibility while cooking up expected Hollywood blockbuster fare, demanded by studio overseers? And critics can be smug with lava cake.

But you can have cheap lava cake (Michael Bae's "Transformers" garbage and the "Furious" movies). Or you can have an excellent lava cake ("Star Wars" and Marvel films). And deep things can be discussed over lava cake.
Fellow Dying Inmate, Chadwick Boseman Forever (August 29, 2020) Messy Interpretations @ Patheos Catholic
September
September 4- Pope Benedict XVI becomes the longest-lived pope at 93 years, four months, and 16 days, surpassing Pope Leo XIII, who died in 1903.
September 3– Tenet tries to draw people back into theaters with the biggest movie release since hollywood went on hold.
September 3- Raised by Wolves premieres on HBO MAX.
September 4– The Live Action Mulan Premieres on Disney Plus.
September 4- The La Línea highway tunnel, the longest road tunnel in South America at a length of 8.65 kilometres (5.37 mi), is opened in Colombia after 14 years of construction and several delays.
September 18- The Film Antebellum is released.
September 23- Enola Holmes premiers on Netflix with Stranger Thing's Millie Bobby Brown and Superman's Henry Cavill.
September 29– First Presidential Debate between Trump and Biden.
An Open Letter to Joe Biden by Kristin
Beautifications
Maria Velotti (November 16, 1826 – September 3, 1886) is beautified on September 26. She was an Italian Roman Catholic professed religious and the founder of the Suore Francescane Adoratrici della Santa Croce and a member in the Third Order of Saint Francis. Velotti experienced several visions in her life such as visions of Jesus Christ and Francis of Assisi.
Notable Deaths
Diana Rigg -Jul 20, 1938 – Sep 10, 2020 (age 82) She was an Emmy, Tony and BAFTA award-winning English actress of stage and screen. Some of her notable roles were as Emma Peel in the TV series The Avengers (1965–1968); Countess Teresa di Vicenzo, wife of James Bond, in On Her Majesty's Secret Service (1969); Lady Holiday in The Great Muppet Caper (1981)Olenna Tyrell in Game of Thrones (2013–2017) and in her celebrated performance as Medea on Broadway and in the UK as well as the Doctor Who episode "The Crimson Horror" (2013) with her daughter, Rachael Stirling and finally playing Mrs Pumphrey in All Creatures Great and Small (2020) just this year.
Ruth Bader Ginsburg -Mar 15, 1933 – Sep 18, 2020 (age 87) She was an associate justice of the Supreme Court of the United States from 1993 until her death on September 18, 2020. She was nominated by President Bill Clinton, replacing retiring justice Byron White, and at the time was generally viewed as a moderate consensus-builder. She eventually became part of the liberal wing of the Court as the Court shifted to the right over time. Ginsburg was the first Jewish woman and the second woman to serve on the Court, after Sandra Day O'Connor. During her tenure, Ginsburg wrote notable majority opinions, including United States v. Virginia (1996), Olmstead v. L.C. (1999), Friends of the Earth, Inc. v. Laidlaw Environmental Services, Inc. (2000), and City of Sherrill v. Oneida Indian Nation of New York (2005).
October
October 2-President Trump and his wife, First Lady Melania, both tested positive for COVID.
October 14– A copy of William Shakespeare's First Folio sells for a record $9.98 million at auction in New York.
October 25- Archbishop Wilton Daniel Gregory, 72, the Washington, D.C., archbishop who slammed President Donald Trump's visit to a Roman Catholic shrine in the city has become the first African American cardinal.
Pope names 13 new cardinals, including DC archbishop Wilton Gregory (usatoday.com)
October 27- Amy Coney Barrett became the 103rd associate justice of the Supreme Court of the United States.
Newman also teaches us that a Catholic's rootedness in divine authority opens the door to the authentic expression of a free Conscience (a word he deliberately capitalizes). In fact, Newman argues, although the Catholic faith can leave no part of a one's personal or professional life untouched, a Catholic's Conscience is free to the point of requiring absolute obedience to no one, including the Pope himself. As examples, the Pope could not compel any Catholic under penalty of sin to fight in a war or rule in any particular way in a court case. Newman insists that the Pope will have no "moral and mental slaves." Amy Coney Barrett and the Role of Conscience – Word on Fire
October 30– Mandalorian Season 2 premieres on Disney + with the return of Boba Fett and some special Jedi's.
Beatifications
Fr. Olinto Marella (June 14, 1882 – September 6, 1969) a classmate of St. John XXIII is beatified on October 4.
Young "computer geek" Carlo Acutis (May 3, 1991 – October 12, 2006) is beatified on October 10.
Founder of the Knights of Columbus Michael Joseph McGivney (August 12, 1852 – August 14, 1890) is beatified on Halloween October 31.
Notable Deaths
Eddie Van Halen – Jan 26, 1955 – Oct 06, 2020 (age 65) He was the main songwriter and guitarist of the American 80's rock band Van Halen, which he co-founded in 1972 with his brother, drummer Alex Van Halen, bassist Mark Stone, and singer David Lee Roth. He is regarded as one of the all-time greatest guitar players in rock history and was well known for popularizing the tapping guitar solo technique, allowing rapid arpeggios to be played with two hands on the fretboard.
Thomas Howard- 1935 – October 15, 2020 (Aged 85) Popular Catholic author.
Sean Connery– Aug 25, 1930 – Oct 31, 2020 (age 90) He is best known as James Bond and Indiana Jones's Dad and also appeared in other great films such as Darby O Gill and the Little People (1959) Marnie (1964), The Hill (1965), Murder on the Orient Express (1974), The Man Who Would Be King (1975), A Bridge Too Far (1977), Highlander (1986), The Name of the Rose (1986), The Untouchables (1987), The Hunt for Red October (1990), Dragonheart (1996), The Rock (1996), and Finding Forrester (2000). Connery officially retired from acting in 2006, although he briefly returned for voice over roles in 2012.
November
November turns out to be a big month in America and the Catholic Church.
Election 2020
November 3- Trump VS Biden. 270 to win
Joe Biden 306
Donald Trump 232
Joe Biden's victory doesn't result in a congratulations from Trump, but instead accusations of voter fraud and tampering. Several lawsuits are taken to court to overturn election results with Trump winning 0% of the cases. Most Trump supporters tend to believe Trump that the election was rigged and Biden did not legitimately win.
I'm not a Trump hater or lover. I didn't vote for him. I didn't vote for Biden. I wrote in Brian Carroll from the American Solidarity Party.
November 7- Again Dave Barry Notes…

In reality Trump claims that he won the election BY A LOT, but it is being stolen from him via a vast, sophisticated, malignant, and purely hypothetical vote-fraud scheme. To combat this fraud, the president forms a crack legal team headed by former sane person Rudy "Rudy Three i's" Giuliani, who presides over what future scholars will view as the single greatest event in the history of America, if not the world. This occurs when the president announces via tweet that his lawyers will hold a news conference at "Four Seasons, Philadelphia." Everyone assumes he means the Four Seasons Hotel, but in fact — and here we have definitive proof that there is a God, and He or She has an excellent sense of humor — the event takes place in the parking lot of a company called Four Seasons Total Landscaping, which is located across the street from a cremation center and down the block from the Fantasy Island Adult Bookstore.

We are not making this up. Nobody could make this up.
November 9
On this date, four years ago, a lot of progressives (and many moderates, for that matter) watched their own candidate concede quickly, in the early morning hours of the next day, and they accepted it. They watched the sitting POTUS welcome the new President-Elect to the White House and saw their POTUS do all he could to assist a smooth transition of power. They may have consoled themselves with hilarious memes of the VP booby trapping the White House and hope out loud that electors might take conscientious stands for the sake of the republic—but they didn't march on state capitols, or threaten vote counters, or talk about war.

From what I can see, moderate to liberal Americans have shown far more faith, hope, and love over the past four years, even while battling daily temptations to despair, than Trumplings—many of whom are supposedly The Real Christians Among Us—have managed to show in the face of their own defeat. Michelle Arnold (November 9) On FB
Cardinal McCarrick Report
November 10– The Cardinal McCarrick Report is released by the Vatican.
But if we are Christ's hands and feet and eyes and body on earth in this life, then the wiping away of tears and the healing of wounds should begin here, in this life — as judgment for all the McCarricks of this world, wherever they are, must begin in this life.

We must care for one another, for it's in caring for one another that Christ cares for us. We must bear one another's burdens, for this is how Christ bears our burdens. Christ comforts each of us in all our afflictions so that we can comfort others who are afflicted. This is what it means to be the Church, the body of Christ.
–Deacon Steven D. Greydanus –McCarrick and the Apocalypse (November 15, 2020) National Catholic Register
It revealed that St. John Paul 2 was deceived into believing McCarrick's lies, which is why he didn't put a stop to his evil deeds.
That John Paul II was deceived by McCarrick's prevarication is not in dispute. That the deception may have reflected the Polish pope's experience of communist secret police methods in Poland, where charges of sexual impropriety were often used against Catholic priests and bishops, is not in dispute, either. But neither should there be any dispute that John Paul II was the victim of a deception: a man in whom he had reposed trust, Theodore McCarrick, lied to him about his true character. Saints are human beings, and saints, in their humanity, can be deceived. But let the focus of wickedness in this tawdry affair be identified accurately as Theodore McCarrick, not John Paul II.
George Weigel,THEODORE MCCARRICK, NOT JOHN PAUL II, IS THE STORY OF THE MCCARRICK REPORT (November 11, 2020) First Things
Believing Lies gives my opinion on the whole matter.
And this also happen in November. An update from a story that took place earlier in the year that I mention here for the first time.
November 5– Mark and Patricia McCloskey have been seen passing out greeting cards with one of the viral photos of them standing on their porch with guns in hand as protesters marched up their private street. But they may be breaking the law by using that photo.

The photographer, William Greenblatt of United Press International, has sent the couple an invoice for $1,500 because he is "in the business of selling images. I do not give them away from free." Greenblatt was one of the photographers covering the protest on June 28 in the Central West End.- Chicago Tribune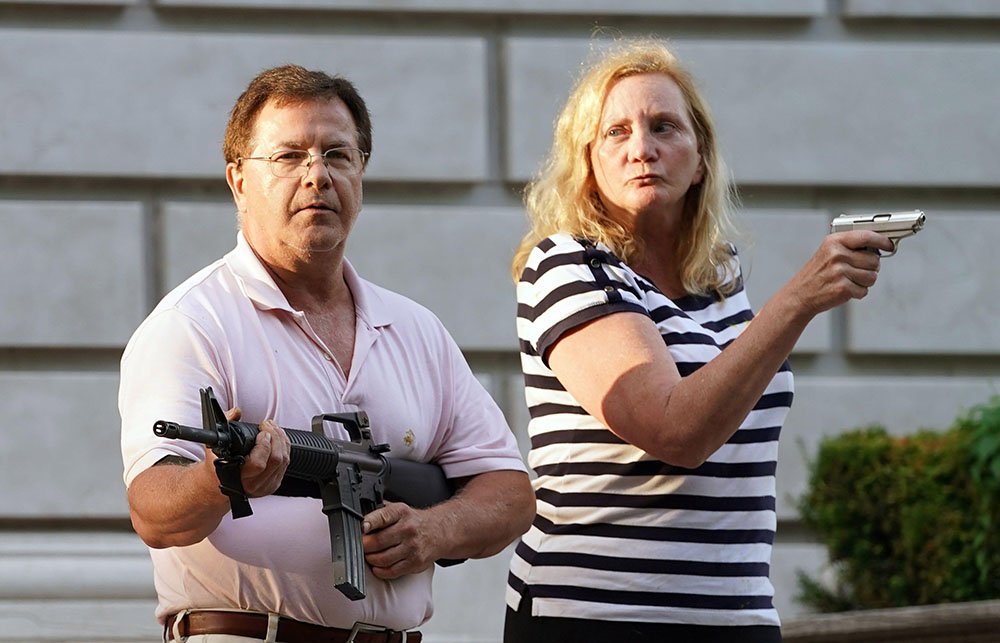 November 10– Mark and Patricia McCloskey, the gun-toting couple who gained recognition after confronting protesters passing by their St. Louis home, have sued a United Press International photographer and the wire service, alleging a photo that has risen to international prominence was taken on their property.

In a lawsuit filed Friday in St. Louis Circuit Court, the McCloskeys accuse UPI photographer Bill Greenblatt of trespassing to capture one of the most iconic images of the confrontation between the McCloskeys and protesters on their way to Mayor Lyda Krewson's house.- Chicago Tribune
November 17– The Lego Star Wars Holiday Special premieres on Disney +
Beatifications
Joan Roig i Diggle (May 12, 1917 – September 11, 1936) is Beatified on November 7. He was a Spanish Roman Catholic and a member of the Federation of Young Christians of Cataloni and a martyr during the Spanish Civil War.
Notable Deaths
Alex Trebek– July 22, 1940 – Nov 08, 2020 (age 80) was a Canadian-American game show host and television personality. He was the host of the syndicated game show Jeopardy! for 37 seasons from its revival in 1984 until his death in 2020. He had been contracted to host Jeopardy! until 2022.
The Christmas movies The Christmas Chronicles 2 and Jingle Jangle premiere on Netflix.
December
Trump still continues to cry FOWL at the election results.
Dec 14-The Electoral College is meeting today across the country to formally cast the ballots to make it official: Joe Biden will be the 46th president of the United States.

President Donald Trump, who lost his bid for a second term, is not going to concede, and will continue to cry foul and yell "RIGGED ELECTION!" to anyone who will listen. But none of that changes the fact that Trump's presidency will end at noon on Jan. 20, when Biden takes the oath of office.
-Brian Fraga REPORTER'S NOTEBOOK: Thomas More Society and Catholic Resistance to the 2020 Election (December 14, 2020) On the Catholic Beat @ Patheos Catholic
Dec 16- A priest of the Congregation of Sons of Mary Mother of Mercy was kidnapped in Nigeria Tuesday while traveling to his father's funeral. This priest serves as a picture that persecution is unfortunately still happening with great frequinciy in our world today. The Priest at our church asks us to pray for Nigeria as a priest named Fr. Sam came to our church one summer and helped say masses. catholicworldreport.com
As Covid still rages on in what we were told was going to gone by Easter.. A Vaccine is near at hand. The big moral question being asked is it morally OK to take it? This article and several others by Fr. Matthew P. Schneider tackle all those moral questions brought up by this cure to our pandemic.
The USCCB noted that taking a vaccine to prevent others from being sick is an act of charity.

Receiving one of the COVID-19 vaccines ought to be understood as an act of charity toward the other members of our community. In this way, being vaccinated safely against COVID-19 should be considered an act of love of our neighbor and part of our moral responsibility for the common good.
Fr. Matthew P. Schneider, LC, USCCB: Getting a COVID-19 Vaccine Is "An Act of Charity" (December 16, 2020) Through Catholic Lens @ Patheos Catholic
Well folks… It's been quite a year… But were not quite done yet… Getting back to the election..
Dec 22-
"With all his talent, and the ability to raise money and draw large crowds, the President still lives in an alternate reality. He really does. People say, 'Well he lies about this, that and the other.' But he isn't lying. To him, that's the truth." dave-Pat Robertson
December 25 (Christmas)
Wonder Woman 1984 premieres on HBO MAX & Theaters
Pixar's Soul premieres on Disney +
News of the World with Tom Hanks premiers in Theaters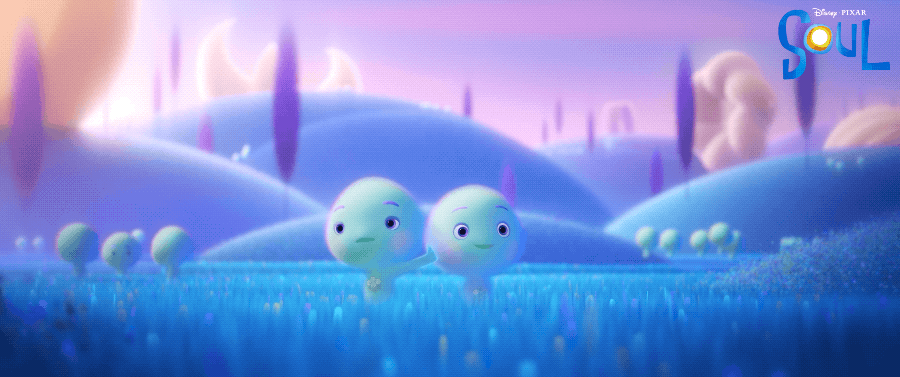 A suicide bomber detonated a recreational vehicle (RV) bomb in downtown Nashville, Tennessee, United States, injuring eight people and damaging dozens of buildings. It took place at 166 Second Avenue North between Church Street and Commerce Street at 6:30 am, adjacent to an AT&T network hub, resulting in days-long communication service outages.
People near the RV heard gunshots, and loudspeakers on the RV warned them to evacuate before the explosion, which was felt miles away. The Federal Bureau of Investigation (FBI) determined the bomber was 63-year-old Anthony Quinn Warner, a Nashville resident believed to have acted alone.
Dec 26- Trump not done with his quest to overthrow the election results blasts the 3 supreme court justices he appointed to the court for not taking his side in declaring him the winner of the election and giving him another 4 years in the white house. The three justices to the court are Justice Neil Gorsuch in 2017, Justice Brett Kavanaugh in 2018, and most recently, Justice Amy Coney Barrett in 2020.
"The U.S. Supreme Court has been totally incompetent and weak on the massive Election Fraud that took place in the 2020 Presidential Election," he said in a tweet just before 9 a.m. Saturday. "We have absolute PROOF, but they don't want to see it – No 'standing', they say. If we have corrupt elections, we have no country!"

Election 2020 Trump: Supreme Court 'totally incompetent' for refusing to overturn election – Business Insider
December 28– Saudi women's rights activist Loujain al-Hathloul sentenced to five and a half years in prison.
December 29- Bishop Moses Chikwe the auxiliary bishop of Nigeria's Archdiocese of Owerri.has been kidnapped. Let us never forget the suffering church in other parts of the body of Christ. By the grace of God he was released unharmed five days latert, according to the Archdiocese of Owerri.
Notable Deaths
Walter McGehee Hooper (March 27, 1931 – December 7, 2020) was an American writer and literary advisor of the estate of C.S. Lewis.
David John Moore Cornwell -October 19, 1931 –December 12, 2020 (aged 89) better known by his pen name John le Carré (/ləˈkæreɪ/),[1] was a British author of espionage novels. During the 1950s and 1960s, he worked for both the Security Service (MI5) and the Secret Intelligence Service (MI6). His third novel, The Spy Who Came In from the Cold (1963), became an international best-seller and remains one of his best-known works.
Following the success of this novel, he left MI6 to become a full-time author. His books include The Looking Glass War (1965), Tinker Tailor Soldier Spy (1974), Smiley's People (1979), The Little Drummer Girl (1983), The Night Manager (1993), The Tailor of Panama (1996), The Constant Gardener (2001), A Most Wanted Man (2008), and Our Kind of Traitor (2010), all of which have been adapted for film or television.
Jeremy Andrew Bulloch -February 16, 1945 –December 17, 2020 (aged 75) During a career that spanned more than six decades, he gained recognition for originating the physical portrayal of Boba Fett in the Star Wars franchise, appearing as the character in the films The Empire Strikes Back (1980) and Return of the Jedi (1983).
David Kevin Giler –July 23, 1943 – December 19, 2020 (aged 77) was an American filmmaker who was active in the film industry since the early 1960s. He is best known for his work as executive producer of the Alien motion picture franchise.
Dawn Elberta Wells (October 18, 1938 – December 30, 2020) (Aged 82) Mary Anne from Gilligan's' Island has died from Covid-19.
So there you have it folks. A look back at 2020.
Join us next year for more interesting and informational posts from
The Catholic Bard.
Happy New Year Everyone!
And here are some thoughts to help you with Growing Spiritually in 2021.
I would be neglectful if I didn't mention a few notable books that have been published in 2020
The Church's Best Kept Secret by Mark Shea,
The Barnabus Project (2020) by Terry Fan , Eric Fan , Devin Fan
The Book of Lost Names (2020) Kristin Harmel
Elsewhere by Dean Koontz
Frightliner and Other Tales of the Supernatural by Catholic SF authors Karina Fabian and Colleen Drippé.

Pope Francis encyclical
Fratelli tutti
, on fraternity and social friendship, Feast of St. Francis of Assisi.
Hidden Valley Road: Inside the Mind of an American Family
by Ro
bert Kolker

The Ickabog
by J. K. Rowling This is the first kids book to be released by Ms. Rowling since the last Harry Potter.
Sr. Clare Crockett: Alone with Christ Alone (2020)
by Kristen Gardner and Rafael Alonso Reymundo
Whale day
:
and other poems
(2020)Billy Collins
What to Say and How to Say It: Discuss Your Catholic Faith with Clarity and Confidence
(2020) by Brandon Vogt
Words of Eternal Life
(2020) Jimmy Akin