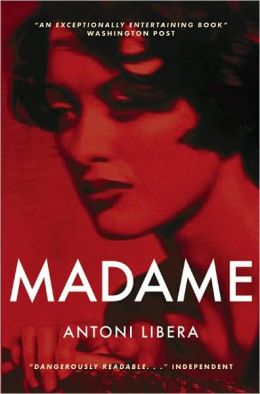 "For many years I used to think I had been born too late. Fascinating times, extraordinary events, exceptional people–all these, I felt, were things of the past, gone for good.
In my early childhood, in the 1950s, the 'great epochs' for me were above all the 1930s and the years of the war. I saw the latter as an age of heroic, almost titanic struggle when the fate of the world hung in the balance, the former as a golden age of carefree oblivion when the world, as if set aglow by the gentle light of a setting sun, gave itself up to pleasure and innocent folly.
Later, some time in the early 1960's, I realized I had come to see the Stalinist period, only just over, as another such 'great era.' True, I had lived through part of it myself, but as a child too young to appreciate its malevolent power; and although I was well aware that, like the war, it was a nightmarish time, a time of degeneration and crime and collective madness, still it imposed itself on my mind–just because it was so extreme–as something unique, almost out of this world."
So begins Antoni Libera's Madame, a novelistic satire on nostalgia addiction.
The disease of nostalgia is endemic in many Christian circles. If you don't believe it then think of what Dana Gioia and Paul Elie have to say about the state of Catholic literature. It's as if they didn't believe that their own writing itself is a counter-argument. And perhaps they're correct in their low estimates of their own work?
There are no such debates about the state of Catholics writing philosophy. I've clearly demonstrated the Catholic dominance of the only strand of philosophy that really matters, that is, phenomenology here and here.
But what about theology? Below is a list of the ten recently published books and their publisher blurbs to cure you of the melancholy science of manufacturing a long lost past and dreaming of non-existent golden ages.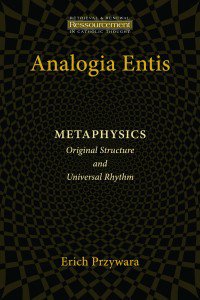 Analogia Entis by Erich Przywara
"Arguably the most brilliant and simultaneously most enigmatic Catholic intellectual of the earlier part of the twentieth century, Erich Przywara argued eye to eye with Edmund Husserl, Max Scheler, and Martin Heidegger, challenged Karl Barth, and through his famous lectures inspired a host of influential Catholic thinkers. . . . Finally, his magnum opus, Analogia Entis, is available in lucid English prose — an intellectual event of the first order. We are deeply indebted to John Betz and David Bentley Hart for this splendid labor of love."
—Reinhard Hutter, Duke Divinity School
OK, so maybe Przywara's book is a bit of a blast from the past, but it should spark plenty of debate. It's current and new for Anglo-readers.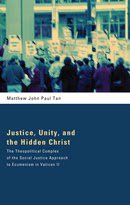 Justice, Unity, and the Hidden Christ by Matthew John Paul Tan
"This book represents a long-overdue critique of self-secularizing practices in post-conciliar Catholicism. Tan shows how conceptions of the autonomy of the secular have allowed Christian charitable works to be culturally outflanked in the secular sphere. He argues that if the ecclesiology of the church as chaplain to the capitalist order has relegated the body of Christ to merely a subsection of a public circumscribed by the state/society/market complex, then the body of Christ ought to be repositioned to become a public in its own right."
—Tracey Rowland, John Paul II Institute for Marriage and Family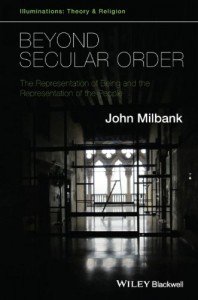 Beyond Secular Order by John Milbank
"In a careful and thorough canvassing of both ontological and political consequences, John Milbank's Beyond Secular Order displays the peculiar density which participation bestows on reality, by contrast with the binary oppositions latent in many current alternatives. By tracing everything to a free creator, Milbank confirms George Steiner's prescient thesis in Real Presences, as well as offers extensive confirmation of his own probing inquiries since Thelogy and Social Theory. Daunting in its scope yet utterly focused in what it delivers."
—David Burrell, University of Notre Dame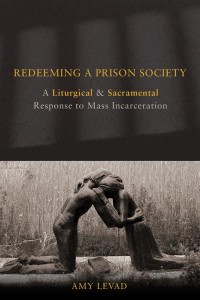 Redeeming a Prison Society by Amy Levad
"If you care about the crisis in the criminal justice system in the United States and are asking whether the Church has any resources to address the crisis, read this book. Drawing brilliantly on Catholic sacramental and moral traditions, Amy Levad proposes a wise and relevant model for reform. Written with tough-mindedness and urgency, Redeeming a Prison Society is a major theological contribution to the current national debate."
—Don E. Saliers, Emory University
The Analogical Turn by Johannes Hoff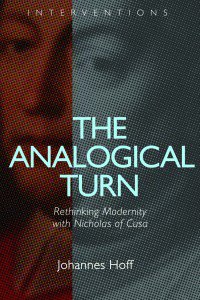 "The Analogical Turn by Johannes Hoff crucially enhances our understanding of the origins of modernity in the late Middle Ages. He shows how the fragmented and illusory modern world in which we live was not an inevitable outcome of the cultural and intellectual upheavals of the fourteenth and fifteenth centuries. There is an alternative modernity, centered on a theological symbolic reality, which can be derived chiefly from the work of fifteenth-century theologian, philosopher, and mathematician Nicholas of Cusa. There is a way of radically rethinking our modern cultural and intellectual malaise. This is scholarship of the very highest caliber. Hoff's book will establish itself as one of the most significant works of Christian theology and philosophy in recent years."
—Simon Oliver, University of Nottingham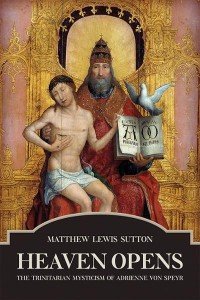 Heaven Opens: The Trinitarian Mysticism of Adrienne von Speyr by Matthew Lewis Sutton
"In this significant monograph, Matthew Lewis Sutton brings expositional clarity and conceptual rigour to the extensive textual legacy of Adrienne von Speyr. It is a real accomplishment that this is achieved without any unnecessary sacrifice of the vibrancy and immediacy of her Trinitarian mystical theology. But perhaps the greatest achievement of this volume is to demonstrate that von Speyr's contemplative work is worthy of attention and study, not simply as an adjunct of the theology of Hans Urs von Balthasar, but in its own impressive right."
—Paul T. Nimmo University of Aberdeen
The God Who is Beauty by Brendan Sammon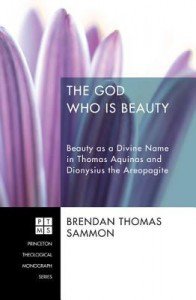 "I warmly recommend Brendan Sammon's impressive contribution to theological aesthetics. The work is engaging, lucid, insightful, and well laid out in fitting structure. The God Who is Beauty importantly responds to the surprising lack of full treatment of beauty as a divine name. Informed about Greek philosophical sources, it offers a rich narration of beauty as a divine name in the work of Dionysius and Aquinas, also impressively bringing to our attention the crucial place of Dionysius in the thought of Aquinas. Sammon recuperates the metaphysical-theological dimensions of beauty, while not being inattentive to more 'aesthetic' treatments in the post-Kantian mode. The ambiguity he detects in Greek treatments as oscillating between the spiritual and material he sees as more fittingly resolved in the Christian thought of Dionysius and Aquinas where justice can be done to the truth of beauty as a middle between the spiritual and the material, a saturated between. An admirable debut by Sammon with a significant contribution to the field of theological aesthetics."
—William Desmond, Villanova University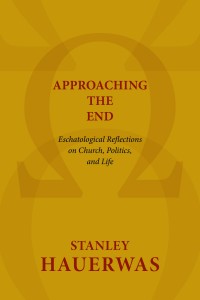 Approaching the End by Stanley Hauerwas
"This book represents the mature thought of one of the most creative and insightful thinkers of our time. Here we see Hauerwas grappling with the difficulties caused by the positions his obedience to Jesus Christ has compelled him to take. Those who think they already know what Hauerwas has to say should read Approaching the End and rediscover the restless Hauerwas, whose thought is always straining forward to what lies ahead."
—William Cavanaugh, DePaul University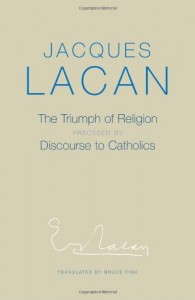 The Triumph of Religion by Jacques Lacan
"'I am the product of priests,' Lacan once said of himself. Educated by the Marist Brothers (or Little Brothers of Mary), he was a pious child and acquired considerable, personal knowledge of the torments and cunning of Christian spirituality. He was wonderfully able to speak to Catholics and to bring them around to psychoanalysis. Jesuits flocked to his school. Freud, an old-style Enlightenment optimist, believed religion was merely an illusion that the progress of the scientific spirit would dissipate in the future. Lacan did not share this belief in the slightest: he thought, on the contrary, that the true religion, Roman Catholicism, would take in everyone in the end, pouring bucketsful of meaning over the ever more insistent and unbearable real that we, in our times, owe to science."
—Jacques-Alain Miller, École de la Cause freudienne
The following book was published a few years ago. However, the University of Chicago kindly sent me a copy last week after I put in a request for a review copy nearly half a year ago. See why Kosky's book deserves some belated attention: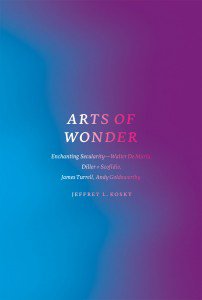 Arts of Wonder by Jeffrey L. Kosky
"Bringing together personal stories, historical analysis, and religious reflection, Arts of Wonder weaves a narrative that reveals traces of gods in a world they long ago seemed to have fled. During a period when discussions of religion usually amount to little more than noisy banter between true believers and naïve unbelievers, Jeffrey L. Kosky turns to quiet works by subtle artists for spiritual insight and even wisdom. This is a timely book that suggests different ways of being religious today."
—Mark C. Taylor, Columbia University
Here's an honorable mention, because I can't resist taking it up to 11!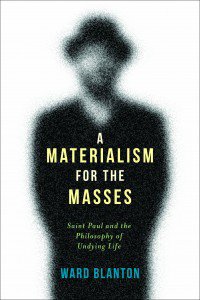 A Materialism for the Masses: Saint Paul and the Philosophy of Undying Life by Ward Blanton
"Ward Blanton attempts nothing less than the overthrow of an understanding of Paul that has dominated philosophical criticism since Nietzsche. Blanton is convinced that Paul is better understood within a repressed tradition of Western thought that Althusser called a 'materialism of the encounter' and that Blanton names 'materialist spirituality.' He pursues two intertwined goals: the destruction of the image of Paul as a metaphysical dualist and the resurrection of an originary Paulinism which is materialist in invigorating life in this world with messianic hope. Blanton writes with an intensity that is hypnotic. There is nothing like his book in existing scholarship."
—Laurence L. Welborn, Fordham University
Make sure you turn it up to 12 by taking a look at the other Cosmos TOP10 lists here!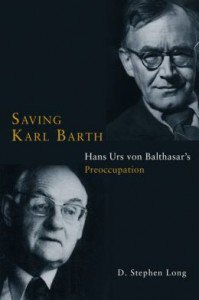 UPDATE: Two more books deserve a mention.
Saving Karl Barth: Hans Urs von Balthasar's Preoccupation by D. Stephen Long
"Few theological friendships in the twentieth century mattered more for the cause of Christian unity than the one between Karl Barth and Hans Urs von Balthasar. Both men worried about the 'enigmatic crack' separating Protestant and Catholic Christians, and both understood the import of their dialogue for repairing the breach. Now at last, D. Stephen Long helps us to break back into the enigma of their theological friendship. Saving Karl Barth throws down a gauntlet for Catholic and Protestant theologians alike who are keen not to repeat the sixteenth century, but seek another kind of reformation – one which does not divide, but orders all things to the unity of Christ. A stunning ecumenical achievement!"
—C. C. Pecknold, The Catholic University of America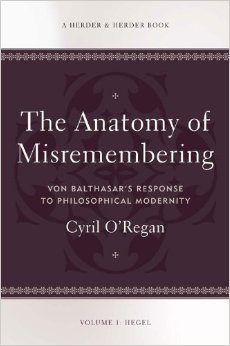 Anatomy of Misremembering: Von Balthasar's Response to Philosophical Modernity. Vol. 1: Hegel by Cyril O'Regan
"In this exceptional book, Professor Cyril O'Regan unites extraordinary erudition on gnosticism and apocalyptic with contemporary constructive thinking on von Balthasar and Hegel. There is no existing work like this. It will be impossible to read von Balthasar in the future without this profound study on his relation to Hegel and on the book of Revelation. This amazing book is indispensable for understanding four major moments in the Western tradition: apocalyptic, Valentinian gnosticims, Hegel, and von Balthasar."
—David Tracy, Greely Professor Emeritus, University of Chicago