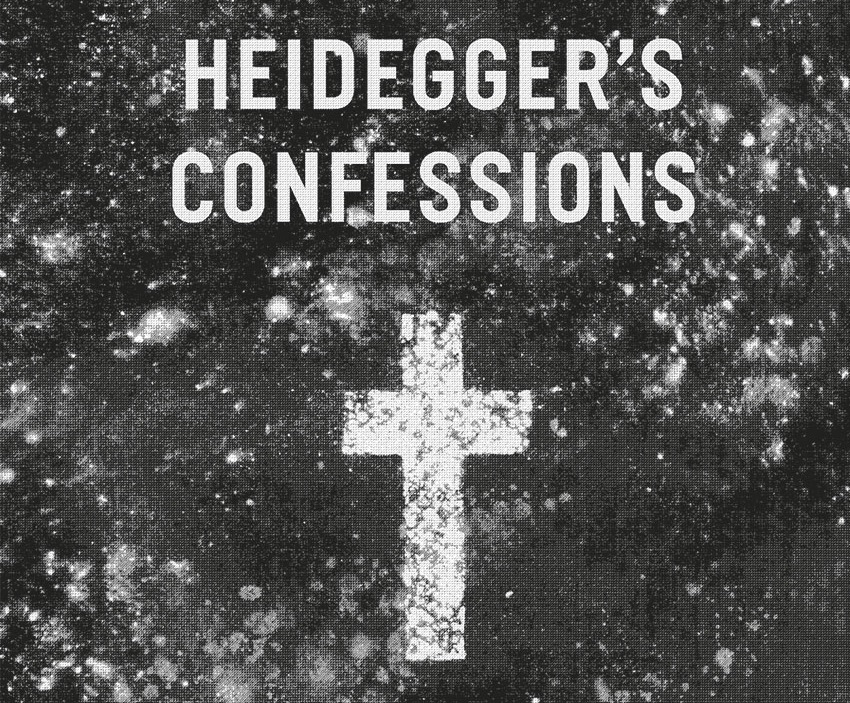 The University of Chicago is no doubt one of the most dynamic academic institutions in the United States. It is known as a magnet for not only American scholars, but also many noteworthy intellectual imports from Germany, Poland, and France.
Not exactly without merit the university has also earned a reputation as the home of the ruthless Chicago School of Economics, which puts the "dismal" in the "dismal science."
At the same time the university has hosted scholars such as Paul Ricoeur, Jean-Luc Marion, and Remi Brague–the creme de la creme of French phenomenology, the people at the center of the return of religion to French philosophy.
Furthermore, the University of Chicago Press, especially its "Religion and Postmodernism" series edited by Mark C. Taylor, has published many, many, many books by the Catholic phenomenologists I've talked about in "Praying to a French God." It's a real powerhouse. Whenever you want the latest books from this tradition you look to Chicago (plus Fordham and Indiana).
But it gets even better.
The University of Chicago is also the home base of the Lumen Christi Institute. Their mission is impressive:
The Lumen Christi Institute advocates, supports and nurtures intellectual work done in intimate relation to the Light of Christ, the Catholic Christian tradition, and the teaching authority of the Church.

The Lumen Christi Institute exists to strengthen and nourish contemporary intellectual culture by deepening knowledge of the Catholic tradition, and to build up the Catholic presence in higher education by fostering the cultural formation of the university.
And man, do they do it! Take a look at some of their programs and featured speakers.
As you can see, the city of Chicago continues to be heavily Catholic. Now you know it as the Catholic intellectual hub that it is.
Below you'll find the University of Chicago Press's forthcoming Catholic interest books with the official publisher blurbs. I know you can't help but be impressed.
COMING SOON
Heidegger's Catholic background is an intellectual obsession of mine. Now there's a book almost specifically tailored to my interests. Magical thinking works sometimes.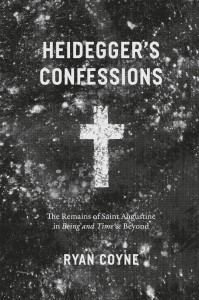 Heidegger's Confessions: The Remains of Saint Augustine in "Being and Time" and Beyond by Ryan Coyne
Although Martin Heidegger is nearly as notorious as Friedrich Nietzsche for embracing the death of God, the philosopher himself acknowledged that Christianity accompanied him at every stage of his career. In Heidegger's Confessions, Ryan Coyne isolates a crucially important player in this story: Saint Augustine. Uncovering the significance of Saint Augustine in Heidegger's philosophy, he details the complex and conflicted ways in which Heidegger paradoxically sought to define himself against the Christian tradition while at the same time making use of its resources.

Coyne first examines the role of Augustine in Heidegger's early period and the development of his magnum opus, Being and Time. He then goes on to show that Heidegger owed an abiding debt to Augustine even following his own rise as a secular philosopher, tracing his early encounters with theological texts through to his late thoughts and writings. Bringing a fresh and unexpected perspective to bear on Heidegger's profoundly influential critique of modern metaphysics, Coyne traces a larger lineage between religious and theological discourse and continental philosophy.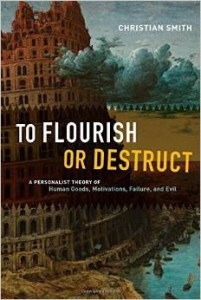 To Flourish or Destruct: A Personalist Theory of Human Goods, Motivations, Failure, and Evil by Christian Smith
In his 2010 book What Is a Person?, Christian Smith argued that sociology had for too long neglected this fundamental question. Prevailing social theories, he wrote, do not adequately "capture our deep subjective experience as persons, crucial dimensions of the richness of our own lived lives, what thinkers in previous ages might have called our 'souls' or 'hearts.'" Building on Smith's previous work,To Flourish or Destruct examines the motivations intrinsic to this subjective experience: Why do people do what they do? How can we explain the activity that gives rise to all human social life and social structures?

Smith argues that our actions stem from a motivation to realize what he calls natural human goods: ends that are, by nature, constitutionally good for all human beings. He goes on to explore the ways we can and do fail to realize these ends—a failure that can result in varying gradations of evil. Rooted in critical realism and informed by work in philosophy, psychology, and other fields, Smith's ambitious book situates the idea of personhood at the center of our attempts to understand how we might shape good human lives and societies.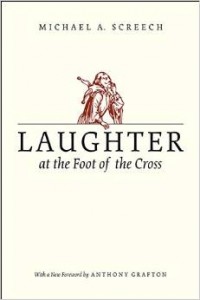 Laughter at the Foot of the Cross
by M.A. Screech (
I LOL'ed
)
"Christian laughter is a maze: you could easily get snarled up within it." So says Michael A. Screech in his note to readers preceding this collection of fifty-three elegant and pithy essays. As Screech reveals, the question of whether laughter is acceptable to the god of the Old and New Testaments is a dangerous one.

But we are fortunate in our guide: drawing on his immense knowledge of the classics and of humanists like Erasmus and Rabelais—who used Plato and Aristotle to interpret the Gospels—and incorporating the thoughts of Aesop, Calvin, Lucian of Samosata, Luther, Socrates, and others, Screech shows that Renaissance thinkers revived ancient ideas about what inspires laughter and whether it could ever truly be innocent. As Screech argues, in the minds of Renaissance scholars, laughter was to be taken very seriously. Indeed, in an era obsessed with heresy and reform, this most human of abilities was no laughing matter.
COMING LATER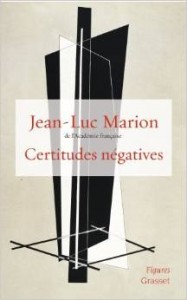 Negative Certainties by Jean-Luc Marion
In Negative Certainties, renowned philosopher Jean-Luc Marion challenges some of the most fundamental assumptions we have developed about knowledge: that it is categorical, predicative, and positive. Following Descartes, Kant, and Heidegger, he looks toward our finitude and the limits of our reason. He asks an astonishingly simple—but profoundly provocative—question in order to open up an entirely new way of thinking about knowledge: Isn't our uncertainty, our finitude and rational limitations, one of the few things we can be certain about?

Marion shows how the assumption of knowledge as positive demands a reductive epistemology that disregards immeasurable or disorderly phenomena. He shows that we have experiences every day that have no identifiable causes or predictable reasons, and that these constitute a very real knowledge—a knowledge of the limits of what can be known. Establishing this "negative certainty," Marion applies it to four aporias, or issues of certain uncertainty: the definition of man; the nature of God; the unconditionality of the gift; and the unpredictability of events. Translated for the first time into English, Negative Certainties is an invigorating work of epistemological inquiry that will take a central place in Marion's oeuvre.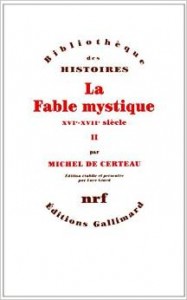 The Mystic Fable, Volume Two: The Sixteenth And Seventeenth Centuries by Michel de Certeau
More than two decades have passed since Chicago published the first volume of this groundbreaking work in the Religion and Postmodernism series. It quickly became influential across a wide range of disciplines and helped to make the tools of poststructuralist thought available to religious studies and theology, especially in the areas of late medieval and early modern mysticism.

Though the second volume remained in fragments at the time of his death, Certeau had the foresight to leave his literary executor detailed instructions for its completion, which formed the basis for the present work. Together, both volumes solidify Certeau's place as a touchstone of twentieth-century literature and philosophy, and continue his exploration of the paradoxes of historiography; the construction of social reality through practice, testimony, and belief; the theorization of speech in angelology and glossolalia; and the interplay of prose and poetry in discourses of the ineffable. This book will be of vital interest to scholars in religious studies, theology, philosophy, history, and literature.
EXTRA TREAT
The University of Chicago's Seagull books imprint specializes in publishing German and French titles by established authors who are underrepresented in translation. You might know Mosebach from his wonderfully grouchy Heresy of Formlessness, a ruthless critique of the postconciliar liturgical reforms. I bet you didn't know he's an award-winning novelist to boot.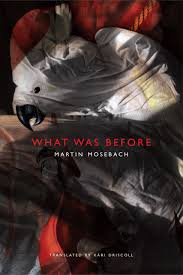 What Was Before by Martin Mosebach
Martin Mosebach's novel What Was Before opens with a young couple enjoying a moment of carefree intimacy. Then the young woman, turning slightly more serious, asks her lover that fateful question, one that sounds so innocent but carries toxic seeds of jealousy: What was your life like before you met me? The answer grows into an entire book, an elaborate house of cards, filled with intrigue, sex, betrayal, exotic birds, and far-flung locations.

Set against the backdrop of Frankfurt's affluent suburbs, this elliptical tale of coincidence and necessity unfolds through a series of masterly constructed vignettes, which gradually come together to form a scintillating portrait of the funny, tender, and destructive guises that love between two people can assume and the effect it has on everyone around them. Hailed in Germany as the first great social novel of the twenty-first century, What Was Before is an Elective Affinities for our time.
You might also want to find out more about French philosophy's turn to religion and read about my personal encounter with Jean-Luc Marion (plus the lesson I learned from it).