Language periodically wears itself out when speaking about God.  But that is not the same as losing God.
Our six year old son is at the stage of spiritual development when he begins to formulate theological questions. These questions are naturally formulated clumsily. Analogies limp, as the medieval Scholastics liked to say.
Dominik recently made a logical jump from something he read about the Sandman helping Santa by putting kids to sleep on Christmas Eve to the following declaration: Sandman is Santa's helper!
Therefore it's no surprise he also said that Christmas means that Christ will be literally born once again this year and every year henceforward. He chuckled to himself as he considered the possibility of somebody being born again and again every December. I have no idea whether his mind was playing around with the idea of reincarnation, or if something more disturbing was brewing in there.
I did my best to intervene by using the analogy of celebrating Christmas as a birthday celebration. I think it stuck, I hope. He'll have time to grow into it.
Theology is something we all grow into personally and as communities as we progress in the Christian life (and hopefully theosis). As I pointed out in Advent and the Pointlessness of God, we frequently have trouble fitting God into our instrumental categories, because they are not fit for describing a God who is above human concepts and purposes.
The communal aspect of the need for continual linguistic renewal of God-talk is something that Henri de Lubac talks discusses vividly in his The Discovery of God:
Whenever it abandons a system of thought, humanity imagines it has lost God.

The God of 'classical ontology' is dead, you say? It may be so; but it does not worry me overmuch. I have no inclination to defend the petrified constructions of Wolf. And if 'classical ontology' disappeared, it was surely because it did not correspond adequately with being. Nor was its idea of God adequate for God. The mind is alive, and so is the God who makes himself known to it.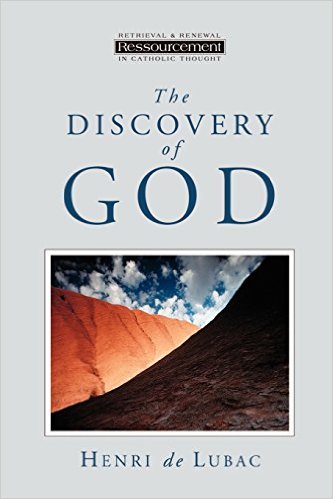 He goes on to pick up on the famous but misunderstood Nietzschean dictum:
'God is dead!' or so at least it seems to us… until, round the next bend in the road, 'we find him again, alive'. Once again he makes himself known, in spite of all that we have left behind on the road, all that was only viaticum for one stage of our journey, all that was only a temporary shelter till we had to make a fresh start… And if we really progressed along the road, we shall find God himself greater still. But it will be the same God. Deus semper major. And once again we shall move on in his light. God is never left behind among the dross… In whatever direction we go, he is there before us, calling to us and coming to meet us…
Finally, The Discovery of God reaffirms the mystery of a God who goes beyond the limits of human thought and the languages it uses to formulate that thought:
The deist's God, the God of several modern 'theodicies' which weigh and measure him rather than defend him, the God who can hardly say 'I am' any longer, the God who tends to be no more than 'the universal harmony of things', who rules over a beyond where 'everything is the same as here', the God imprisoned 'within the limits of reason', who no longer intervenes in the world, who is really nothing but the projection of natural man, who is distant yet without mystery, a God made to our measure and defined according to our rules, a God merged in the 'moral order of the universe' as man understands it . . . he was only a shade, 'reduced to the narrow limits of human thought'.
The Discovery of God is one of my favorite books. I could write volumes about what it has done for me, and maybe I will.
The wonderful thing about rediscovering this passage from The Discovery of God is that it was posted by an Eastern Orthodox Christian in an Orthodox forum online. It is heartening to see ecumenical dialogue like that, especially after Pope Francis has done so much to reach out and learn from the Ecumenical Patriarch.
I say this also because I believe Eastern Christian thought, French-Catholic phenomenology, and medieval negative theology are the three main avenues for contemporary Catholicism to renew its God-talk (like previous periods did) after the wreck of much modern philosophy and theology.
Here are some scenes from Tarkovsky's The Mirror set to Arvo Part's Spiegel im Spiegel to restore your balance and perspective. Don't panic, be childlike, that is, open to correction by abandoning narrow old horizons.
I should note that both artists, Tarkovsky and Part, come from the Russian Orthodox tradition and draw heavily and boldly upon Catholic sources in their works:
Please kindly consider donating to this blog during what is now, yet again, apartment rental payment time. If you want to make it a rent party, donate through the PayPal button on my homepage.