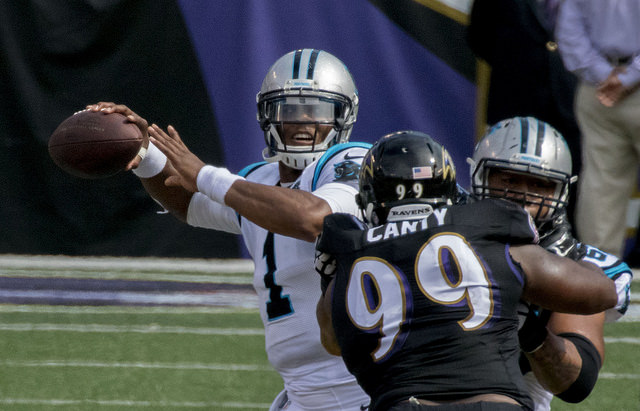 Hear me when I call, O God of my righteousness: thou hast enlarged me when I was in distress; have mercy upon me, and hear my prayer (Psalm 4:1).
Cam Newton led his team to a 15-1 record this year. He beat my beloved Seahawks (barely) earlier in the playoffs. I am therefore obligated to sing his praises ahead of tomorrow's Superbowl against Peyton Manning (who's already received his fair share of love from Patheos Catholic writers).
What makes Cam exceptional is his story of perseverance under distress. It is a story of redemption.
As Cam basks in his MVP-type numbers this year, it is easy to forget the vicious press that NFL reporters heaped upon him after he was selected as the first overall pick in the 2011 draft:
If you love Cam Newton or if you hate Cam Newton, there is no denying that Cam Newton is exceptionally good at playing football. He is the best player and undeniable leader of the team with the best record in the NFL. His dynamic combination of size, speed, and passing ability is unmatched. He will probably be the NFL's MVP, and if the Panthers win the Super Bowl, he will be the Super Bowl's MVP.

This is funny, because back in 2011, some people were adamant that it would never happen. Newton played only one season at Auburn, and it was one of the most brilliant seasons in college football history. Cam Newton at Auburn was like Mario with all of his power-ups simultaneously: He was bigger than everybody else, he could throw fire, and any opponent who touched him fell off the screen and died.
Some of this adversity was rooted closer to home. Cam's sole full season playing in college at Auburn was marred by an eligibility controversy started by his father. Cecil Newton, allegedly totally behind Cam's back, had tried to engineer pay-for-play schemes with colleges that had recruited his son. Cam was cleared of all accusations and went on to win the Heisman.
This controversy was preceded by a couple of seasons at University of Florida. There he was the backup to future NFL bust Tim Tebow. Newton didn't get to play much. His stay at UF was punctuated by an episode where he chucked a stolen laptop out a window when he realized cops were looking for it. That doesn't exactly inspire confidence either.
Can you imagine going under the NFL microscope like that at age 21 and still thriving? I can't, but Cam did. He redeemed himself with a 4,000 passing yard and 700 yard season right off the bat.
This pretty much silenced the critics from the get-go.
What has he done since then? He has only managed to get more efficient in his passing and running while getting his teammates involved and headed to the Superbowl.
This dual emphasis has taken him away from the mold of the quarterback as a pure immobile thrower, which, one might argue reached its apogee in Peyton Manning's best seasons at Denver and Indianapolis. Cam's style is more representative of a more traditional mold of quarterbacking that precedes even the NFL. The solely passing QB is a passing fad. Passing also does seem to be a white obsession that Cam brushed off valiantly in a press conference. Here are his comments as reported by Adam Ericksen of Patheos:
I don't want to even touch on the topic of black quarterback because I think this game is bigger than black, white, or even green … I don't think I should be labeled as just a black quarterback because there are bigger things in this sport that need to be accomplished.

That answer wasn't good enough for another reporter, who pressed the topic of Newton being a black quarterback.

Reporter: Why don't you want to elaborate on it? It's a big issue.

Newton: No it's not.

Reporter: The stereotype that a mobile black quarterback cannot throw in the pocket effectively … you don't think …

Newton: I think we shattered that a long time ago.

Reporter: You really believe that? Why don't you back it up and say something?

Newton: Why should I back it up?

Reporter: Because you brought up the topic and it's still an issue.

Newton: It's not an issue. It's an issue for you.

And with that comment, Cam Newton held up a mirror to white America and the racism that infects us.
Way to stay in the pocket race relations young man (he's only 25)!
Newton is a traditionalist in a religious sense too. He sees his life in terms of an unfolding drama between himself and God.
Nowhere was this more on display than during a near catastrophe before the start of this season:
Cam Newton still wears the hospital bracelet from his December 2014 car accident. (via @panthers & Instagram) pic.twitter.com/53hfNivMh1

— SportsCenter (@SportsCenter) February 5, 2016
The proof of his commitment to a biblical-dramatic way of seeing his life is in the message of forgiveness he posted to his Instagram account almost immediately after his accident:
I do not know where to begin because by the look of that picture soMEone is supposed to be dead or severely injured worse than what I am right now! While I am resting up the thought that keeps flashing in my mind is that GOD IS GOOD and someone has there protective hands on my life shielding me from any danger that may come my way! I know one thing, YOU SHOULD BE ASHAMED OF YOURSELF "IF" you are holding a grudge against someone, "IF" you don't tell the people that's close and dear to you that "YOU LOVE THEM" every chance you get, "IF" your mad because something didn't go your way today! . . .
Framing things in this way probably wouldn't have come to my mind immediately had the same happened to me. It seems to me that something like that could only have been written by someone who's been through a fair share of adversity, especially when some of it's been self-inflicted.
It's the dramatic arc of Newton's life bending towards repentance that makes him such a compelling and likable figure for the rest of us.
His is a much more theologically compelling story than the Teflon Don image most contemporary NFL quarterbacks project. The more I researched for this piece, the more I came to like Cam. I like him because he screws up and makes amends for it. Newton is not a cartoonishly Perfect Man, but neither is he Woody Allen's Irrational Man, instead, he is most like Paul Ricoeur's Fallible Man.
Then, then there's also the beauty of seeing Newton in motion. His joy is also infectious and refreshing.
By the way, his loss in the Super Bowl, and all the unreasonable blowback he's getting from armchair quarterbacks, sets up another redemption story.
Stay in touch! Like Cosmos the in Lost on Facebook: