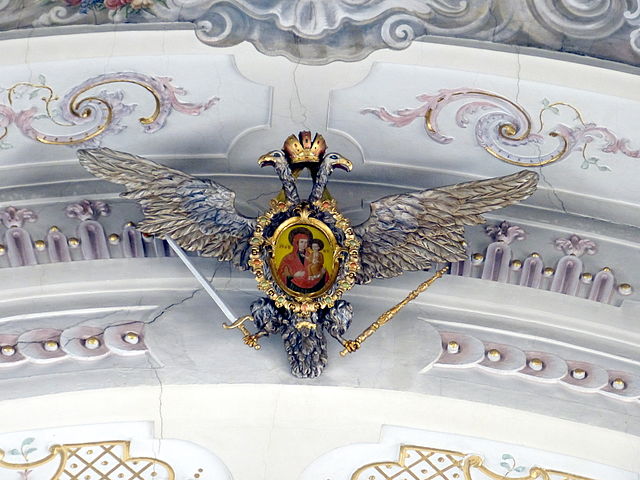 Let despair be known


as my ebb-tide; but let prayer
have its springs, too, brimming,
disarming him; discovering somewhere
among his fissures deposits of mercy
where trust may take root and grow.
–R.S. Thomas "Tidal" in Mass for Hard Times (1992), also included in Collected Later Poems
Today it's time to take stock of what wasn't week this weak.
I'm surprised to find out that atheist Slavoj Zizek is drawing attention, but I suppose anyone who'd want to put Clinton supporters in hell is onto something. I don't despair about Hunter S. Thompson being as unpopular as ever. The cherry on top is two Cosmos entries making it into the Colloquium on Violence and Religion (COV&R) Bibliography of Literature on the Mimetic Theory vol. XXXXI (see under "Rosman").
Before we get to the TOP10 posts of this week, White Eagle, Black Madonna: One Thousand Years of the Polish Catholic Tradition, a despairing yet prayerful history, is a new and noteworthy book:
In 1944, the Nazis razed Warsaw's historic Cathedral of St. John the Baptist. "They knew that the strength of the Polish nation was rooted in the Cross, Christ's Passion, the spirit of the Gospels, and the invincible Church," argued Cardinal Stefan Wyszynski in a letter celebrating the building's subsequent reconstruction. "To weaken and destroy the nation, they knew they must first deprive it of its Christian spirit." Wyszynski insisted that Catholicism was an integral component of Polish history, culture, and national identity. The faithfulness of the Polish people fortified them during times of trial and inspired much that was noble and good in their endeavors.

Filling a sizable gap in the literature, White Eagle, Black Madonna is a systematic study of the Catholic Church in Poland and among the Polish diaspora. Polish Catholicism has not been particularly well understood outside of Poland, and certainly not in the Anglophone world, until now. Demonstrating an unparalleled mastery of the topic, Robert E. Alvis offers an illuminating vantage point on the dynamic tension between centralization and diversity that long has characterized the Catholic Church's history. Written in clear, concise, accessible language, the book sheds light on the relevance of the Polish Catholic tradition for the global Catholic Church, a phenomenon that has been greatly enhanced by Pope John Paul II, whose theology, ecclesiology, and piety were shaped profoundly by his experiences in Poland, and those experiences in turn shaped the course of his long and influential pontificate.

Offering a new resource for understanding the historical development of Polish Catholicism, White Eagle, Black Madonna emphasizes the people, places, events, and ritual actions that have animated the tradition and that still resonate among Polish Catholics today. From the baptism of Duke Mieszko in 966 to the controversial burial of President Lech Kaczynski in 2010, the Church has accompanied the Polish people during their long and often tumultuous history. While often controversial, Catholicism's influence over Poland's political, social, and cultural life has been indisputably profound.
After that you know the Austrian eagle cover image for this post is slightly ironic.
Finally, here's the best of last week:
Consider making a donation to this blog through the donation button on the upper right side of its homepage. Frankly, our family is just plain short on cash.
Stay in touch! Like Cosmos the in Lost on Facebook: