. . . Before coming to Stanford in 1981, Girard had also been on the faculties at Bryn Mawr, Duke and the State University of New York at Buffalo. He was the James M. Beall Professor of French and Humanities at Johns Hopkins when he accepted an appointment at Stanford.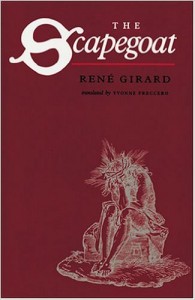 Girard's first book, Deceit, Desire and the Novel (1961 in French; 1965 in English), used Cervantes, Stendhal, Proust and Dostoevsky as case studies to develop his theory of mimesis.
In 1972, his landmark Violence and the Sacred (1977 in English) explored the role of archaic religions in suppressing social violence through scapegoating and sacrifice. The provocative book was awarded by the Académie Française. Things Hidden Since the Foundation of the World (1978 in French; 1987 in English), was the fullest summation of Girard's ideas. He offered Christianity as a solution to mimetic rivalry, and challenged Freud's Totem and Taboo.
"I hold that truth is not an empty word, or a mere 'effect' as people say nowadays," he wrote in the final pages of Things Hidden Since the Foundation of the World. "I hold that everything capable of diverting us from madness and death, from now on, is inextricably linked with this truth. But I do not know how to speak about these matters. I can only approach texts and institutions, and relating them to one another seems to me to throw light in every direction."
He was the author of nearly 30 books, which have been widely translated, including The Scapegoat, I Saw Satan Fall Like Lightning, To Double Business Bound, Oedipus Unbound and A Theater of Envy: William Shakespeare, which was awarded France's Prix Médicis in 1990.
His last major work was 2007's Achever Clausewitz (published in English as Battling to the End: Politics, War, and Apocalypse), ignited a firestorm of controversy. French President Nicolas Sarkozy cited his words, and reporters trekked to Girard's Paris doorstep daily. The book, which takes as its point of departure the Prussian military historian and theorist Carl von Clausewitz, had implications that placed Girard firmly in the 21st century.
At Stanford, he organized several symposia at Stanford, including 1987's "Understanding Origin" and 1981's "Disorder and Order," which explored a broad changing ideas of orders and disorder in the humanities and sciences from a broad interdisciplinary perspective, and then considered the implications for contemporary culture. Participants included Nobel laureate Ilya Prigogine (chemistry), public intellectual Michel Serres, who would eventually join him at Stanford, Jacques Attali, economist and theorist of culture, and critic Edward Said, and Stanford Prof. Kenneth Arrow, a Nobel laureate in economics, Ian Watt, then-director of the Stanford Humanities Center, and Stanford Prof. John Freccero, a leading Dante scholar. Girard also founded a program of interdisciplinary studies.
He was a fellow of the American Academy of Arts and Sciences and twice a Guggenheim Fellow. He received a lifetime achievement award from the Modern Language Association in 2009. In 2013, King Juan Carlos of Spain awarded him the Order of Isabella the Catholic, a Spanish civil order bestowed for his "profound attachment" to "Spanish culture as a whole." He was also a Chevalier de la Légion d'honneur and Commandeur des Arts et des Lettres. He was awarded the Dr. Leopold Lucas Prize by the University of Tübingen in 2006. He received honorary degrees from: the Free University of Amsterdam (1985); University Faculties Saint Ignatius Antwerp in Antwerp (1995), the Università degli Studi di Padova (2001); the faculty of theology at the University of Innsbruck, the Université de Montréal (2004), and Scotland's University of St Andrews (2008).
The achievement and renown, however, fail to catch the measure of the man, who is remembered for his courtesy as much as his ferocity in argument, for his humility as much as his bold, sweeping vision of human nature, human history, and human destiny.
Girard is survived by his wife of nearly 65 years, Martha, of Stanford; two sons, Daniel, of Hillsborough, California, and Martin, of Seattle; a daughter, Mary Girard Brown, of Newark, California; and nine grandchildren.
For more on René Girard see: Lux Aeterna: RIP René Girard (December 25, 1923 – Nov 4, 2015); René Girard: Is Christianity a Myth?; and TOP10 Books: The Girard Option of Interdisciplinary Influence.
Consider making a donation to this blog through the donation button on the upper right side of its homepage so that we can replace the bald tires on our car.
Stay in touch! Like Cosmos the in Lost on Facebook: