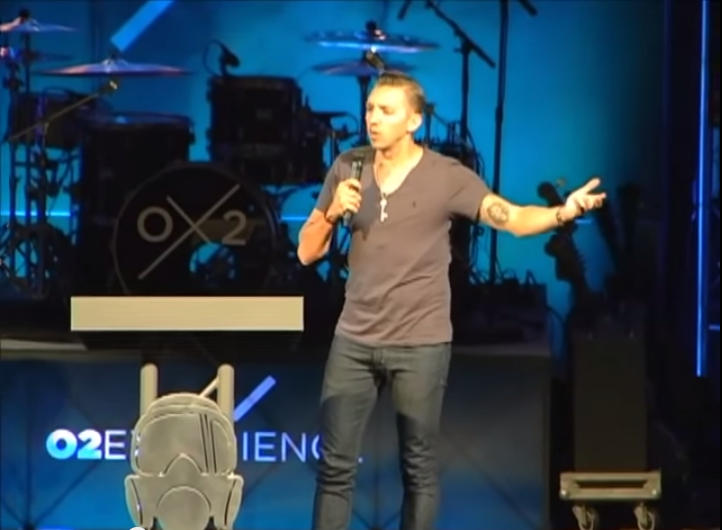 In a recent series of sermons that Levi Lusko, leader of the morbid evangelistic group Skull Church, has given from San Diego, California, to Kalispell, Montana, it has been suggested that abstinence is more than an important psychological choice, it is the path to purity, as it's shown on the o2 Experience's website: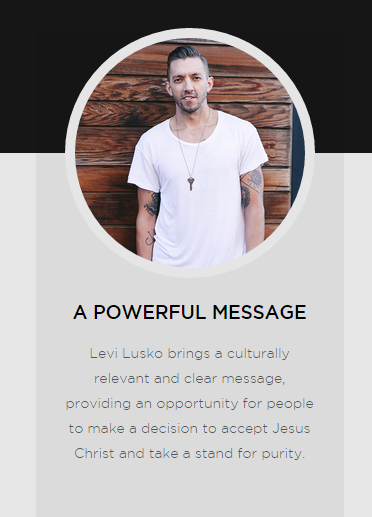 During the sermon, Levi gives a number of statistics concerning abstinence that are so obviously true that they're nearly condescending to point out, such as the fact that abstinence is the only guaranteed way of avoiding sexually-transmitted infections and unexpected pregnancy–much like starvation is the only 100% way to avoid obesity. The message also waxes pseudo-philosophically by insisting that sex is more than a physical process–as though anyone without a belief in Jesus couldn't understand the material transcendence of making love.
More importantly are the facts that Levi doesn't propagate, such as the first and most important:
Of all states that have introduced abstinence-only education, none of them have shown reduced levels of teenage sexual activity.
In fact, many young people who break their pledge for abstinence (as the vast majority of them do) are far more likely to engage in risky sexual behaviors and have higher outcomes of STI and pregnancy. According to the Advocates for Youth group in Washington D.C., "every Surgeon General from Dr. Koop to Dr. Carmona–through Democratic and Republican administrations–has supported a comprehensive approach to sex education."
Who cares what the experts say?–Levi has god on his side.
In his service in Boise, Idaho, in 2013, Levi reads from I Corinthians (6:18)
He who commits sexual immorality sins against his own body.
He also brings his seven-year-old daughter, Alivia, (in what seems to be an increasing trend of utilizing his children and their memories for his purposes), to ask her the following horrifying question:
"Do you think it's crazy that seven years ago, when we first found out we were pregnant with you, that the doctor said 'Do you want to murder your baby?'"
Alivia, with all the expected reluctance of a seven-year-old being asked such an obscene question by her father in front of hundreds of people, replies with an elongated: "Yes." She also wrote something for the audience, wholly unrehearsed I imagine, wherein she says:
"I'm glad my parents decided to keep me and to not have an abortion."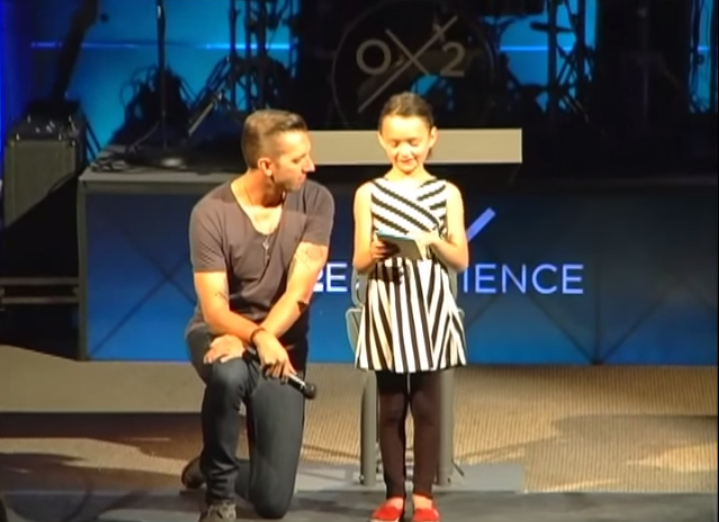 The overwhelming implications of this sketch are, I think, better left imagined than described. I'll leave it to the reader to apply adjectives of their own to it.
Above and beyond trying to obfuscate the reality that, in the words of Aaron Sorkin, "withholding knowledge about having sex doesn't prevent teenagers from having sex, it prevents teenagers from having sex safely", Levi has rendered psychological harm on his young followers–many presumably, are taken to his service by their parents, as can be inferred by this quote posted on the o2 Experience website:

In 2008, a 76-page report entitled Sex, Lies, and Stereotypes: How Abstinence-Only Programs Harm Women And Girls, was released by Julie F. Kay, Senior Staff Attorney for Sexuality and Family Rights & Ashley Jackson, Research Associate for Sexuality and Family Rights. In their report, they state:
In April 2007, Mathematica Research published a congressionally mandated in-depth study of four federally funded abstinence-only programs for teenagers. The study found that abstinence education not only is ineffective, but may actually be harmful to young people. The study found that students who participated in an abstinence-only program were just as likely to have sex by age 16 and have as many sexual partners as students who did not take an abstinence-only class.
And:
A 2004 evaluation of Minnesota's $5 million Title V–funded Education Now and Babies Later (ENABL) abstinence-only program found that rates of sexual activity among students enrolled in abstinence-only education actually increased. Among junior high school students, the rate of sexual activity jumped from 5.8% to 12.4%.
The harm done by religion to sexual education throughout history is immeasurable, from masturbatory guilt to the homophobic dogma and obscene attempts to "correct" sexual orientation, it has been proven time and again that the measure for "purity" by which many Christians identify themselves is hypocritical at best and dangerous in reality. For Lusko, who has young members of the o2 Experience sign "key cards" (V-cards?) promising their abstinence, (which are available on the o2 website, along with a wide range of cheap memorabilia to purchase), there must be some measure of responsibility for the consequences of teaching a physically and psychologically harmful sexual practice.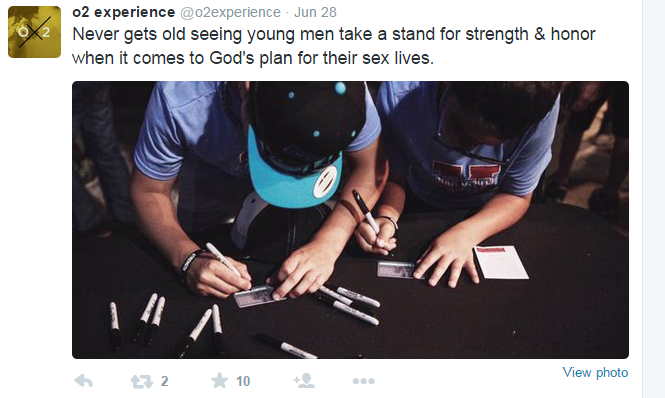 And I do say psychologically specifically: for how can one be held to a standard of purity, wear a bracelet from the o2 Store that says: "Hold Out For Honor" and not feel impure and dishonored when practicing in the most humane, luminous, and healthy aspect of our physiology? To make a mistake in the eyes of Levi, as most of his young congregants surely will, will be a door to religious guilt so prevalent and dangerous that many are calling for it to be classified into a psychological disease called Religious Trauma Syndrome.
That's just fine, though. Levi also has the cure for that in his usual sermons, guaranteeing salvation in exchange for prostration. How convenient.
For those many thousands who have attended the o2 Experience or given themselves to Lusko's drivel in other formats, I sincerely hope it works for you. Sexual and psychological health are of utmost importance. It would be remiss of me, however, to let you continue under the delusion that, should you "fail", you've committed a sin, or that a Skull Church bumper sticker might in some way absolve you. There is a majesty to the human experience that ultimately makes faith seem piffle–and trusting in yourself and your choices comes free of submissions or confessions or pleas of forgiveness. I'm sure that's a product Levi would sell if people would buy it.