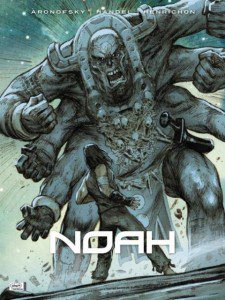 Love 'em or hate 'em, one thing people can't stop talking about after seeing Noah is the Watchers — angels who fell to Earth, lost their wings, and were encased in the molten rock that they crashed into.
In the early screenplay that leaked a couple years ago, and in the graphic novel that came out two weeks ago, the Watchers are basically organic; the screenplay describes them as "18 feet tall, ageless, sexless and covered with a light dusting of fur."
But somewhere along the way, Darren Aronofsky turned them into rock monsters, spirits trapped in the rock they crashed into, whose struggle to rise from the tar was inspired by the wildlife covered in oil after the Exxon Valdez spill.
Paramount has studiously avoided releasing any official images of these creatures — even going so far as to delete them from shots that were used in the the trailers and early clips — but director Darren Aronofsky has not been so reticent, tweeting images of actors and voice-over artists standing in front of screens bearing images of the Watchers (or, as Aronofsky now prefers to call them, the Nephilim).
It may be a while before we get a good clear look at the Watchers outside of watching the finished film. But for now, via ComicBookMovie.com, we can see how the characters were conceived and designed by conceptual illustrator Justin Goby Fields. Behold (click on any of the images below to see the entire picture):
[ images deleted at the request of Paramount Pictures ]
Mashable also has a fun collection of videos showcasing the rock monsters of earlier films, such as The NeverEnding Story (1984):
… and Galaxy Quest (1999) …
… and Thor: The Dark World (2013):
To which I would add The Pirates Who Don't Do Anything (2008):