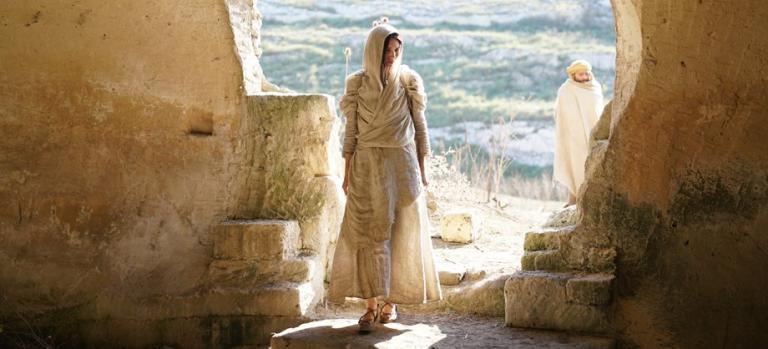 Mary Magdalene is finally coming to North American theatres this week, and I have one last round-up of interviews that were done for the film's release overseas last year.
On Monday I rounded up some interviews with director Garth Davis, and on Tuesday I rounded up some interviews with the film's lead actors. Today I'm rounding up a few interviews with the producers, screenwriters, and others who worked on the film.
Co-writers Helen Edmundson and Philippa Goslett, who worked on the script for a few years before director Davis and the actors got involved, spoke to the Independent:
"There are lots of Marys in the Bible," [Edmundson] explains, "and they've become conflated. The big blow was Pope Saint Gregory the Great in the 6th century, who wrote quite extensively that Mary Magdalene was a prostitute. What grates is the way the Catholic Church in particular felt it necessary to create these polar opposite models of women: they had the Virgin Mary, and therefore by necessity they needed the opposite. It's permeated and been problematic for centuries."

"What I find really interesting," says Edmundson's co-writer Philippa Goslett, "is that since 1969, when the Catholic church formally separates these women out, the idea of Jesus's bloodline has been prevalent. If Mary Magdalene's not a prostitute, she must have been his lover. I hope that this film goes some way to restoring her spiritual authority, which is there within the Gospels, and has been so denigrated over the centuries."

The biblical Mary Magdalene only exists in five New Testament lines, which nevertheless make her a key female witness to Christ: among the disciples when he arrives in Jerusalem, watching his crucifixion then keeping watch over his tomb, the first person he meets on his resurrection, and his messenger of this marvel to the disciples.

"Everything else is conjecture," says Edmundson, who also consulted the non-biblical Gnostic Gospel of Mary in order to write a woman who's more than just an observer. "We felt that if this Mary was strong enough to leave her home and everything she'd ever known with no going back, to join this group of men who had no idea of what their fate was going to be, then we could make her strong enough to point out to Jesus that if only men can be preached to and baptised, then that's cutting out half the population. And to be a Mary who can actively baptise and minister in the same way men did. Those things felt fundamental." Goslett felt the same. "Telling it from a fresh, female perspective, might our understanding of that journey – and Jesus's message – be different?"

Lynne Ramsay, Joaquin Phoenix's director in his other current film, You Were Never Really Here, sees his tortured character there as a Lazarus figure, reborn after sinking into watery depths. In Mary Magdalene, he resurrects Lazarus, and doesn't feel much better. "There's a wonderful mischief that comes through with Joaquin," Edmundson considers. "A sort of acknowledgement of how extraordinary the whole thing is. I love just after he's resurrected Lazarus, when he's trembling all over, and profoundly terrified because of what he's understood in that moment [that he must die for mankind]. Joaquin has that ability to look almost childlike in his frailty and distress. We did want him to be human. We wanted to feel that he had warmth and fragility. Partly to make room for Mary. I enjoyed imagining the human side of Christ – the fear and grief of leaving life and people who loved him, and the exhaustion of working miracles. Of everybody looking to you, and expecting." Adds Goslett: "It was really important for us that Jesus is fully human and divine, and spontaneous. There was never a sense of, 'Here's a sermon I prepared earlier.'"
Time magazine spoke to two of the film's advisors:
Mary Magdalene's special understanding of Jesus' message, and Peter's hostility towards her, as portrayed in Mary Magdalene, will likely split opinion, according to [Professor Joan Taylor of King's College, London] and her colleague, Professor Helen Bond of The University of Edinburgh, Scotland, with whom Taylor is presenting a U.K. television series on women disciples this Easter, titled Jesus' Female Disciples: the New Evidence.

"[In the film] she's really close to Jesus, not because of some kind of love affair, but just because she…gets Jesus in a way that the other disciples don't," Bond says.
Producers Iain Canning and Emile Sherman spoke to Inquirer.net in the Philippines:
"Obviously, the story of Jesus is one that has been told on numerous occasions by different film makers," says Canning. "The discovery of fragments of parchment in Egypt and Greece which were claiming to be the gospel of Mary Magdalene sparked the idea that it would be interesting to tell the story of a woman within the biblical stories.

"Every generation approaches their own retelling or re-imagining of stories based on the contemporary time," continues Canning. "If you're making a film you've got to have some sort of contemporary resonance, otherwise it's not going to find an audience. We felt there was room to tell the story of Mary Magdalene – that the female perspective of this particular story of the life and death of Jesus Christ was a new way in to that story and that it would also shine a light on contemporary issues."
I previously linked to another interview with Canning in February 2018.
And, finally, The Telegraph has an article on some refugees who worked on the costumes for the film. The article is currently behind a paywall, but the work the refugees did is a subject that has come up at this blog before, so you can read about it here, too.
Mary Magdalene opens in North American theatres this Friday, April 12.
April 13 update: Goslett spoke to Variety magazine:
How did the "Mary Magdalene" film come about?

The project originated with Katherine Bridle, head of development at See-Saw, who very much wanted to tell stories about characters in history who have been marginalized or forgotten or, in Mary's case, massively misrepresented over the years. There was a very beautiful script by Helen Edmundson and from there I started work – first of all with the producers, Iain [Canning] and Katherine and Liz Watts, and then with Garth [Davis], the director, and eventually with the cast.

What attracted you to the project?

The opportunity to tell the Jesus story from a point of view we have never seen before and to follow that through, [and] if you are telling that story from a female point of view, to ask rigorously would it therefore feel different, what might be different about that story? Might Jesus' whole message seem different if it is experienced by a woman?
April 23 update: I have now interviewed producer Iain Canning myself.
Canning also spoke to the Religion News Service:
"Mary Magdalene" Director Garth Davis and his filmmaking partners went into their initial stages of research "assuming we would be making a film about a prostitute," said Producer Iain Canning. "We were just sort of embarrassed and horrified that we'd been part of a mistaken narrative. So that was even more a catalyst and reason to fast-track as much as we possibly could a different interpretation." . . .

"A lot of Hollywood films that quote from the Bible can be really bombastic," Canning said. "We really wanted to let the words speak for themselves… and sometimes even no one do the talking and let the experience wash over people.

"We really wanted to create a film that is, at its very core, about love, forgiveness, charity and understanding," he said.
If I find any more new interviews with the filmmakers, I will add them to this post.