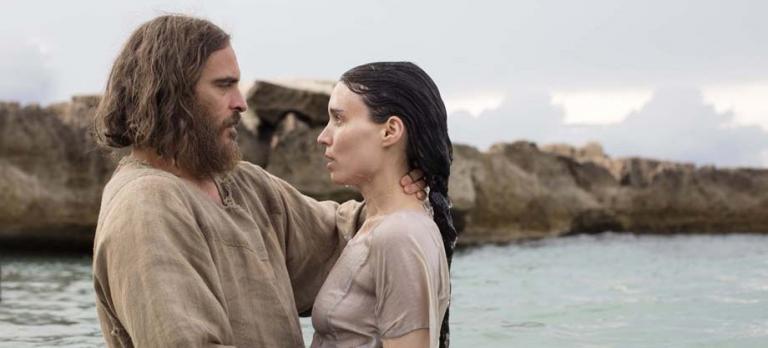 Mary Magdalene — starring Rooney Mara as the title character, Joaquin Phoenix as Jesus and Chiwetel Ejiofor as Peter — has finally arrived in North America, and today its distributor posted a few clips from the film to YouTube.
Two of the clips are new to me, and interestingly, both of them show Jesus and his disciples baptizing people — a facet of Jesus' ministry that is mentioned in the Bible but is rarely depicted in film. (John 3:22-26 seems to indicate that Jesus himself was baptizing people, but John 4:2 says it was the disciples and not Jesus who did the baptizing.)
In 'Miracle Worker', the disciples baptize people in the background while Mary watches Jesus heal a blind (or at least vision-impaired) woman:
And in 'Mary's Baptism', Jesus himself baptizes Mary Magdalene:
IFC Films has also released YouTube versions of two clips that I posted here before.
In 'God's Presence', Jesus meets Mary Magdalene for the first time:
And in 'Forgiveness', Jesus tells some women to obey God rather than men:
Mary Magdalene is now playing in theatres across the United States and Canada.
Check out earlier Mary Magdalene videos here: