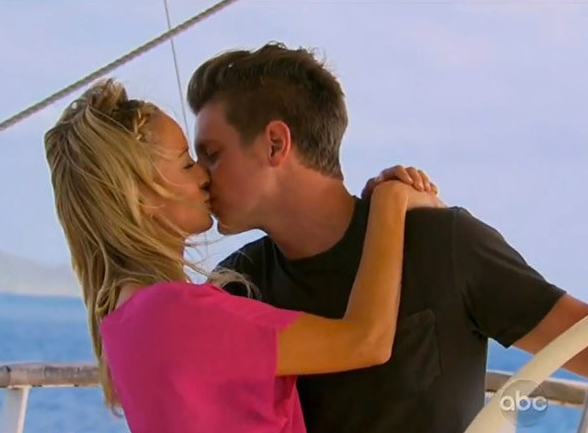 On every season of The Bachelor/ette, the producers give the main contestant an opportunity to spend the night with three of the remaining options, in what is euphemistically called "The Overnight Date," but what would be more appropriately called the "Put Out or Get Out Date."  The creator of The Bachelor, Mike Fleiss, was very candid about these dates when he was interviewed on the 20/20 special Inside the Bachelor: Stories Behind the Rose.  He said:
"The average guy will end up having sex with three women during the course of the show." Later, he made a head-scratching joke about how Bachelor Bob Guiney slept with "5 ½ women."
Um… I guess it's best that the cameramen aren't allowed to stay in the luxury suites.The overnight invitations are always preceded by stunningly choreographed dates, seemingly planned for their metaphorical possibilities.
Tonight, Emily helicoptered with Sean to the most desolate, tree-less private island ever and swam:
Comparison Used:
None (!)
She went sailing with Jef on a gigantic, beautiful boat.
Comparison Made:
"The sun is setting here," said Jef, "But for me and Emily our whole lives together are just beginning."
She and Arie swam with the dolphins.
Comparison Made:
"Life is all about new experiences, and this is just one new thing we get to share together," said Arie.
Normally, the contestant has a ridiculously old fashioned key, one that looks like it fell out of a Dickens novel, which is presented with a note from the producers.  (Really, what says romance than a card from Chris Harrison?)  The remaining contestant has a choice to make.  Does she accept the "will you have sex with me as I try-you-out on national television" card?  If so, she risks looking frigid and hangs out in her room by herself, knowing that the other girls are jumping at the chance to jump into his bed and – consequently – heart.
But what exactly happens on those dates? Bachelor Brad Womack explained on his his People.com blog:
"I'll be the first to admit, as a fan of the show before I was on it, I would always tune in and wonder what exactly happens on those overnight dates. Will the couple really stay the night together? Are they really free from cameras or is there a crew on standby, waiting to capture the next groundbreaking moment? Well I, of course, found out the answer to my questions. Yes, we (the couple) are completely alone and camera free. Yes, we stay in the same room together overnight. What happens is completely up to the couple. I'd like to explain why overnight dates are so important and what I used those nights away from the cameras for. I wanted to take the opportunity with all three of the women to talk, off camera, so we could all feel even more comfortable. By this time, I had gotten to know the women so very well and I wanted to feel confident in the fact that, after talking with each of them all night, I knew exactly what type of woman each of them is. I wanted to be confident that I actually knew these women as well as I thought I did. The overnight dates actually gave me quite a bit of clarity — clarity that I had been looking for!"
How did Southern Bachelorette Emily Maynard navigate these waters?  She's already stated that she won't live her anyone before marriage and she won't be making out in hot tubs.  In a previous season, she refused the spend the offer, saying she didn't want to set a bad example for her daughter. Will she be able to maintain this standard, even with the remaining three?
Tonight, when she was with Sean, the awkward moment came and she actually offered the key to him.  He accepted, by saying, "I'd love to spend more time with you and have that one and one time."  In an annoying loud, gurgling hot tub, they kissed.  Then, in a surprise move, she asked him to leave!  She explained why, by saying:
"It doesn't line up with what I believe in and the example I want to set for my daughter.  I don't need those extra hours, because I already know how I feel about him."
One down, two to go.
When Emily was on her date with Jef, the uncomfortable moment came up again.  She coyly handed him the note from Chris Harrison and asked, "What do you think?"
"What do I think," he asked, a little embarrassed. "I think it would be awesome to forego our individual rooms, but I understand and respect that your daughter and my family will be watching this. They're involved in this process too.  There's a time and a place.  I plan on spending every night with you in our own fantasy suite."
"I'm thankful that you responded that way," she responded.  "You're always a gentleman… I want to spend more time with you, but I can't spend the night."
Later, they checked out the fantasy suite, admired the romantic set up, and decided it would be the perfect place to spend the night.  However, Jef, explained, "There's a time and a place for everything.  And right now, it's time for us to bridle these passions."
For someone who's "not a practicing Mormon," he obviously still retains his moral compass.
Two down.  How would she respond to Arie, the person with whom she had the most physical connection? "Its a total inner struggle, but as a role model and a mother, I just can't," she said of not giving the key to Arie.  "I'm not going to give him the fantasy suite card.  At the end of the day, I don't trust myself and I won't let myself go there."
You might also enjoy these Bachelor-related articles:
Sean Lowe: My Faith in Jesus Helped Me Get Over Heartbreak Over Emily
Top Five Worst Moments in "Overnight Dates" on The Bachelor/ette

Religion on The Bachelorette: It's There, But Just Below the Surface
Mormons Create "The Mormon Bachelor"
Jef Holm: I'm Not a Practicing Mormon
The Bachelorette: I Won't Shack Up Before Marriage
Connect with Me Further by:
Friending me on Facebook
Following me on Twitter
Buying my Books!