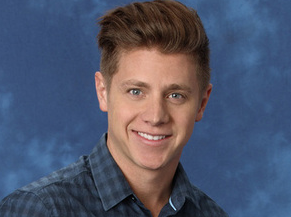 So, we've speculated about Jef Holm's faith a bit on this blog, so you might be interested in this interview he gave recently to Reality TV World during a conference call with reporters.
You keep saying how private and conservative your family is, and I guess from reading up on you a little bit, you're supposedly half Mormon.  Can you talk about that a little bit?
Jef Holm: Yes, I'm not half Mormon.  I was raised Mormon and my family is still Mormon.  My parents are serving in a Mormon mission as Mission presidents in South Carolina, and I was raised with the standards of Mormonism in the church.
I'm just not practicing right now.  I'm still, you know, really — I mean, faith is something that's a huge priority on my list and in my life, and I'm really active, you know, in church and everything.  I'm just not active Mormon.
You can read the entire interview here.  I think it's interesting that he said he was "really active in church," but was not an active Mormon.  I don't pretend to understand what that means, but I thought I'd pass it along to my friends on Team Jef!

You might also enjoy these Bachelor-related posts:
Jef Holm Explains to Good Morning America that He and Emily Aren't Living Together
Sean Lowe: My Faith in Jesus Helped Me Get Over Heartbreak Over Emily
The Bachelorette: Where Grammar Goes to Die
Did Emily Dump Sean by Quoting "You've Got Mail?"
Jef Holm Quotes Book of Mormon When Turning Down Overnight Date
Religion in The Bachelorette: Lurking Just Below the Surface
The Mormon Bachelor: A Religion-Specific Spin-Off

The Bachelorette Won't Shack Up Before Marriage
Southern Bachelorette Vows: No Hot Tub Kissing Sessions
What happened to Jef's last "F?"
The Worst Season Finale of The Bachelor Ever?
Conservative Christian Parents Finally Reject The Bachelor
Connect with Me Further by:
Friending me on Facebook
Following me on Twitter
Buying my Books!