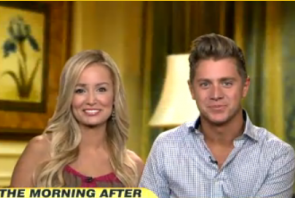 The newly engaged couple, Jef Holm and The Bachelorette Emily Maynard were interviewed by "Good Morning America" on Monday. Apparently, the reporter automatically assumed they'd live together after the proposal:
Good Morning America reporter: "The plan that we understand is that you are going to move in together in Charlotte?"

Jef Holm: "I'm going to move to Charlotte, but I'm going to get a separate place there. We're going to combine our lives there, I'm going to hang out with Ricki, and become a carpool dad. We're going to get accustomed with each other, plan our wedding. Then, when we get married, we'll move in together, and figure out where we want to be as a family."
Of course, fans of The Bachelor and The Bachelorette know that most of the engaged couples end up living together before saying "I do." Maybe that's why, after one decade since the first show (16 seasons of The Bachelor and 7 of The Bachelorette) only four of the official couples are still together.
But Jef very nicely explained the correct order of things to Good Morning America:
1. Moving to Charlotte

2. Getting a separate place

3. Get accustomed to each other

4. Get married

5. Move in together
And, I'd hopefully add:
6. Live happily ever after!
Watch the interview here!

You might also enjoy:
Connect with Me Further by:
Friending me on Facebook
Following me on Twitter