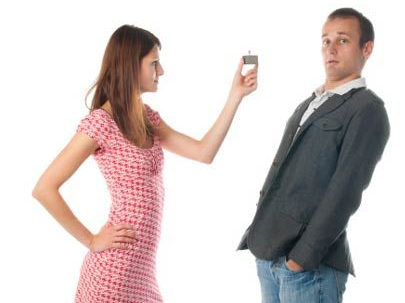 In this season of The Bachelorette, it's obvious who has the power.
Bachelorette Emily Maynard has carefully narrowed down her options of potential mates from 25 down to 2… in the type of fantasy male-to-female ratio any woman would love. On the season finale, she'll determine whether Jef Holm or Arie Luyendyk Jr. will be her future husband.
So why doesn't she propose instead of the other way around?
In many ways, The Bachelorette is not the most traditional of television franchises. One person chooses from amongst dozens, in a near polygamous living situation. Serial make out sessions, hot tubs, and even "overnight dates" establish the tone. Unsurprisingly, the couple lives together before marrying. In fact, after one decade since the first show (16 seasons of The Bachelor and 7 of The Bachelorette) only four of the official couples are still together. Yet, there's one tradition they haven't shirked: the traditional proposal of a man to a woman.
Of course, there are no laws prohibiting women proposing to men. Queen Victoria — the 20-year-old monarch – proposed to her first cousin in October 1839. (She'd already been Queen for two years and thought it would be more appropriate for the monarch to be the one asking.) The serially married Zsa Zsa Gabor proposed to all nine of her husbands. And Elizabeth Taylor proposed to her co-star Montgomery Clift (who didn't want to become one of her many husbands).
Though Victoria and Albert were married for 22 years and had nine children, Zsa Zsa and Liz Taylor's proposals weren't necessarily good omens for the success of their marriages. No matter how far "women's rights" have progressed, there's still an emasculating stigma associated with inverting the traditional gender roles.
Perhaps that's why on The Bachelorette and The Bachelor, the men are expected to select a ring, get down on one knee, and bare their hearts on national television. In fact, it's the climax of every season. (Except the season Brad Womack refused to pick either of his two remaining options.)
Consequently, Emily might have two men down on one knee asking for her hand.
This makes the situation particularly awkward since there are two men and only one woman. Will Emily have a heart and stop one of them or will she let both go through their entire "will you marry me" speeches?
(Rumor has it only one proposal occurs tonight.)
Either way, millions of Americans will tune in tonight to see either Arie or Jef's profession of love.
Let's hope that it's true love that lasts forever, no matter who does the asking!
You might also enjoy:
Connect with Me Further by:
Friending me on Facebook
Following me on Twitter