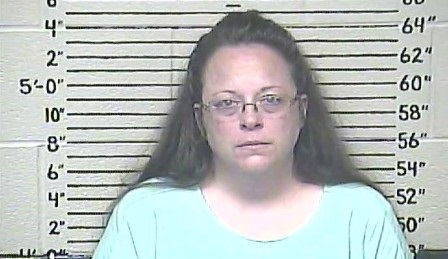 On National Review, Harvard Law graduate and Constitutional expert David French has written the definitive article about why Kim Davis was right to resist.  He writes:
The legitimacy of Davis's protest is inseparable from the illegitimacy of the court opinion that made it necessary. And it is this very illegitimacy that means she should neither resign nor comply. Instead, she has chosen the proper response: resist.
Why didn't she just comply?
… compliance in this case would have meant not merely participating in an immoral act but also bowing before an unlawful judicial oligarchy. There are Christians who disagree in good faith, who would say that Biblical commands to obey authority apply. Others, also in good faith, would note that obedience to authority does not mean and cannot mean participation in evil. My own opinion is that the relevant "authority" a public official is to obey is the Constitution of the United States and the Constitution of the Commonwealth of Kentucky. The judicial branches' power to interpret the law does not include the power to rewrite those constitutions.
Why didn't she just resign?
Resignation in response to the Court's ruling would have represented an unacceptable surrender. Indeed, from the perspective of the ideologues, it would have provided them with a complete victory — with the twin benefit of changing the law and cleansing public service of the devout. Resignations hand over the lever of power to the truly lawless, to those who will engineer social change by any means necessary.
Shouldn't Christians care about the rule of law?
The defiance Davis chose was mild indeed. She did not take up arms. She did not try to escape punishment. She did not even truly deny any single person a marriage license. Any citizen of Rowan County could get in the car and drive a few extra minutes to a neighboring county. I grew up not far from Rowan County, and I'm not sure there's a single point in the county that's further than 30 minutes from a neighboring jurisdiction.

Indeed, her defiance was far less consequential than the Left's flouting of the rule of law throughout the same-sex-marriage fight. NR's own Nicholas Frankovich outlined multiple examples of mayors or county officials issuing marriage licenses in the face of controlling, democratically enacted state law. Leftist lawlessness included the government of California essentially attempting to fix the outcome to legal challenges to Proposition 8, which defined marriage as the union of a man and a woman, by refusing to defend the law in court.
Read all of David's article here.
(Oh, and if you've heard about Davis's previous marriages and are prone to discount what she's doing, click here first.)
Read more on the Patheos Faith and Family Channel, follow Nancy on Facebook, Twitter, and Instagram!