Thousands of communities are tucked away in remote regions of Asia. In such places, chances to hear the story of Christ's birth, death and resurrection can be very rare.
Beatings. Taunting words. Long days on the road. Late nights of traveling to pray for the sick. False accusations. Even imprisonment. If national missionaries know ministering to their people may cost them all this, how do they go on day after day? Why do they do it?
One reason missionaries continue to pour themselves out in service to God is because of people like Naitik. He was 80 years old before he ever heard the name of Jesus. National missionaries long for him to understand the love of God, whom they themselves love so much. Naitik is not alone—his story was like millions of others' who live in remote places in Asia, where, so far, there's been no mention of Jesus Christ, Son of the Living God.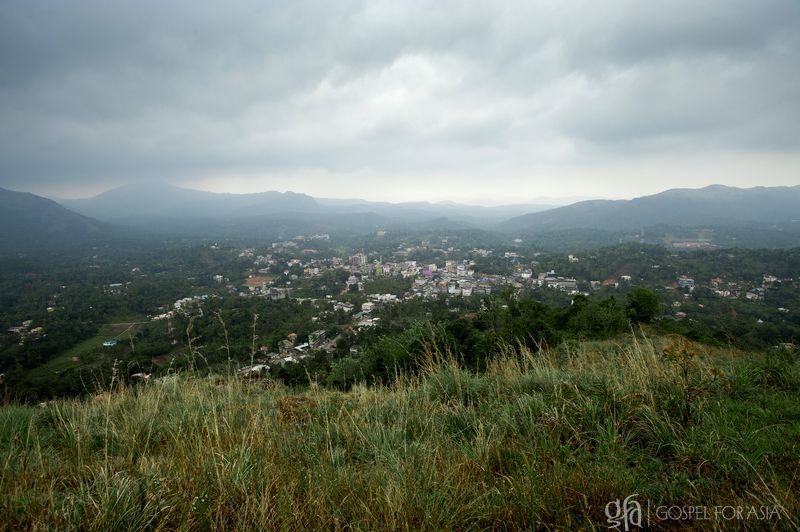 Naitik lived in an area where the people worshiped local deities and believed in witchcraft. Then one day Naitik's relative introduced him to Gospel for Asia-supported pastor Udyan. During their conversation, Naitik heard for the very first time about Jesus and His sacrifice to save humanity. He became very interested to learn more about this love. Before Pastor Udyan left, he prayed for Naitik's ailments, which included leg pain and poor eyesight, and encouraged the elderly man to trust Jesus to heal him.
The next morning, Naitik contacted Pastor Udyan and invited him to come to his home again for prayer. When the pastor arrived, the old man welcomed him and said: "I don't know what is happening to me. I could not sleep properly last night. I felt like someone was talking to me. I want to know more about the Lord Jesus. Also, there is less pain in my leg after you prayed for me."
As Naitik and his wife spoke with Pastor Udyan, they learned more about the love of God and decided they would go to church for Sunday worship. When they attended the service, they were further encouraged by Pastor Udyan as he taught from God's Word.
Later, Naitik happily received a Bible from the pastor. In spite of his limited education and his poor eyesight, Naitik faithfully read the Bible, and to his surprise, the Lord restored his vision!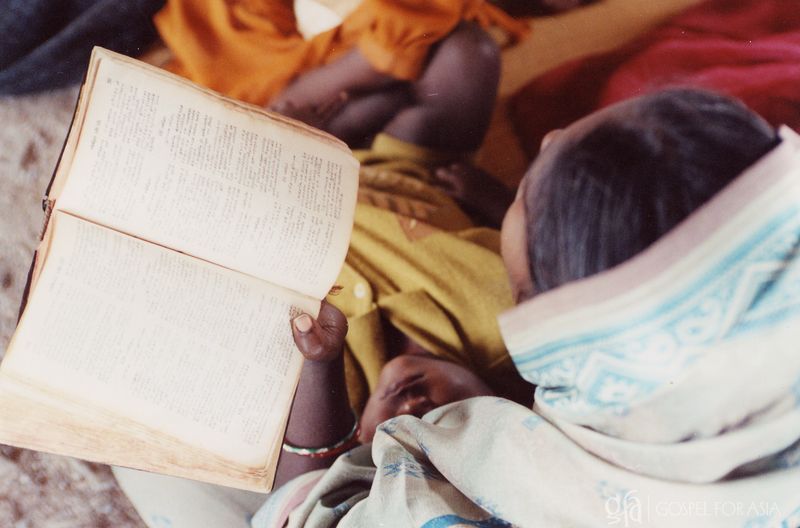 Seeing God's work in his life, Naitik asked Pastor Udyan to conduct prayer meetings at his house. During the first meeting, the couple learned the importance of prayer in a believer's life when the Lord miraculously healed Naitik's wife from a breathing problem! Experiencing the Lord's kindness and grace led this dear old couple to put their trust in the Savior.
Naitik and his wife are very happy to know Jesus. They are even inviting their neighbors and friends to be part of the new fellowship that is gathering at their home. Naitik is reading his Bible faithfully, spending time in prayer and growing in his faith. He said, "Although I had spent my whole life in darkness, now I have found light in Jesus. He is really God. I want to live for Him for the rest of my life."
How precious these words are of an old man who was able to meet one of God's servants, hear about Jesus and be given the chance to respond to Christ's love and sacrifice near the end of his life. Tragically, there are many people of Naitik's generation who are going into eternity without ever meeting anyone who could point them to the Light of the World.
For many of them, time is running out fast. Gospel for Asia (GFA)-supported workers minister in many countries where the average life expectance is only 66–75 years, according to the World Bank.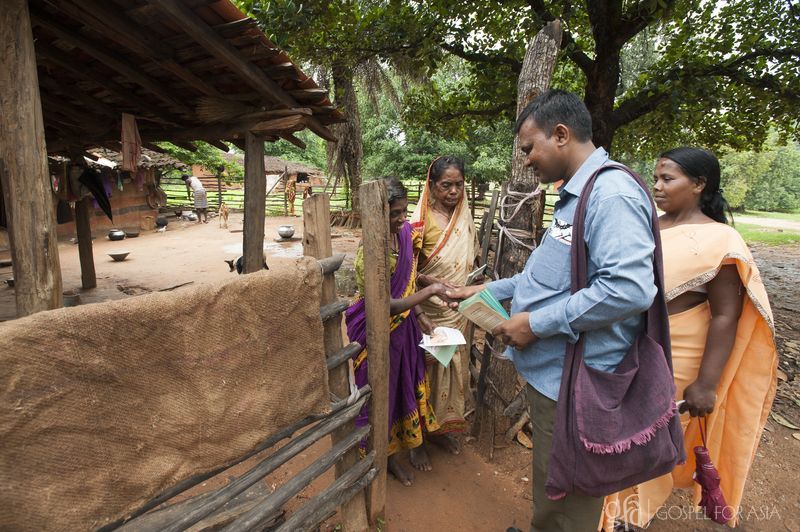 But the Lord has raised up Asian men and women who are ready—and eager—to go to their own people and be Christ's hands and feet. Their limitations for ministry are minor compared to foreign missionaries. They know the intricacies of the culture or can adapt very quickly and well. As their neighbors watch their daily life, many discover for themselves that Jesus isn't a foreign God, but is their own Creator and knows their every need.
As Christians, it is our privilege and instruction from the Lord to share the life-giving hope of Christ to the nations. National missionaries like Pastor Udyan and millions of other Christ followers know this, and they live with the daily reality of the cost of carrying out that directive. In writing about the persecuted church, Dr. KP Yohannan quotes Jeremy Weber of Christianity Today as saying "For the third year in a row, the modern persecution of Christians worldwide has hit another record high."
Our brothers and sisters are paying a high price to obey Jesus' words spoken on the shores of Galilee.
But they also experience the joy of seeing a spark gleam in a new believer's eye when he understands for the first time that the God of the universe listens to their every prayer. They see the transformation that follows as addictions crumble and love enters families' home life. They see how generosity and compassion changes a community.
Jesus Himself endured beatings, mockery, abuse and death to carry out God's plan of redemption for the world. And His example strengthens each one of us who ministers for the sake of His name.
". . . let us run with endurance the race that is set before us, looking unto Jesus, the author and finisher of our faith, who for the joy that was set before Him endured the cross, despising the shame, and has sat down at the right hand of the throne of God. For consider Him who endured such hostility from sinners against Himself, lest you become weary and discouraged in your souls." —Hebrews 12:1b–3
See the passion of National Missionaries:

=====
For more content on Patheos by Gospel for Asia (GFA), go here.
Go here to know more about Gospel for Asia: GFA.net | GFA Wiki | GFA Flickr