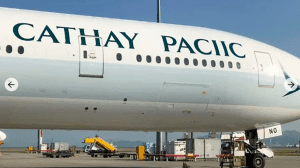 Here's a collection of some blog posts and websites for your Saturday morning, most of the links being sent to me — and again a big thanks to Kris and JS.
The photos surfaced via the

Hong Kong Aviation Discussion Board

Facebook group, but it's still not clear just how such an epic mix-up could have happened — and some are a little suspicious.

An engineer for Haeco, a Cathay Pacific subsidiary, told the South China Morning Post: "The spacing is too on-point for a mishap. We have stencils. Should be a blank gap in between letters if it was a real mistake I think."

A spokesperson for Cathay Pacific told

CNN Travel

: "We did not intend to make it a big fuss in the first place, but photos went viral within the aviation enthusiastic groups, so we just shared the hilarious moment with everyone."
OXFORD, Pa. (AP) — A staple of summer — swarms of bugs — seems to be a thing of the past. And that's got scientists worried.

Pesky mosquitoes, disease-carrying ticks, crop-munching aphids and cockroaches are doing just fine. But the more beneficial flying insects of summer — native bees, moths, butterflies, ladybugs, lovebugs, mayflies and fireflies — appear to be less abundant.

Scientists think something is amiss, but they can't be certain: In the past, they didn't systematically count the population of flying insects, so they can't make a proper comparison to today. Nevertheless, they're pretty sure across the globe there are fewer insects that are crucial to as much as 80 percent of what we eat.

Yes, some insects are pests. But they also pollinate plants, are a key link in the food chain and help decompose life.

"You have total ecosystem collapse if you lose your insects. How much worse can it get than that?" said University of Delaware entomologist Doug Tallamy. If they disappeared, "the world would start to rot."

He noted Harvard biologist E.O. Wilson once called bugs: "The little things that run the world."
Every four years, the American Society for Civil Engineers issues grades for the nation's infrastructure. In the most recent evaluation, released in 2017, America's overall infrastructure score was a D+, the same as in 2013. Although seven systems, including hazardous waste and levees, received modestly better grades than in the previous assessment, transit and solid waste, among others, did worse. Aviation (D), roads (D), drinking water (D), and energy (D+), retained their miserably low scores.

The ASCE does not grade our "social infrastructure." If it did, the scores would be equally shameful. For decades, we've neglected the shared spaces that shape our interactions. The consequences of that neglect may be less visible than crumbling bridges and ports, but they're no less dire.

Social infrastructure is not "social capital"— the concept commonly used to measure people's relationships and networks—but the physical places that allow bonds to develop. When social infrastructure is robust, it fosters contact, mutual support, and collaboration among friends and neighbors; when degraded, it inhibits social activity, leaving families and individuals to fend for themselves. People forge ties in places that have healthy social infrastructures—not necessarily because they set out to build community, but because when people engage in sustained, recurrent interaction, particularly while doing things they enjoy, relationships—even across ethnic or political lines—inevitably grow.

Public institutions, such as libraries, schools, playgrounds, and athletic fields, are vital parts of the social infrastructure. So too are community gardens and other green spaces that invite people into the public realm. Nonprofit organizations, including churches and civic associations, act as social infrastructure when they have an established physical space where people can assemble, as do regularly scheduled markets for food, clothing, and other consumer goods.Commercial establishments, such as cafés, diners, barbershops, and bookstores, can also count as social infrastructure, particularly when they operate as what the sociologist Ray Oldenburg called "third spaces," where people are welcome to congregate regardless of what they've purchased.But if we let public spaces collapse, we can't rely on commercial establishments to pick up the slack—for the simple reason that people are not always welcome there. Inside almost every fast food restaurant or coffee chain, particularly in racially and socioeconomically diverse neighborhoods, there's at least one "No Loitering" sign. And it's not just a suggestion. Consider the recent scandal at a Starbucks in Philadelphia, when baristas called the police simply because two African American men were sitting peacefully at a table while waiting for a friend; or the related incident four years ago in New York City, when McDonald's forced a group of elderly Korean patrons to vacate less than an hour after they'd ordered. Businesses that discriminate only deepen our divisions. [HT: JS]
A very sad story out of Ames Iowa about ISU golfer Celia Barquin Arozamena:
A 22-year-old man has been charged with first-degree murder in the death of Iowa State golfer Celia Barquin Arozamena, the 2018 Big 12 champion and the school's female athlete of the year.

Barquin Arozamena, 22, was found dead Monday at a golf course in Ames, Iowa. Ames police on Monday night announced that Collin Daniel Richards has been charged following an investigation by several law enforcement agencies. Officers were called to Coldwater Golf Course on Monday morning after golfers had located a golf bag with no one around it. Officers located Barquin Arozamena's body "some distance away" and determined she had been assaulted. A cause of death has not been determined.

According to a Ames police news release, Richards has no known address.

A native of Spain, Barquin Arozamena finished her eligibility this spring but remained in school to complete her civil engineering degree in the fall semester.

"This is a tragic and senseless loss of a talented young woman and an acclaimed student athlete," Iowa State University president Dr. Wendy Wintersteen said in a prepared statement. "We mourn with her family and friends in Spain, her teammates here and all who knew her. On behalf of the entire Cyclone family, I extend our deep condolences to Celia's family and her many friends and teammates at Iowa State. We are deeply saddened."
George Yancey and identity politics, which needs a little of Charles Taylor's fragmentation theory to bolster why it is that we are so committed to identity politics:
Why is identity politics problematic? Reams of social research have shown us how powerful our social identity is in shaping our social and psychological health. Among other tasks, our social identity helps us to maintain a healthy level of self-esteem, to feel good about our social norms, to understand who our allies are and to deal with social problems. Our social identity is a critical part of who we are and we cannot easily dismiss its effects upon us.

Consider what happens when we connect our politics to our social identity. Critiques of our political positions are not merely objective assessments of our political ideas. They are attacks on who we think we are. Attempts at dispassionate analysis of political opinions based on identity politics are seen as cruel and insulting. This makes it very hard to debate issues connected to identity politics since we are not merely dealing with issues of logic and rationality but also of emotional and passionate connection to what people consider part of their identity.

Look at how individuals rooted in social identity approach political debates. To avoid hearing political viewpoints that may threaten their social identity, individuals develop ways to shut down debate. Those who debate points that threaten that identity may be called part of the "swamp" or racist. Those who threaten social identity cannot be seen as completely human. They are either bigots or snowflakes. We know that in war it becomes easier to kill the enemy when those individuals are dehumanized. This type of dehumanization suggests that those relying on identity politics, on the left and the right, are engaging in a mentality that is not unlike the mentality of soldiers who are in war.

Does that scare you? I hope it does. It scares me. [HT: JS]
What these megachurches like Hillsong need more is not independence and autonomy but big ears that listen to wise leaders who respect the history of the church and its theology:
Hillsong Church has become an official denomination today, withdrawing from the Australian Christian Churches (ACC).

In a letter addressed to the ACC network, Hillsong Senior Pastor Brian Houston announced the "global nature" of Hillsong Church had prompted the decision.

"We are now registered by the Australian Department of Births, Deaths, and Marriages, as a recognised denomination with the ability to credential pastors in our own right," Houston wrote.

"As Hillsong Church has continued to grow, we no longer see ourselves as an Australian Church with a global footprint, but rather a global church with an Australian base – our global office now resides in the USA.

"Two thirds of the people attending Hillsong Church each weekend live in countries beyond Australia. We have pastoral staff in twenty-four nations around the world, representing 123 campuses and locations, with 263 different church services on any given weekend. We consider it to be "One House, with many rooms".

"With that growing footprint in mind – it has become clear to us that we need to be able to credential our own pastors and restructure our church in a way that enables us to give due diligence to governance, risk, church health, safe church, and many other policies that are crucial to the future progress of Hillsong, globally."

Wayne Alcorn, President of the Australian Christian Churches (ACC) has emailed its pastors saying: "Recently Hillsong Church advised its desire for a change in its relationship with the ACC. In a way, this can be likened to a child who has grown up and now has a larger life outside the family home."

"Hillsong Church now has more constituents and churches outside Australia than within, and as such, has announced its intention of establishing its own international denomination to credential their pastors, whilst remaining in Kingdom partnership with the ACC going forward.

"May I emphasise that the relationship between Hillsong Church and ACC is strong. The change in relationship has been facilitated by Hillsong's global growth, rather than any disagreement."
Where is God in Florence? By my colleague Claude Mariottini:
When tragedy like Katrina and Florence strikes, people call the devastation caused by these storms "a natural disaster of biblical proportions." Others call it "apocalyptic" while others compare the devastation with "Armageddon."

When tragedy such as hurricane Florence strikes, people ask: "Where was God in this tragic event?" The devastation caused by Hurricane Florence has inflicted the kind of human suffering that is hard to express with words. Florence has produced so much suffering and misery that people feel lost and disconnected. In the midst of this tragedy, when people are confronted with the loss of life and property, people tend to ask: "Where was God in all of these events? Why did God allow these things to happen?"

The answers to these questions are not easy. How can we understand the devastation caused by natural disasters such as Katrina and Florence and yet believe that God is good? For us to understand the tragedy caused by natural disasters such as hurricanes and tornadoes we must understand the nature of the God of the Bible.

After Hurricane Katrina struck New Orleans, I wrote a series of posts explaining how natural disasters such as a hurricane can exist in this world created by a loving and caring God. What I wrote at that time can also explain the devastation and the looting that occurred in North Carolina.

Many people have questions about the role of God in natural disasters. Although I do not have all the answers to the questions people have about the devastation caused by natural disasters, I believe that the posts listed below provide biblical answers to the question "Why did God allow these things to happen?"

You may not agree with some of my conclusions, but I believe that after you evaluate my argument, you will conclude that God is good even when we may not have all the answers to the problem of natural evil. …

When confronted with the problem of evil and the pain and suffering associated with it, our greatest comfort is to discover that in Christ we meet a God who suffers with us, for us, and because of us. God is not indifferent to the hurt of the people: "I weep for the hurt of my people. I am stunned and silent, mute with grief" (Jeremiah 8:21).

The real answer to tragedies such as Katrina is the cross of Calvary because there our pain and suffering meet divine love. There, as we look at the one who was an innocent sufferer, we hear the words that bring healing to our broken hearts: "I care." Jesus' loving care is expressed in the poem written by Frank E. Graeff:

Does Jesus care when my heart is pained,
Too deeply for mirth and song;
As the burdens press and the cares distress,
And the way grows weary and long?

Does Jesus care when my way is dark
With a nameless dread and fear?
As the daylight fades into deep night shades,
Does He care enough to be near?

O yes, He cares; I know He cares,
His heart is touched by my grief;
When the days are weary, the long nights dreary,
I know my Savior cares.
A week from tonight [=next week], PBS will debut a Ken Burns-produced (though not directed) documentary about the Mayo Clinic, the world-famous medical center based in Rochester, Minnesota. Though religious themes are barely hinted at in the trailer, the film is subtitled Faith • Hope • Science.

That combination of words makes perfect sense to me: my rather devout dad just retired after a 45-year career as a world-class pediatrician and medical researcher and remains highly active in a Southern Baptist church. But on my Facebook feed, I've noticed the subtitle rubbing some people the wrong way. One doctor friend complained that placing faith and hope ahead of science was the medical equivalent of offering "thoughts and prayers." Another commenter insisted that religious faith can only obstruct scientific progress.

But the actual history of medicine and religion, and of the Mayo Clinic, is much more complicated than that.

In his historical introduction to Medicine and Religion, Gary Ferngren rejects "the notion that there has existed throughout history an essential conflict between religion and science." And while he documents examples of tension between religion and medicine, Ferngren notes that the two have often gone hand-in-hand, even in the modern era:

Even today the religious beliefs of many Westerners intersect with the culture of healing and health care in surprisingly traditional ways. These beliefs often lie under the radar of public or media perception and, when made public, may be ridiculed as hopelessly anachronistic. Yet a belief in God often quietly motivates a physician or health-care worker to provide compassionate care for those who are ill, or to help the sick endure pain and suffering, or to give spiritual consolation to the dying. Physicians and patients alike pray for divine help and healing, especially when they have exhausted all the avenues of modern science and medical knowledge. Faith today still offers the hope of some relief to many who experience chronic or untreatable diseases. And it provides a comfort that modern medicine and science do not: the belief that there is divine purpose in suffering, some meaning in all the pain one bears. Perhaps faith even holds a role in healing not altogether foreign to that of the ancient world, although modern men and women might take quite a few steps along their medical journey before realizing that they may have need of their faith before that journey is over.

Also the author of a study of the role of early Christianityin the development of medicine, Ferngren is particularly admiring in his attention to Catholic religious orders dedicated to medical care: "No element of Catholic philanthropy in America has been as impressive as the organization of medical care by nursing orders of nuns. The earliest nursing sisters offered mostly palliative care, but they were quick to learn new techniques, and the discipline of the orders provided good training for the founding and administration of hospitals and other medical institutions." One of the most famous examples of this theme brings us to the story of the Mayo Clinic. [HT: JS]
For this Puffin fan, this is not good news:
GRIMSEY ISLAND, Iceland — Puffins are in trouble.

The birds have been in precipitous decline, especially since the 2000s, both in Iceland and across many of their Atlantic habitats. The potential culprits are many: fickle prey, overfishing, pollution. Scientists say that climate change is another underlying factor that is diminishing food supplies and is likely to become more important over time. And the fact that puffins are tasty, and thus hunted as game here, hardly helps.

Annette Fayet is trying to solve the mystery of the dwindling Atlantic puffins, and that is why she was reaching shoulder deep into a burrow here last month. She gently drew a puffin out, having snagged its leg with a thick wire she had curved into a shepherd's crook. As she brought the croaking seabird into the light, it defecated copiously on her pants, which were, thanks to her long experience with birds, waterproof.

"Wow, science!" she said, and smiled. Ideally, this bird, with its tuxedo-like black-and-white plumage and clownish orange beak, would have voided its bowels into a stainless steel bowl she calls the "puffin toilet." She took a flat wooden spoon out of its wrapper, scraped the mess up and placed it in a vial for analysis; she wants to know what these birds have been eating.

Though some puffin colonies are prospering, in Iceland, where the largest population of Atlantic puffins is found, their numbers have dropped from roughly seven million individuals to about 5.4 million. Since 2015, the birds have been listed as "vulnerable" by the International Union for Conservation of Nature, meaning they face a high risk of extinction in the wild.

The birds are cherished by Icelanders as part of their history, culture and tourist trade — and, for some, their cuisine. "The puffin is the most common bird in Iceland," said Erpur Snaer Hansen, acting director of the South Iceland Nature Research Center. "It's also the most hunted one."