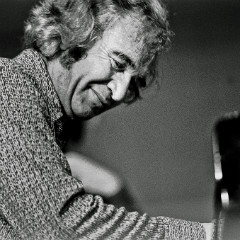 Jazz pianist and composer Dave Brubeck died earlier today at ninety-one, just a day shy of his ninety-second birthday.
Known for his ability to make magic happen with unconventional meters, Brubeck leaves behind a hefty catalogue of amazing jazz. Albums like Time Out and Jazz Impressions of Japan continue to impress on the hundredth listen as much as they surprised on the first.
What some may not know is that Brubeck also leaves behind several wonderful sacred compositions. (His obituary in the Wall Street Journal, for instance, is mute on the point.) Always a very spiritually inclined person, Brubeck joined the Catholic church late in life, and it was a piece of music that started his journey.
Here's part of the story from an interview with PBS:
One of Dave's major religious compositions is the mass To Hope! A Celebration. When Brubeck finished the piece, he was proud to play it for various religious officials. But a priest told him he had left the Our Father out of the mass, after the premiere.

"He was very disappointed," Dave explained. "He said 'I loved your mass, but you left out the Our Father." I said, "What's the Our Father?' because that doesn't mean anything to me. I'm not a Catholic. And he said, 'Our Father, who art in Heaven.' And I said, 'that's The Lord's Prayer.' And the priest said 'Well, in Catholicism, we call it the Our Father. So I said, 'Well, nobody told me to write it, so I didn't write it. I'm finished with The Mass, I'm going to the Bahamas with my family, and I'm going to take a vacation. I've been working very hard.' So I get down there, and what happens? I dream the Our Father because a priest tells me I left it out. So I jump up in the middle of the night, and write it all down. And now it's in The Mass."

The event didn't just revolutionize the piece; it changed Brubeck's life. "I joined the Catholic Church, because I felt, somebody's trying to tell me something," he realized. "Now, people say I converted. I didn't convert to Catholicism, because I wasn't anything to convert from. I just joined the Catholic Church."