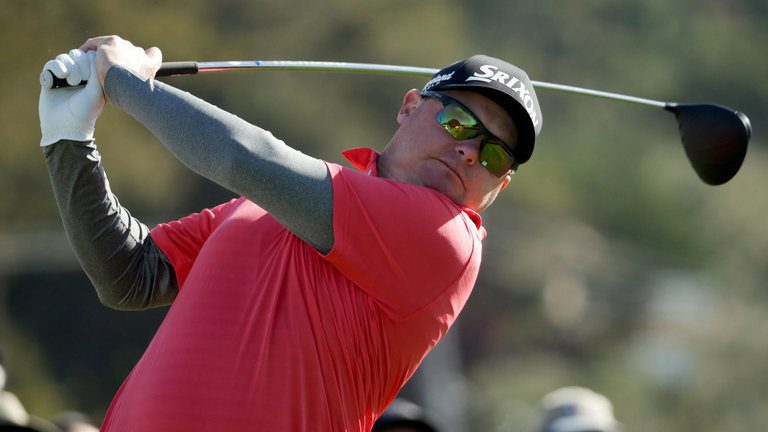 Left-hander Ted Potter, Jr., just won the PGA Tour's AT&T Pebble Beach Pro-Am at the picturesque Pebble Beach Golf Links course in Monterey, California. It's plush, green fairways and pure white sand bunkers slink along Big Blue–the biggest water hazard in the world–which is the Pacific Ocean.
Potter won by three strokes over his nearest challengers. Four players tied for second: Dustin Johnson, Jason Day, Phil Mickelson, and Chez Reavie. It was Reavie's second, 2nd-place finish on the PGA Tour in the past two weeks. Future Hall of Famer and superstar Mickelson should have had the same two seconds, having finished with a double bogie last Sunday here in Phoenix. And Jason Day showed his renewed ambition to dethrone Johnson and regain that #1 ranking that he held for a long time before Johnson took over. So, Potter emerged brilliantly from such a talented group to capture the trophy.
Potter had moved into contention yesterday by shooting a blistering 62 on the Shore Course at Monterey Peninsula Country Club. He had a great chance to break the elusive score of 60 for 18 holes in pro golf. Being 11-under par on that par 71 course, he finishing two over par the last four holes. That put him in a tie with superstar Dustin Johnson for the 54-hole lead going into today's final round.
Potter and Johnson played together today in the last group. Johnson, the #1 player in Sony World Rankings for the past year, was easily favored to win. But Potter played solid golf all day, shooting a 69 for a 17-under par total. He never showed any sign of faltering under pressure. He made several, short, clutch putts on greens that are known for not always being smooth as silk.
This was Potter's second win on the PGA Tour. He won his first tournament in 2012 at Greensboro. Then he fell on hard times in 2014 with an ankle injury.
Pebble Beach Golf Links has always been my favorite golf course I have ever played. I had a chance to win the U.S. Open there in 1972, leading the tournament mid-way during the final round. But I missed some really short putts on bumpy greens in very windy and dry conditions that unnerved as I finished sixth and Jack Nicklaus won. It was certainly the most disappointing experience in my pro golf career. And to do it on my favorite course made it worse. But this story gets even worse.
Ironically, the only two paintings in my condo are the 7th and 8th holes at Pebble Beach, where I missed three short putts. With those pictures–which are four feet wide and three feet high–to remind me of my debacle, it looks like I'm a glutton for punishment.