As a graduate of the University of Notre Dame, I've had a week of remembering, of gratitude and of prayer.
Professor Charles Rice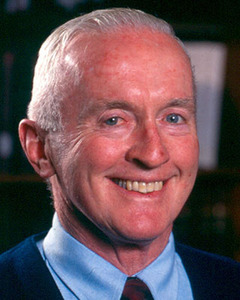 It started Wednesday when I learned of the passing of Professor Charles Rice, Professor Emeritus of Law at the University of Notre Dame Law School. While I never met Prof. Rice in person, I have had the pleasure of being friends with two of his ten children and have followed his commitment to Our Lady's university since my time as an undergrad.
I encourage you to read Professor Rice's obituary, which lovingly paints a picture of the type of man he was. His faith, his family and his commitment to morality and the law were at the center of his life and guided his work even in the years after his retirement from Notre Dame. I wish I had personally known Charles Rice. In learning more about his life, I find myself challenged to stand up for truth and to be more committed to my spiritual life. I want to be the kind of prayer warrior he was. Surely, his devotion to the Church and Our Lady laid a solid foundation for the legacy he leaves.
Rev. Theodore M. Hesburgh, C.S.C.
In the middle of last night, we learned also of the passing of Rev. Theodore M. Hesburgh, C.S.C., or as most of us at Notre Dame called him, "Father Ted". Today, as I've been praying for the repose of his soul, I've contemplated how this amazing man touched my life. Father Ted presided at Notre Dame when I was on campus.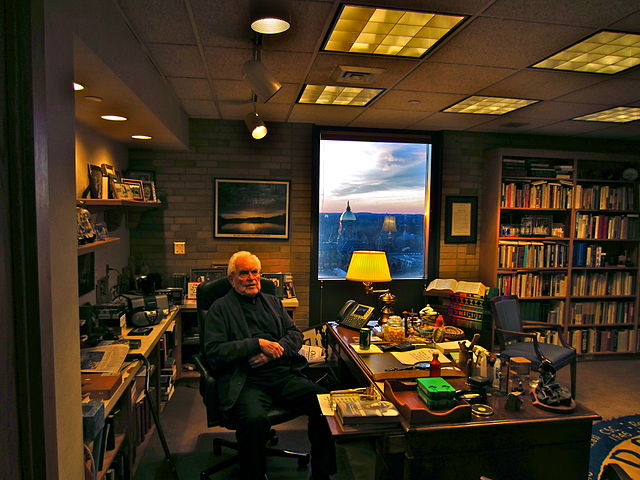 Although I only met him personally a few times, the work he did on behalf of the University definitely impacted anyone who set foot on the Notre Dame campus. At Notre Dame, I learned to look at the world and to realize that I had a responsibility to pray, but also to serve. At Notre Dame, I met and married my best friend and soulmate, who in his own ways lives out the principles of humble, faith-filled service we learned as undergraduates. I honestly believe that much of what I wrote in The Grace of Yes was instilled within me by my parents and by my years under the Golden Dome. My feelings today are not unique. They are being echoed literally around the globe by the Notre Dame family whose lives were touched by Father Ted and Notre Dame.
Father Ted was kind enough to pen an endorsement for my very first book, The Handbook for Catholic Moms. His words touch me as deeply today as they did when I read them back in 2010:
Lisa Hendey's passion for Catholic motherhood is born of many influences and I am proud to know that her experience as a Notre Dame student ranks among the most significant. This book is overflowing with Lisa's generous spirit, deep compassion, and infectious enthusiasm for her family, her Church, and the vocation of Catholic motherhood. She makes a wonderful and most welcome contribution to our faith community. –Rev. Theodore M. Hesburgh, C.S.C., President Emeritus, University of Notre Dame
It may seem self-serving to share these words today, but I do so as a tribute to Father Ted. Because it's likely that what he wrote about me could be said of the vast majority of the Notre Dame family. Inspired by Father Hesburgh's model and under his guidance, we learned about generosity, compassion, family, Church and vocations. We learned to look outside ourselves and to see a world so greatly in need of God's love, and ours too. We learned to say "Yes!"
Rest in peace Professor Rice and Father Ted. You will be greatly missed.
I'm grateful to my friend John Clem, O.F.S. for this week's Top Catholic Tweets:
Papal Tweet:  "

There is no sin that God cannot pardon. All we need to do is ask for forgiveness." (Pope Francis Feb. 21st)

Care for Creation: Water Footprint Calculator (Grace Communications) 

ow.ly/Jrehz
Year of the Consecrated Life: National Catholic Sisters Week 

March 8-14

 (Sinsinawa Dominican Sisters) ow.ly/Jrpel

What Jimmy Fallon Can Teach Us This Lent (Busted Halo) 

ow.ly/JrpxC

Pope Francis to mafiosi: repent and Church will welcome you back (Reuters) 

ow.ly/JrqmG

NEW App: A smartphone app enhances the Lenten experience – currently only in Spanish (Rome Reports) 

ow.ly/JruIj

Dr. Rocío Figueroa Alvear – about the Dignity of Women (Voices of Faith) 

ow.ly/Jrvma
#takeupLENT

 with America Editors & our Special Guest Stephen Colbert (America Magazine) 

ow.ly/JrvHB

The Essential Catholic Hipster Survival Guide:

#PatronSaintOfHip

: The Beatific Battle Begins! 

ow.ly/JrzKu

The Islamic State threatens to come to Rome; Italians respond with travel advice (The Washington Post) 

ow.ly/JrBRz

The Gift of Sorrow for Sin – A Meditation on the "Mass for the Gift of Tears" in the Missal (ADW) 

ow.ly/JrOLR

Podast: Celebrating Ten Years of Catholic Podcasting! (Catholic Weekend – 

SQPN.com

) 

ow.ly/JrRBh

Coptic church formally recognizes martyrdom of 21 slain by ISIS + icon depicting the martyrs (Deacon Greg Kandra) 

ow.ly/JsJfn

Pope at Angelus: Lent is a time of battle against evil (News.va) 

ow.ly/JsMyK
Join Pope Francis on 

March 1st at 2:00 PM

 your local time, in prayer to end Christian persecution. Click to sign up (Catholic Online) ow.ly/JsTD7

Archbishop Warda of Iraq connected w/ Catholic band ooberfuse to highlight the plight of persecuted minorities in Iraq. 

youtu.be/Gknh8D_QNus
The Way Retreat – First 

Sunday

 of Lent – God Is Definitely Looking For You (Chris Stefanick) ow.ly/Jt7Do

Pope Francis Slips Away From The Vatican To Work On 'Defects' (AP) 

ow.ly/JtalN

InstaLent Photo Challenge (Busted Halo) 

ow.ly/JtbOE

Photo: A Franciscan Snowman at the Franciscan Monastery of the Holy Land in DC (CNS) 

ow.ly/i/8K4TK

Pope Francis declares Armenian saint – St. Gregory of Narek "Doctor of the Church" (Vatican Radio) 

ow.ly/JvpS2
St. Gregory of Narek Who? 7 Facts About the Newest Doctor of the Church | ChurchPOP ow.ly/Jx6vb

Helping Human Trafficking Victims from the Kitchen with Fr. Leo Patalinghug (EWTN Nightly News) 

ow.ly/JvrKc

New Book: Lent with the Saints – Daily Reflections by Fr. Greg Friedman, O.F.M. 

ow.ly/JvuFr

13 FREE Catholic Stock Photos for Lent | eCatholic blog 

ow.ly/JvxKn

As migration pattern changes, Mexican women adjust methods of service | National Catholic Reporter 

ow.ly/JvH6E

Podcast: The Walk (formerly Health & Holiness) Living on €2.50 a Day (Fr. Roderick Vonhogen -SQPN.com) 

ow.ly/JvRH8

Thomas Merton, Spiritual Master (Fr. Robert Barron – Word On Fire) 

ow.ly/JwciC

Podcast: The Catholics Next Door? new episode! 

ow.ly/Jx3Xj

Video: Pope Francis and human ecology (Catholic News Service) 

ow.ly/JxagX

TURKEY: Bartholomew I's Lenten message – Feb. 23rd marks beginning of Lent in Orthodox tradition (Asia News) 

ow.ly/JxesS
The kingdom of heaven comes to our house (National Catholic Reporter) ow.ly/JA32H
End of life assistance to the elderly, theme of the 21st assembly of the Pontifical Council pro Vita (News.va) ow.ly/JAb8S
7 Approved Recent Marian Apparitions, In 1 Cool Infographic | ChurchPOP ow.ly/JAbRK
Family, Faith, and the Pope: An Interview with Archbishop Charles Chaput, O.F.M. Cap.| Word On Fire ow.ly/JAebr

Prayer | Order of Carmelites ow.ly/JAnAW
Pax Christi program in Cite Soleil, Haiti helps youths become peacemakers (CNS) ow.ly/JAAzF
Sanctifying Time: The Catholic Meaning of the Days and Months (The Catholic Gentleman) ow.ly/JAKob
How threats to religious freedom could harm unaccompanied minors :: Catholic News Agency (CNA) ow.ly/JC9HT

Patriarch urges prayer after at least 90 Christians kidnapped in Syria :: Catholic News Agency (CNA) 

ow.ly/JAQrD
Swiss Guard Commander on ISIS Threat to Pope: 'We Are Ready to Intervene' | NCRegister.com ow.ly/JAUlD

You Can Never Go Wrong with the Lord's Prayer (Timothy Cardinal Dolan – Archdiocese of New York) 

ow.ly/JASUj
Vatican: Pope's 'Mexicanization' comment not intended to offend :: Catholic News Agency (CNA) ow.ly/JEUL5

Karen & Rick Santorum Release New Book Called "Bella's Gift" | Special Chronicles 

ow.ly/JATjx

Watch out what you eat on Fridays for Lent: Is That Calamari Or Pig Rectum? : (Gothamist) 

ow.ly/Jxxnb

Wow! Medieval Cathedrals Used to Be Full of Brilliant Colors | ChurchPOP 

ow.ly/JB227

15 Simple Acts of Charity that we Frequently Forget | Catholic Link 

ow.ly/JD5Wi

MONKeying around: Monks get in snowball fight in Jerusalem | Daily Mail Online 

ow.ly/JDcnT

The story of a Czech priest who saw a miracle – and was killed for it :: Catholic News Agency (CNA) 

ow.ly/JDiUl
World Christianity by the Numbers (George Weigel – First Things) ow.ly/JDEHN
Priest Freed by Taliban: 'God Has Saved Me' | Daily News | NCRegister.com ow.ly/JDFVm

ISIS Burns Musical Instruments: Call Drums 'Un-Islamic' | EpicTimes ow.ly/JEUfi
Without Grace, We're Just Hippies in Cassocks (St. Zita Catholic Worker Community of Green Country, OK) ow.ly/JEViB

YouTube Kids: A Tool for Reaching Catholic Kids? (Lisa Hendey – 

CatholicMom.com

) 

ow.ly/JDjP0

Francis, Benedict, & John Paul II: Kids' Saints Books That You'll Enjoy Reading, Too (Sarah Reinhard – NCR) 

ow.ly/JDRDy
CatholicMom.com

 launches new Logo and updates website. Great resource for whole family! 

ow.ly/JDurp

How to Keep Your Kids Safe Online | CatholicMom.com ow.ly/JG8uu

Out of Pride and Into Humility: A Lenten Meditation on a Teaching by St. Bernard of Clairvaux (ADW) 

ow.ly/JF3rZ

Behold, the Only Known Recording of C.S. Lewis Speaking – audio to become Mere Christianity (ChurchPOP) 

ow.ly/JF5Eq

Willy, the homeless man buried in the heart of the Vatican (Vatican Radio) 

ow.ly/JG1Nm

God is Not a Genie (Fr. Dan Horan, O.F.M. – Dating God) 

ow.ly/JG6IM

Fanaticism and arms trafficking (L'OSSERVATORY ROMANO) 

ow.ly/JG9q3

A Message in Blood: ISIS and the Meaning of the Cross (Fr. Robert Barron – Word On Fire) 

ow.ly/JG9S4

Christians and Muslims living in peace (L'OSSERVATORY ROMANO) 

ow.ly/JGaI5

British Bishop reacts to 3 parent baby vote (Vatican Radio) 

ow.ly/JGcoK

Prayers needed for Christians in Syria: Number of Christians abducted by IS rises to 220 (AP) 

ow.ly/JGdex

Habitat for Humanity to build a Pope Francis House (Deacon Greg Kandra – Patheos) 

ow.ly/JGp8A

Catholic groups: Keystone pipeline veto opens door to discuss moral issues on environment (NCR) 

ow.ly/JGqG8

A Family's Lenten Journey (Catholic Relief Services) — not too late to start your CRS Rice Bowl 

ow.ly/JGMPO

Go Into the Desert this Lent (Busted Halo) 

ow.ly/JGNBU

Tech News: Internet rejoices as FCC imposes strict net neutrality rules (Mashable) 

ow.ly/JGUgj

14 Cool Christian Things You Can Print with a Home 3D Printer | ChurchPOP 

ow.ly/JGYp8

NEW App: Wants and Needs App – iOS only (

Pixolini.com

) 

ow.ly/JGZ63

Fr. Theodore Hesburgh, C.S.C. of the University of Notre Dame passed away on Feb. 26th (Notre Dame) 

ow.ly/JILr5

Death of Notre Dame's Hesburgh closes an era | National Catholic Reporter 

ow.ly/JITxV

Indians rise up to defend Mother Teresa's legacy after attack by Hindu leader :: Catholic News Agency (CNA) 

ow.ly/JHIK6
Food for the Soul
CRS Rice Bowl Week 2 Recipe: Gallo Pinto from Nicaragua (Fr. Leo Patalinghug – Grace Before Meals) ow.ly/JGLvL

CRS Rice Bowl: Make Lent More Meaningful While Making the World a Better Place (The Catholic Foodie) 

ow.ly/JAN9O
Catholic Cuisine: Recipes for Lent ~ From the Archives ow.ly/JANRU
Catholic Cuisine: Recipes for March ~ Month Dedicated to St. Joseph ow.ly/JAOmv

Papal palates: Swiss Guard cookbook to hit shelves by summer (CNS) 

ow.ly/JBRD3

Restaurant chain Red Robin invites the pope to try its Lent menu (Deacon Greg Kandra – Patheos) 

ow.ly/JrODe

Watch out what you eat on Fridays for Lent: Is That Calamari Or Pig Rectum? : (Gothamist) 

ow.ly/Jxxnb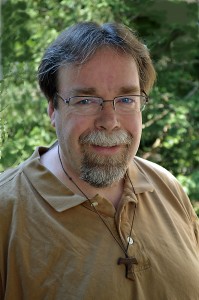 John Clem, O.F.S is the Director and Media Minister at Catholic Web Services (http://catholicws.com/). John is a professed member of the Secular Franciscan Order, and loves to share his talents in faith, technology, and journalism in service to the church. John also writes a blog entitled Call To Holiness (http://www.calltoholiness.us/). Follow John on Twitter at @Catholicwebs, on Facebook and at Google+.