I recently came upon a deeply disturbing tweet that brought me up short: "Here are screenshots from Bill Hybels' book 'Christians in a Sex Crazed Culture', 1989, in which he admits he purchased & viewed child pornography in the 1980s," it read. There were photos of the referenced pages from Hybels' book attached. I was curious. What in the world was going on?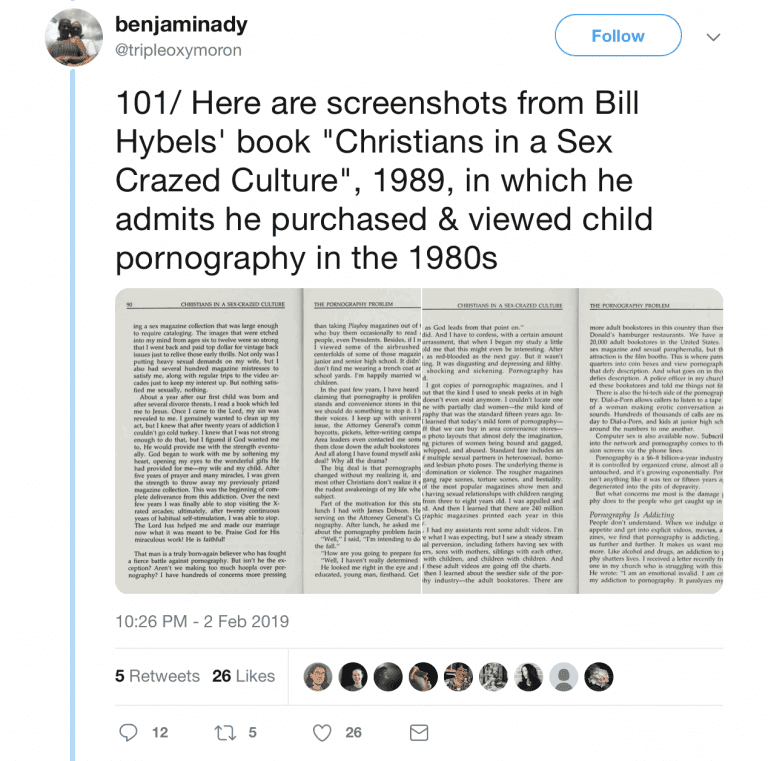 Bill Hybels founded Willow Creek Church in suburban Chicago. He was what the New York Times referred to as a "Superstar Pastor"—the sort of megachurch pastor who publishes books and gains an almost celebrity following. That is, until allegations surfaced that he groped and sexually harassed an employee. There were other allegations too, and the church initially dealt with things internally. Once the allegations became public, Hybels resigned.
I have written about the affair previously here.
In the 1980s, a loose coalition of evangelical pastors embarked on a wide-reaching campaign against pornography. While evangelicals had long opposed the use (and production) of pornographic images, in the 1980s their anti-pornography campaign took center stage as they wove porn into their cultural narratives, portraying it as a growing, almost demonic threat and working to use the structures of the emerging Christian Right to ban its production and use.
Hybels' 1989 book, Christians in a Sex Crazed Culture, was written against this backdrop. Let's have a look at what Hybels wrote in his chapter titled "The Pornography Problem."
In the past few years, I have heard the cries of people claiming that pornography is proliferating in the newsstands and convenience stores in this country and that we should do something to stop it. I hear the urgency in their voices. I keep up with university studies on this issue, the Attorney General's commissions, suggested boycotts, pickets, letter-writing campaigns, and the like. Area leaders even contacted me some time ago to help them close down the adult bookstores in our community.
Hybels is describing what I referenced above—the anti-pornography crusade that gripped evangelicals in the 1980s. Note how he frames this next bit:
All along I have found myself asking, What is the big deal? Why all the drama?

The big deal is that pornography has changed. It changed without my realizing it, and my guess is that most other Christians don't realize it either. I had one of the rudest awakenings of my life when I researched this subject.
This rhetoric is part and parcel of the 1980s evangelical anti-pornography campaign. Porn had changed, the argument went. It was available in a way it never had been before, sold right in front of children, and it had become deviant and grotesque.
At issue here, though, is what Hybels meant by "research."
Part of the motivation for this study came out of a lunch I had with James Dobson. He had just finished serving on the Attorney General's Commission on Pornography.
I wasn't kidding about how far this evangelical anti-porn crusade went.
After lunch, he asked me what I was doing about the pornography problem facing our country.

"Well," I said, "I'm intending to do a message on it in the fall."

"How are you going to prepare for it?" he asked.

"Well, I haven't really determined that yet."

He looked me right in the eye and said, "Get yourself educated, young man, firsthand. Get educated and then just do as God leads from that point on."

So I did. And I have to confess, with a certain amount embarrassment, that when I began my study a little voice told me that this might even be interesting. After all, I'm as red-blooded as the next guy. But it wasn't interesting. It was disgusting and depressing and filthy. It was shocking and sickening. Pornography has changed.

First I got copies of pornographic magazines, and I found out that the kids I used to sneak peeks at in high school doesn't even exist anymore. I couldn't locate one magazine with partially clad women—the mild kind of pornography that was the standard fifteen years ago. Instead, I learned that today's mild form of pornography—the stuff that we can buy in area convenience stores—contains photo layouts that almost defy the imagination, including pictures of women being bound and gagged, raped, whipped, and abused. Standard fare includes an array of multiple sexual partners in heterosexual, homosexual, and lesbian photo poses. The underlying theme is usually domination or violence. The rougher magazines depict gang rape scenes, torture scenes, and bestiality. Some of the most popular magazines show men and women having sexual relationships with children ranging in age from three to eight years old. I was appalled and outraged. And then I learned that there are 240 million pornographic magazines printed each year in this country.

Next, I had my assistants rent some adult videos. I'm not sure what I was expecting, but I saw a steady stream of sexual perversion, including fathers having sex with daughters, sons with mothers, siblings with each other, adults with children, and children with children. And sales of these adult videos are going off the charts.
I'm not sure this is what Dobson meant by "research." When I read "get yourself educated" I assumed we were talking about reading studies of the effects of pornography viewing on the human brain, etc. Curious about how normal Hybels' "research" was, I reread the chapter on porn in Jerry Falwell's 1980 book, Listen America! Falwell did not mention having actually viewed any porn—he seems to have gotten his information from Neil Gallagher's 1977 How to Stop the Porno Plague and from Charles Keating, of Citizens for Decent Literature. It turns out you can do research on pornography without viewing child porn.
You know what bothers me most about 1980s evangelical anti-porn crusaders? Their frequent portrayals of porn as degrading to women and themselves as defenders of women—while at the same time preaching that women should stay in the home and be submissive to their husbands. But then, it's not as though their opposition to porn stemmed form whether or not a particular porno was degrading to women. They opposed all pornography, for the same reason they opposed (and still oppose) all sex before marriage—whether or not it is consensual. Consent is irrelevant—and so is respect. Women have a specific place to occupy.
Nearly three decades after he wrote about how pornography had come to degrade women—as well as about his "research" on the subject—Hybels stepped down due to sexual indiscretions.
I have a Patreon! Please support my writing!