Last Saturday evening, my wife and I happened to be in Blanco, Texas. It was about sunset, a warm evening with a steady breeze. We ended up with quite a happy surprise, which I'm pleased to share with you.
Blanco isn't exactly in the mainstream of the American consciousness. It's a small (about 2,000 residents) town fifty miles west of Austin, in the Texas Hill Country. It lies along the Blanco River and is surrounded by cattle ranches.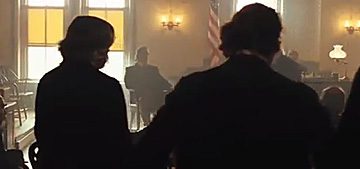 You may very well have seen a famous part of Blanco without knowing it. In the Coen Brothers' movie, True Grit, the courtroom scene that happens near the beginning of the film, when Rooster Cogburn is on the stand for killing members of the Wharton family, was filmed inside the Old Blanco County Courthouse. This picturesque building was built 126 years ago, though it served as a courthouse for only four years because the county seat was moved to Johnson City. In 1986, someone purchased the little-used courthouse building and planned to move it stone by stone to his private ranch. Inspired citizens banded together to preserve the building as a historical landmark and to renovate it. The renewed structure sits in the center of Blanco Square, and is often used for weddings and other events, such as filming True Grit.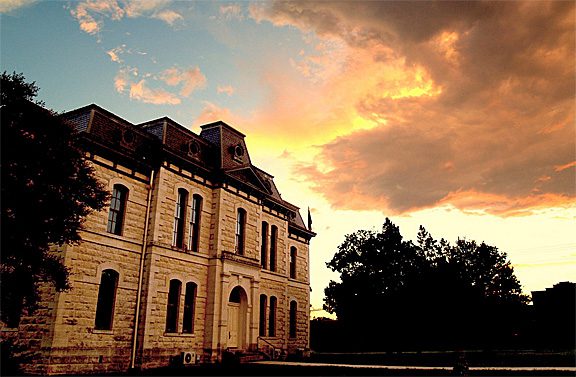 Now, if you're ever in Blanco, you'll have no problem finding the square with its prominent courthouse. Immediately to the north is a row of old buildings that, for decades, housed the Blanco hardware store. Today, a central feature of this row is the Redbud Cafe. My wife and I stopped in here for dinner. (From Monday through Thursday, the cafe is open for lunch only. On Fridays and Saturdays, it's open for dinner as well.) I had not been to the Redbud Cafe before.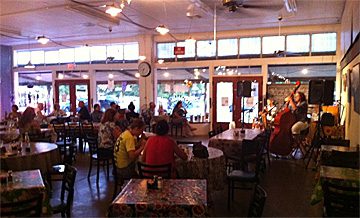 You order at the counter from a menu that features sandwiches and salads, as well as some specials. While ordering, you can't help but notice the mouthwatering desserts in the display case in front of you. Good news if you love good sweets; bad news if you're own a diet. After ordering from a helpful and friendly person, you take a seat and wait for your order to be delivered to your table. When our sandwiches arrived, I noticed that they were generous in size and obviously fresh. They tasted great. I had a turkey and cheese sandwich, while Linda had tuna salad. After dinner, we simply had to enjoy a cookie, an oversized chocolate chip with some fruit added in. Delicious! Excellent coffee, too. Oh, and the prices were very fair.
Because it was Saturday evening, there was live music. We heard a group called 3 Hands High. They performed a variety of country, gospel, and bluegrass, with some amazing yodeling. They were outstanding! And they were amplified just enough so you could hear them well, but not so much that you couldn't have a conversation with the person sitting next to you. I'd drive a hundred miles to hear 3 Hands High again. In fact, that's just about a round trip from Boerne (where I live) to Blanco and back. I'm going to be watching for the return of 3 Hands High to the Redbud Cafe.
The Redbud Cafe is a treasure that I'm pleased to have found and pleased to share with you. If you're ever in Blanco, be sure to visit this excellent cafe. Just be sure not to tick off Rooster Coburn if you know what's good for you.