According to Livability.com, Boerne, Texas is the fourth best small town in America in which to live. That's where I live. (Well, technically, I live just outside of town, but who's counting.) Boerne is ranked behind:
1. Papillion, Nebraska. (Never heard of it. How about you?)
2. Golden, Colorado. (Right new to the Rocky Mountains. Can't argue with that.)
3. Brattleboro, Vermont. (Unbelievably beautiful area, especially in October.)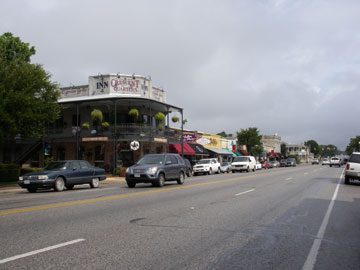 I'm in agreement with Livability.com, for the most part. Their introduction is true:
Located in the Texas Hill Country, the town of Boerne offers inspiration in many forms. You'll find it in the natural beauty of the area's rivers, lakes, caves and trails. You'll find it in the historic buildings, eclectic shops, restaurants and people in this town.
But they fail to mention one of the most desirable attributes of Boerne: excellent schools. The school system is one of the major factors that drew my family to this town in the first place.
I do think that one sentence in Livability.com's description of Boerne needs a little interpretation. It reads:
The area's mild climate and ample amount of sunshine give residents plenty of opportunities to get out and enjoy golf, hunting, fishing, hiking, horseback riding, biking and a variety of sports.
Ample sunshine with plenty of chances to get out and enjoy it? You betcha. Mild climate? Well, I suppose that's relative. We are cooler than many parts of Texas and the Southwest. And, at 1500 feet in elevation, we're must less humid than much of Texas and the Southeast. But with summer highs well into the 90s for four months, I'm not quite convinced about the mildness of our climate. Oh, I suppose if you compare our winter weather with that of much of the US, we're mild. We usually have maybe 20 nights below freezing. Temperatures below 25 degrees are quite rare.  At any rate, before you pack up and move to Boerne, make sure you understand what "mild climate" really means.
One further point of clarification. Livability.com's description of Boerne says the down is 27 miles from San Antonio. That may be true if you think of the center of San Antonio. But, in fact, it's less than 20 minutes from Boerne to the northwest edge of San Antonio, an area that has plenty of shopping and entertainment. You can live in the country and be in an Apple store or an IMAX theatre in no time.
I almost forgot one of the most important to know about Boerne. The town name is pronounced like the name "Bernie." It's not "Born" or "Borney" or even "Buhrna," which is close to the original German pronunciation of Börne. The town is named after a virtually unknown German writer, Ludwig Börne, who died in 1837. The early German settlers of this area were fans of Börne's satirical political writing and Protestant freethinking.