So writes Phyllis Korkki, writing for the New York Times. In "To Stay on Schedule, Take a Break," Korkki examines and summarizes evidence that intentional break-taking improves performance and efficiency. Here's her point in a nutshell:
A growing body of evidence shows that taking regular breaks from mental tasks improves productivity and creativity — and that skipping breaks can lead to stress and exhaustion.
Why is this true?
Mental concentration is similar to a muscle, says John P. Trougakos, an assistant management professor at the University of Toronto Scarborough and the Rotman School of Management. It becomes fatigued after sustained use and needs a rest period before it can recover, he explains — much as a weight lifter needs rest before doing a second round of repetitions at the gym.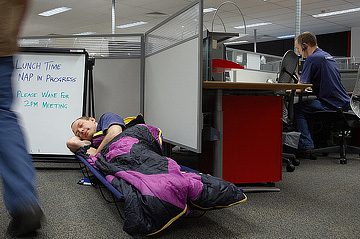 It's wise to take breaks before you run out of mental gas entirely:
Try to take a break before reaching the absolute bottom of your mental barrel, Professor Trougakos says. Symptoms of needing time to recharge include drifting and daydreaming.
But,
There is no need to take a break if you're on a roll, Professor Trougakos advises. Working over an extended period can be invigorating — if it's your choice. What drains your energy reserves most is forcing yourself to go on, he says.
Trougakos isn't the only researcher who is convinced that we need more breaks:
[W]orkers don't take enough breaks — especially breaks involving movement, says James A. Levine, a professor of medicine at the Mayo Clinic. He has done studies showing that workers who remain sedentary throughout the day are impairing their health.
Levine is also a proponent of naps, though he cautions employees to make sure this is okay with management.
Korkki's article has more to say on the topic of break-taking, so I encourage you to check it out. I, for one, am going to test the break theory right this very minute.