Why should we work? What is the purpose of work? How should we think about work?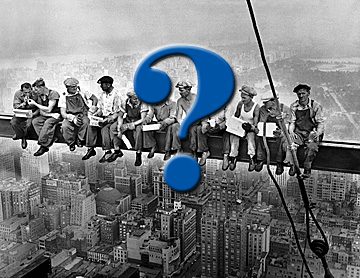 A few days ago, I responded to a column in the New York Times that claimed work was a punishment from God. I pointed out that in the Judeo-Christian tradition, based on the creation narratives in Genesis 1 and 2, work is not seen as punishment, but rather as a divine blessing and calling given to human beings. This notion of work, so grounded in Scripture and Christian theology, is not often embraced by Christians today, who have bought into secular notions of work that demean both work and the workers. So, we need further reflection on the true nature of work. In particular, we need to answer the question: Why work?
Dorothy Sayers, the beloved English writer, answers this question in an article entitled, appropriately enough, Why Work? Originally, this was a talk given by Sayers during World War II. If you read the whole article, which I highly recommend, you'll notice that she often refers to "the war" and its social impact. In today's post, I will include a few excerpts from Sayer's insightful answer to the question, "Why work?"
I have already, on a previous occasion, spoken at some length on the subject of Work and Vocation. What I urged then was a thoroughgoing revolution in our whole attitude to work. I asked that it should be looked upon, not as a necessary drudgery to be undergone for the purpose of making money, but as a way of life in which the nature of man should find its proper exercise and delight and so fulfill itself to the glory of God. That it should, in fact, be thought of as a creative activity undertaken for the love of the work itself; and that man, made in God's image, should make things, as God makes them, for the sake of doing well a thing that is well worth doing.
The habit of thinking about work as something one does to make money is so ingrained in us that we can scarcely imagine what a revolutionary change it would be to think about it instead in terms of the work done. To do so would mean taking the attitude of mind we reserve for our unpaid work – our hobbies, our leisure interests, the things we make and do for pleasure – and making that the standard of all our judgments about things and people. We should ask of an enterprise, not "will it pay?" but "is it good?"; of a man, not "what does he make?" but "what is his work worth?"; of goods, not "Can we induce people to buy them?" but "are they useful things well made?"; of employment, not "how much a week?" but "will it exercise my faculties to the utmost?" And shareholders in – let us say – brewing companies, would astonish the directorate by arising at shareholders' meeting and demanding to know, not merely where the profits go or what dividends are to be paid, not even merely whether the workers' wages are sufficient and the conditions of labor satisfactory, but loudly and with a proper sense of personal responsibility: "What goes into the beer?"
The first [proposition], stated quite briefly, is that work is not, primarily, a thing one does to live, but the thing one lives to do. It is, or it should be, the full expression of the worker's faculties, the thing in which he finds spiritual, mental and bodily satisfaction, and the medium in which he offers himself to God.
What do you think? Is Sayers right? Wrong? Idealistic? Deluded?
I'll put a more excerpts later. (Thanks to my friend and colleague, John Worden, for reminding me of Sayers' essay.)