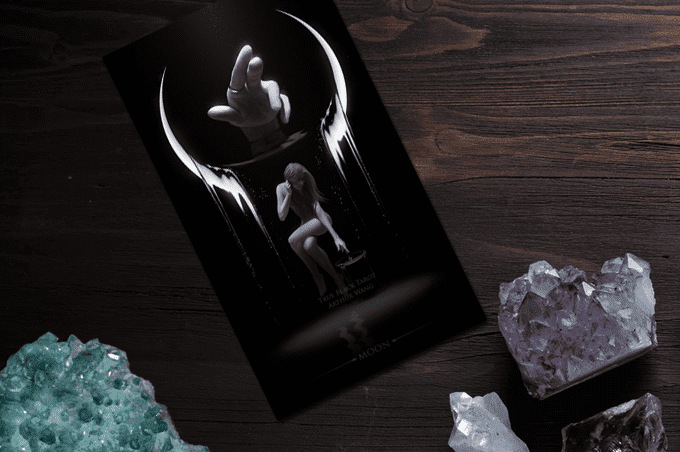 Over a year ago I had interviewed Arthur Wang about his kickstarter project, TrueBlack Tarot. It's probably the deck that I had been anticipating more than any in my life. It's finally arrived and I've had some time to get to know it and play with it, so figured it was time for a review of my thoughts. TrueBlack was already a favorite of mine before I even physically had owned it. TrueBlack Tarot is a tarot deck of luxury. The quality put into the cards, the deck, the packaging, and the artwork are nothing short of exquisite.
 

View this post on Instagram

 
Arthur's vision of the tarot is completely unique, and strays fairly far from the traditional Rider-Waite-Smith deck in both symbolism and meaning, despite being based upon it, which I like. Wang keeps the associations of the suit of Swords as air and Wands as fire in the TrueBlack Tarot, which I liked but the elemental symbolism in the imagery might be a bit confusing for some as it isn't consistent throughout the cards: birds in cups suit, fire in swords, water in coins, etc. But this isn't enough to really take away from the greatness of this deck. Like most decks, it just takes a bit to get used to the artist's vision and interpretation of the tarot, which can be easier with some decks than others.
 

View this post on Instagram

 
Hauntingly beautiful, Arthur's art style is starkly minimalist while being extraordinarily expressive. All of my photos really don't do this deck justice compared to how they look in person. The cards do lack a bit of cohesion in regards to any continuity in a storyline, making it a bit more difficult to actually read with. There isn't to be found any form of Fool's Journey or monomyth or other narrative that would make it more powerful to connect with on an intuitive level. There's also a couple of cards whose meaning I would switch. I found the TrueBlack Tarot to be better for mediumship and spirit communication rather than seeking clarity from traditional divination. In fact, it's pretty extraordinary in that regard. A few other artistic changes were also made, The Wheel of Fortune has been renamed Destiny, and an extra card named Anat has been provided in the spirit of the Happy Squirrel Card.
 

View this post on Instagram

 
When it comes to card stock quality, the deck TrueBlack Tarot is absolutely unparalleled. It's thick and sturdy while also being sort of soft and sleek. The best I can describe it is sort of being like sturdy but velvety rose petals. However, because the deck is much thicker than most decks, it makes it extremely difficult to shuffle with (and I have fairly large hands), not to mention feeling paranoid about ruining such a beautiful and expensive deck every time I handle it.  Each card has black foil details that can only be seen when the light hits it correctly (see boomerang video below for an example). This black foil is also on the back of every card as a star-map, which is the theme of the deck, a theme which doesn't really carry out to every card, which again gives it a lack of cohesion. The box that the deck comes in is a beautiful and extremely sturdy magnetic box with black foil printing all over it. If you can get your hands on this deck, I highly recommend it. Like I said, it's one of my favorite decks I own and I truly hope that he continues making more. I look forward to his future projects.
 

View this post on Instagram

 
---
Connect With Me
---
Psychic Witch: A Metaphysical Guide to Meditation, Magick and Manifestation