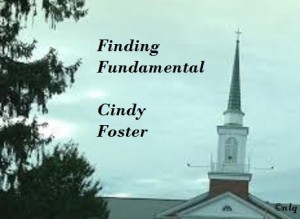 by Cindy Foster cross posted from her blog Finding Fundamental
You can find Part 1 here.
'Plan A' became the sum total of our utmost hopes and dreams for our children as pertaining more to their 'Godliness' than anything else. We assumed that 'Godliness' was the main ingredient to guarantee success in all their practical endeavors as well.
Our 'Plan A'  hopes and dreams consisted of:
*smooth sailing through the teen years with no rebellion
*courting, chaperoned relationships where we the parents were involved in all aspects 
*courting-aged teens who desired only to find spouse with same beliefs as the church
*courting-aged teens willing to bypass all prospects to seek the 'one and only'
*all waiting until marriage to touch or kiss
*all virgins when married
*all married in their church with immaculately white dresses and celebratory service
*all desiring several children (not necessarily quiver full. At least we didn't go quite that far)
*all serving in ministry in Independent, fundamental, pre-millennial, KJV only, God-fearing, sin-hating, standard-bearing and enforcing Baptist churches that were unaffiliated, unincorporated and only performed marriages by covenant (no state marriage licenses)
*all dedicated to home schooling their children
*all abiding continually in the church's and parent's standards, including no pants on women,     
no shorts on men, no TV, no theatre movies, no drinking, no smoking, no dancing etc,
As I write this non-exhaustive list, it is hard to believe that once upon a time, we actually expected those very narrow, restrictive ideals of all our children! 
We really thought we were on the 'right path' to accomplishing them.  It even looked like we were going to make it, as our oldest were in their latter teens and early twenties and still hanging in there.  
At least, so it seemed to us.
But then, that subtle, perpetual descent into legalistic beliefs produced a whirlwind that blew away most all our 'Plan A' hopes and dreams in one fell swoop.
Next thing we knew we were thrust into an ever evolving 'Plan B'.
Life is so much more enjoyable when we can 'let go' of all the Plan A's we dream of attaining– devising elaborate, restrictive, obsession-driven formulas to achieve them.  It was only then, by letting go, we could find peace and happiness in the "Plan B'' acceptance of 'those things we could not change'.  
There simply are things in life we can not change.  
Our most expertly designed or extrapolated formulas on paper may, at most times not work at all when they involve real people with individual minds, hearts and wills.    
Grace, mercy and self-examination will likely succeed where the best laid plans and formulas of man…fail miserably. 
So, It came to me recently, that there are many accounts in the Bible where God, in his continual efforts to restore his beloved to Him, punish their disobedience or refrain from destroying them altogether, altered his original plan.
The first that I noted before, may not actually be the first.
Before the Creation, before Man, there were beings in the heavens.  I am certain I haven't misinterpreted the account of Lucifer's fatal pride and resulting fall from Grace.  Surely, God did not incorporate that event into his 'Plan A'!
Then, from Lucifer's Fall from Grace, Adam's Fall from sinlessness to every. single. act of man thereafter, God was overseeing a 'Plan B' actuality.  
In actuality, 'Plan B' was not really a plan at all, but God's willingness to let his beloved 'man' operate according to his own self-serving will with resulting natural consequences.   
At times, when wickedness was so unspeakable and prevalent, God intervened with rash judgments, but never before sounding long and loud warnings.  These acts, too, would not be part of His Perfect Plan, but the secondary plans He administered  for judging evil and beginning something new and good. 
If God, being…. well…..GOD, with power to have anything and everything be the way HE wanted, would govern His Will according to His love, mercy and grace and adjust His Plan so as to continue His pursuit for the love and devotion of His beloved man, how can we mere, mortal, feeble, near-sighted, self-serving, created human-being parents impose LESS grace and mercy on our own faltering children than God Himself did for our many errors?
It has been my fiercest, most persistent internal conflict since confronting the ingrained, entrenched beliefs of our Bible-based cult training:  Which of my children's beliefs and behaviors I can only tolerate, which I can accept as non-issues, which actually were OUR misguided preferences, which upon reinvestigation required change on our part, and how to handle those behaviors that were unquestionably wrong.
It became necessary to pore through a countless array of beliefs, philosophies and teachings to rest on the ones that were consistent with our specific beliefs and fit our specific needs.  
It was a very day-by-day, situation-by-situation, child-by-child expedition before we were able to un-train and re-train our way of thinking and feeling.  All this while still trying to parent five children ages 9-16, and restore damaged credibility and relationships with the three older 17-21 year olds to some semblance of health. 
When all is said and done, we had come to the conclusion that we had to make a decision between two ultimate views:  If we wanted to reclaim them to our original dreams, we would have to incorporate the excessive, demanding, manipulative and ultimatum-backed control promoted by the belief system we had just left.  
We could see from lives of families still in the Baptist Taliban as well as those from similar believing churches with which we were currently connected that those methods did appear to work, for some. 

The other view and the only one with which we could conscientiously choose, was to while continuing to live out our beliefs ourselves, exercise patience, respect, mercy and grace for the personal beliefs and non-destructive behaviors  our children had adopted… as they were, while leaving those areas that were not ours to change or control… to God.
So, this was our 'Plan B'
.  
As best as I can tell from my understanding of scripture, this is as close to the way God dealt with His children from the beginning, (with the exception of those occasions He saw fit to execute His annihilating judgement on ones so wicked they had exhausted their days of grace) as we could get.  
I'd rather use His model, though it may not yield the results the controlling, authoritarian parent can claim to his record.  At least we will be able to claim it was by their choice and the decisions they make and claim for their own.
And I am happier, even in the difficulties.  Except for 'Plan B', these would not have been my grandchildren!  That, I do not even want to think about…. 
For those who lust after control for the sake of what they may truly believe is the 'right' cause, will in the end, according to scripture, receive the 'greater condemnation.' James 3:1.
~~~~~~~~~~~~
Spiritual Abuse Survivor Blogs Network member, Cindy Foster blogs at Finding Fundamental
Cindy Foster is "Mom" to eight gorgeous, talented, temperamental, noisy, opinionated, alike-but very different kids. She has been married to their daddy, Paul, for 36 years.
---
Stay in touch! Like No Longer Quivering on Facebook:
If this is your first time visiting NLQ please read our Welcome page and our Comment Policy!
Copyright notice: If you use any content from NLQ, including any of our research or Quoting Quiverfull quotes, please give us credit and a link back to this site. All original content is owned by No Longer Quivering and Patheos.com
Read our hate mail at Jerks 4 Jesus
Check out today's NLQ News at NLQ Newspaper
Contact NLQ at SuzanneNLQ@gmail.com
Comments open below
NLQ Recommended Reading …