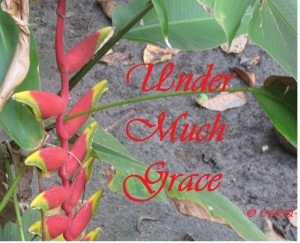 by Cindy Kunsman cross posted from her blog Under Much Grace
Images by Cindy Kunsman from Under Much Grace and used with permission. This is another article in the Cindy's Cognitive Biases series.
I remember when I was head over heels (sometimes literally) in that
Toronto Blessing Movement
in
Word of Faith
, I could feel the disappointment coming. I was probably about ten pounds overweight at the time, and I went on an extended fast. I stopped checking my weight when I was three weeks in, and I'd dropped about 35 pounds. I continued to fast until I "believed" I'd achieved what I'd set out to overcome, but I didn't weigh myself again. I do remember when my weight shot about 35 pounds ahead of my happy starting weight. That was the first of many fasts.
I did have some grand insights as a result of that fast, but they weren't what I'd hoped they would be. My mom was undergoing radiation, and she wanted a miracle, signs and wonders, buzzy, exciting healing. I wanted a magical solution that would halt the spiritual abuse and the abuse suffered by women taking place at my church. I'd done just about everything but an extended fast to achieve that special status through which miracles are supposed to flow. I felt as though I'd exhausted everything else.
I believe that the process did tear a veil that allowed for more insight, but what I received would not feel like a miracle. I saw people as they were and myself as I was. I liked very little of what I saw, and comfort came, but not from the sources that I would ever expect. My miracle was that of sight for a bit of my self-induced blindness through
wishful thinking
.
A Growing Feeling
As all interesting social movements, this Toronto Blessing thing wasn't entirely bad. Some of it was fun, and many hoped that it heralded refreshing new beginnings. That's why we humans fall for such things…as they mix a lot of good stuff in with stuff that you're not likely to notice. I didn't wake up one day while attending that church to find myself instantly angry about an act of injustice, so I was able to pretend about what I really felt. I wish I'd taken a grain of salt instead of the sugar that's added to things to help disguise them.
Good Christian people
don't really get angry
, especially not young women! I could feel that pain growing without calling it anger, and I expressed it as fear. I was furious, so I turned it into a fear of never being able to obtain what I should be and what I should experience. (Forget that I was chasing miracles. I believed that miracles were formulas.) I didn't know what I was stepping into, though. A part of me knew that it would hurt, regardless of what I did.
I felt so divided, for righteous anger was warranted, but that didn't line up with the lack of compassion and senselessness of the church/cult's unwritten rules, agendas, and equivocal messages. And things were always disproportionate and out of context. Even my neighbor who attended the church went on a personal journey that occurred to her as she observed her pet dog.
"We should teach ourselves
and others to kiss and not to bite."
The problem was that there was all sorts of biting going on, they called it kissing, and it isn't always appropriate to kiss, either – but the group got as much mileage out of it as they could.
Paul Martin
taught that the wounds that a wolf leaves behind on its prey always look the same. In my church, too many kisses left classic wolf bite marks on the lives of many. Many also learned to bite while thinking that they were showering kisses. And boundaries were like jello, too: just a nice idea that no one observed unless they were browbeaten by failing to honor the elite.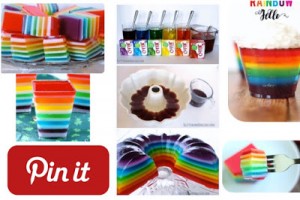 A Fluid and Deceptive Substance
The private directives and the public ones were different, and what was said and done was not really consistent if you were in a position to see how the church operated. As a
Gothard survivor
used to say to me, elucidating the hows and whats and whys were like
"trying to nail jello to a wall."
There's a notable substance to unmolded jello, but people like me assume in our wishful thinking that there is also a structure holding the mold together. We take objective nails to tack down what was happening, and we wonder why the nail fails. Then we learn that jello melts when heat or enough water are applied. The suspected solid suddenly shows us that it's really more fluid – and we suddenly feel confused and foolish with our hammer, nail, and the puddle on the floor.
Spiritually abusive groups do appear to be a solid mass at first glance, and isn't it just so fitting that gels can seem transparent to us? I once had
a recipe
for rainbow layers of jello separated with sour cream gel to mellow the tartness. It's tricky to make and takes a good part of an afternoon, but the effect is impressive. Rainbow, sweet and tart colored rows with opaque cream between them served cold out of the fridge at a party — yum! When I became very sick as a child and didn't want to eat, my mom would add only hot water to a packet for me to drink from warm mug. This was a treat that was different enough that didn't remind me of feeling ill.
The Jello Excitotoxin of Spiritual Abuse
Today, it presents me with a new analogy for what a spiritually abusive group is like. Add to that idea that I learned that if I eat too much gelatin, it's a migraine and allergy trigger. It comes about by some unnatural breaking and forming of different chemical bonds – insinuating manipulation. It's also
hidden in many foods
as innocent seeming if not healthy ingredients. It starts out as a glutamic acid, but under the right (or wrong) conditions, it becomes something
literally radical
. It's still basically still the same thing…but it's not. It's still the parent substance, but
it becomes toxic
.
Also add to the analogy that substance does give many people a "buzz" to essentially get people to like the food product a bit better. And quite often, I discover that some new food contains it only after I've ingested it and experienced pain. Oddly though, I actually had to train myself to stop craving the buzz that I associated with certain foods. And I grieved over it, because I relied upon several culprit items to cook many basic things. What was safe suddenly became unsafe, and I had to work harder to change the way I cooked and how I thought about food, my likes, and my health. How similar this is to walking out of my cult and the harmful belief systems I loved. I miss getting the buzz (as I've heard Paul Martin refer to it), all consequence free through my ignorance. Now, I'm responsible for the knowledge, and some things will never taste as good as the illusions I remember.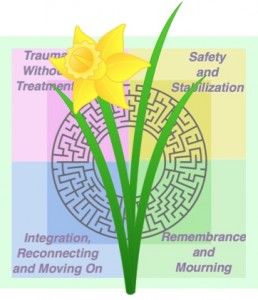 Almost Daffodil Season Again
After having a break from blogging, I skimmed back through some old posts and realized that it was nearly a year ago when I used my memories of
forgotten daffodils
in the woods to illustrate some of the challenges of a new interpersonal trauma. Though I've made a huge amount of progress in that time, I'm still grieving. It's not as painful, but I felt a twinge of disappointment when I noticed the posts. I thought of my slipping steps as I tried to stay on the high road. Moving on from it was a harder experience that I thought that it would be.
And as much as I hate to admit it because I detest being predictable, the whole experience started with my own wishful thinking – my own confirmation bias of wanting people and situations that I found myself in to be as beneficent as I wanted them and hoped they were. In retrospect and with some distance from the worst of the grief in the background, I see that I again so willingly bought into yet another illusion. And I am disappointed that I really gave in to that same kind of familiar fear, though I really didn't have to fear a thing, apart from wishful thinking. I didn't want to be angry, so I panicked instead, avoiding the inevitable fact that I was again head over heels in denial.
It was a similar endeavor – one that set me to work with others who claimed to have the same objectives that I did. Looking back, I see now that the cues were there for me, but I ignored them because other elements of this endeavor felt really good. I'll go so far to say that I was love bombed, and milieu control was very much at work, too.
I ignored the rubs and the disconnects, just as I did in my cult because of the assumptions I made about the virtue of the people with whom I was involved. If I didn't know about something, I made the positive, wishful assumption that the unknowns were benign and that I was just falling back into the familiar patterns of PTSD where I'd lived for so long. I want to say that the signs were not there, but they were. I knew better. I didn't want to see them.
Now safe from (that) harm, I now endeavor to transform what felt like last year's failures into this spring's buds of wisdom,
hardened to grow
through the experience of another winter.
More to follow on this discussion about thought and self awareness as tools to help those in recovery from trauma learn how to make safer choices. To make the discussion more jocular, we've defined Cognitive Biases as "CranioRectal Inversions" (CRI). Why do I hate that mine are predictable? I'm now responsible for them.
For Further Reading until the next post:
Read more of Cindy Kunsman's series on Cognitive Biases:
~~~~~~~
Cindy is a member of the Spiritual Abuse Survivor Blogs Network.
Cynthia Mullen Kunsman is a nurse (BSN), naturopath (ND) and seminary graduate (MMin) with a wide variety of training and over 20 years of clinical experience. She has used her training in Complementary and Alternative Medicine as a lecturer and liaison to professional scientific and medical groups, in both academic and traditional clinical healthcare settings. She also completed additional studies in the field of thought reform, hypnotherapy for pain management, and Post Traumatic Stress Disorder (PTSD) that is often associated with cultic group involvement. Her nursing experience ranges from intensive care, the training of critical care nurses, hospice care, case management and quality management, though she currently limits her practice to forensic medical record review and evaluation. Most of her current professional efforts concern the study of manipulative and coercive evangelical Christian groups and the recovery process from both thought reform and PTSD.
She blogs at Under Much Grace and Redeeming Dinah.
---
Stay in touch! Like No Longer Quivering on Facebook:
If this is your first time visiting NLQ please read our Welcome page and our Comment Policy!
Copyright notice: If you use any content from NLQ, including any of our research or Quoting Quiverfull quotes, please give us credit and a link back to this site. All original content is owned by No Longer Quivering and Patheos.com
Read our hate mail at Jerks 4 Jesus
Check out today's NLQ News at NLQ Newspaper
Contact NLQ at SuzanneNLQ@gmail.com
Comments open below
NLQ Recommended Reading …