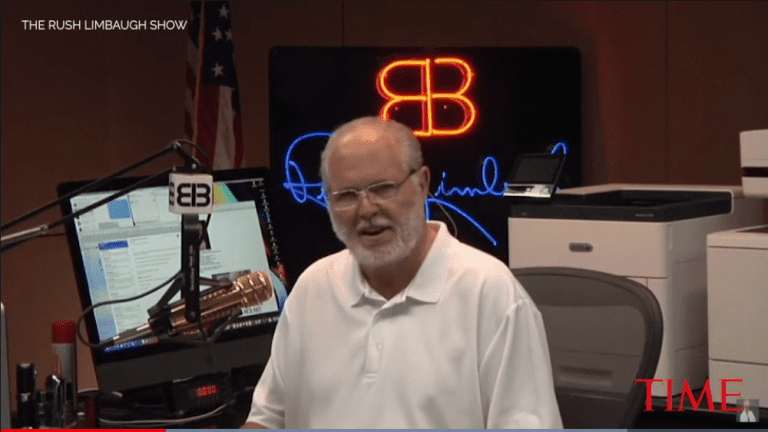 This piece was buried way back among Larry's blurblings on his usual pile of nonsense. But I just could not allow this to pass without commentary. Larry is happy and excited that President Trump paused during the annual State of the Union address to give long  time radio personality, racist and all around ridiculous opioid addict Rush Limbaugh a  Presidential Medal of Free-Dumb, errr Medal of Freedom. Right in the middle of a speech where he's supposed to focus on explaining the direction of the next year for the nation he gives out a medal usually handed out in ceremonies.
Why did Trump award this to Rush? I don't know, but if I had to guess I'd say because money talks, and bull shiesse walks.
Larry, of course, was thrilled and said this:
"Rush Limbaugh is the boogyman to humanists and leftists whose goal is a world without Christians, Jews, Muslims, Americans, Russians, Mexicans, Caucasians, Africans, Asians, men or women – just humans. A world where human beings have been reprogrammed to move past all these "pointless" distinctions to fully embrace a one world religion, ordered and centered around the their religion of humanism. They want a world which denies the existence of God and assigns god-like powers to humanity."
Larry fails to realize that the reason those of us not rushing about saying horrid demeaning things about everyone else don't like Rush isn't a leftist conspiracy. It's because we hate seeing people hollering out racist misogynist hurtful commentary against everyone else.
He quotes Rush where Rush is saying you cannot be a Christian and believe in that thing copiously proven to be a real problem by science – Global Warming.
"See, in my humble opinion, folks, if you believe in God, then intellectually you cannot believe in manmade global warming … You must be either agnostic or atheistic to believe that man controls something that he can't create."
I do not get this logic. Believing in science is somehow demonic? He completely ignores the ideas of free will in this thing. Why is it unbelievable to the Rushes and Larrys of this world that human activity would somehow affect the world we live in? Do they believe God is somehow going to reach down and fix anything negative humans do? Yeah, like He did not do before.
Here's what Larry is approving of, a list of some of the worst things to roll out of Limbaugh's mouth on that show of
"The NFL all too often looks like a game between the Bloods and the Crips without any weapons. There, I said it." (Source)

"I think it's time to get rid of this whole National Basketball Association. Call it the TBA, the Thug Basketball Association, and stop calling them teams. Call 'em gangs." (Source)

"Have you ever noticed how all composite pictures of wanted criminals resemble Jesse Jackson?" (Source)

"The NAACP should have riot rehearsal. They should get a liquor store and practice robberies." (Source)

"Everything in Africa's called AIDS. The reason is they get aid money for it. AIDS is the biggest pile of, the biggest pot they throw money into." (Source)
Responding to a caller who said black people should have a greater voice on issues: "They are 12 percent of the population. Who the hell cares?" (Source)

On Barack Obama, during the 2008 election: "A veritable rookie whose only chance of winning is that he's black."

"If any race of people should not have guilt about slavery, it's Caucasians. The white race has probably had fewer slaves and for a briefer period of time than any other in the history of the world … And yet white guilt is still one of the dominating factors in American politics. It's exploited, it's played upon, it is promoted, used, and it's unnecessary." (Source)

"Feminism was established so as to allow unattractive women access to the mainstream of society." (Source)

"Women should not be allowed on juries where the accused is a stud." (Source)

"Women still live longer than men because their lives are easier." (Source)

I'm a huge supporter of women. What I'm not is a supporter of liberalism. Feminism is what I oppose, and feminism has led women astray. I love women. I don't know where all this got started. I love the women's movement, especially when walking behind it." (Source)

"When a gay person turns his back on you, it is anything but an insult; it's an invitation." (Source)

On Beyoncé: "She's married to a rich guy … She now understands it's worth it to bow down." (Source)

On Sandra Fluke, a Georgetown law student who testified before Congress about the importance of health insurance covering birth control: "What does it say about the college co-ed Susan Fluke who goes before a congressional committee and essentially says that she must be paid to have sex — what does that make her? It makes her a slut, right? It makes her a prostitute." (Source)

On Hurricane Irma: "You can accomplish a lot just by creating fear and panic. You don't need a hurricane to hit anywhere. All you need is to create the fear and panic accompanied by talk that climate change is causing hurricanes to become more frequent and bigger and more dangerous, and you create the panic, and it's mission accomplished, agenda advanced." [Limbaugh later evacuated his Florida home because of the hurricane.]

On the Central American migrant caravan heading toward the U.S. in 2018: "The objective is to dilute and eventually eliminate or erase what is known as the distinct or unique American culture … This is why people call this an invasion."

On LGBT politicians getting elected: "I guarantee there'd be some people in the Republican establishment who will now think, 'Yeah, we need to do this. We need to provide a home, we need to provide a comforting atmosphere for the tranny community and the gay community.' But those people are voting Democrat anyway.
Rush Limbaugh has proven himself to be another horrible oinking pig of a man with no morals and Larry, another horrible oinking pig of a man with no morals, loves him.
I am curious if we are going to see a public softening, a 'come to Jesus' if you will because Rush is dying of lung cancer right now. People sometimes change dramatically as they are cramming for that final exam. I would not rejoice in anyone contracting lung cancer  because it's up there on the pretty horrible ways to die list. Not even him. Not even Larry.
I wonder if Rush still believes in what he said about smoking and cancer?
On the dangers of secondhand smoking, and smoking in general: "That is a myth. That has been disproven at the World Health Organization and the report was suppressed. There is no fatality whatsoever. There's no even major sickness component associated with secondhand smoke. It may irritate you, and you may not like it, but it will not make you sick, and it will not kill you…Firsthand smoke takes 50 years to kill people, if it does. Not everybody that smokes gets cancer. Now, it's true that everybody who smokes dies, but so does everyone who eats carrots … I would like a medal for smoking cigars, is what I'm saying."
Rush Limbaugh is coming to the end of what looks like a rather empty life from here, failed marriages, an addiction, empty nasty words. No amount of money and prestige means a thing when you're alone at the end of the night.
Stay in touch! Like No Longer Quivering on Facebook:
If this is your first time visiting NLQ please read our Welcome page and our Comment Policy! Commenting here means you agree to abide by our policies but our main rule is this – Do not be a dick!
Copyright notice: If you use any content from NLQ, including any of our research or Quoting Quiverfull quotes, please give us credit and a link back to this site. All original content is owned by No Longer Quivering and Patheos.com
Read our hate mail at Jerks 4 Jesus
Check out today's NLQ News at NLQ Newspaper
Contact NLQ at SuzanneNLQ@gmail.com
Comments open below
NLQ Recommended Reading …
I Fired God by Jocelyn Zichtermann