I am sure by now you've seen and laughed at some of the more ridiculous lies being promoted as truth in the media by Evangelicals. All about dealing with the Corona virus, COVID 19. There is so much uncredited unscientific information out there that we must talk about what does not work, and what does.
Jim Bakker is selling his miracle Silver gel, that he's making all sorts of claims about. The biggest one before Corona appeared is that his gel can cure sexually transmitted diseases. It cannot. Here's what the Silver Solution can do, and has been scientifically proven to do, turn you blue and eventually cause you to develop heavy metal toxicity. Woo hoo! Liver damage for the win!
Some wag said this about Jim's bogus claims in the middle of others calling for FDA sanctions –
"Dump him in Wuhan with only a bottle of colloidal silver and let God sort it out."
But he is hardly the only one coming up with these crazy unproven snake oil in the wake of this thing. Pat Robertson, host of "The 700 Club" is promoting the eating of sauerkraut and other fermented foods, claiming that sauerkraut will kill the Corona virus. Another completely untruth and unproven by science theory. Sauerkraut and fermented foods can be delicious and part of a healthy diet, but they are way too high in sodium to consume in mass quantities.
Other ministries claim prayer can kill the virus, that God will protect and a huge laundry list of other things. The lady that showers once a week, does not believe in using deodorant and rubs her body with beef tallow, Lori Alexander, makes a number of false claims about elderberry syrup kills Corona. Hmm, about that… elderberry syrup does not treat Corona virus, in fact it may make it much worse. You should not use either elderberry syrup or honey because there's a probability of a Cytokine Storm.
It's fine to take for the common cold.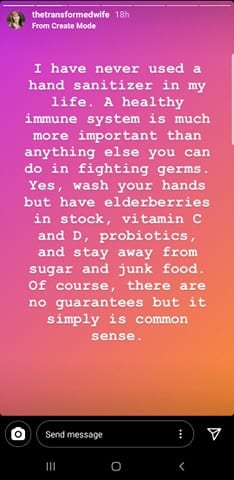 Also, people with asthma should never take elderberry syrup. Nor diabetes and other serious health conditions because it could make them worse. The thing with asthma is that it reduces the effect of asthma drugs. Plus many allergic asthmatics run the risk of a significant allergic reaction.
And Lori's words on hand sanitizers are ridiculous. Hand sanitizers are mostly rubbing alcohol, aloe jell and essential oils. No hazardous chemicals at all. Yesterday Newsweek posted a recipe to make your own, 2 to 3 cups of rubbing alcohol, a 1/3 of a cup of aloe and your favorite essential oils for scent.
Many health officials have said that in terms of germ killing that the alcohol based hand sanitizers are usually better than hand washing.
I don't mean to pick on Lori but she is one of the more vocal low level Quiverfull influencers giving out flawed medical information. The problem with her misinformation is that it could have deadly consequences in the face of this looming pandemic.
So what can you do? Typically the Costa Rican government has put in place some ineffectual rules about not hugging at church, and not passing the "Kiss of Peace" and they are screening all visitors to CR coming off the planes. It's all elbow bumps here.
The CDC has some great ideas up on their website, but I follow the same protocol I do when I have active MRSA or in the middle of a particularly intense flu season. These came about because of the recommendations of my Infectious Disease doctor.
Wash your hands, frequently and thoroughly. Find a soap you love and use it!
Use hand sanitizer frequently as you transition from place to place, or if you touch your face.
Only touch your face with a clean facial tissue, no bare hands.
If you are sneezing, coughing, wheezing sick stay home or if you must go out wear a mask to protect everyone else. Don't bother with the medical paper ones, use a good quality cloth mask with a hepa filter. There are still very available and inexpensive on Amazon.
Wipe down surfaces in your home, and when you go places like the supermarket basket handles with disinfecting wipes.
Some people wear nitrile gloves in the grocery store and other germy places.
Bath daily. Very important because the bacterial load on your skin can double quickly. While we want a healthy microblome we also do not want to be walking petri dishes for random bad bacteria, viruses and spores.
Keep good personal hygiene.
Stay out of crowds. Limit your exposure.
Wear only clean clothes, and keep the linen you use (washcloths, towels, sheets) clean. Add a small amount of bleach in the wash water.
Once a week use bleach (1/4 cup) or Hibiclens when you bath to kill off any unwanted bacteria.
Those last two are really more geared towards preventing MRSA, but I do not doubt they could apply here as well.
I have seen some reports that if you have Corona virus that they are having success with some of the HIV drugs, the retro virals, and that zinc tablets seem to help too. But this not well established like all the washing is. The science is still out on some things, but silver, elderberry syrup and sauerkraut is not the answer. If you run up across a new cure please make sure you consult a real health official, not someone that does not bath enough.
Stay healthy my friends…
Stay in touch! Like No Longer Quivering on Facebook:
If this is your first time visiting NLQ please read our Welcome page and our Comment Policy! Commenting here means you agree to abide by our policies but our main rule is this – Do not be a dick!
Copyright notice: If you use any content from NLQ, including any of our research or Quoting Quiverfull quotes, please give us credit and a link back to this site. All original content is owned by No Longer Quivering and Patheos.com
Read our hate mail at Jerks 4 Jesus
Check out today's NLQ News at NLQ Newspaper
Contact NLQ at SuzanneNLQ@gmail.com
Comments open below
NLQ Recommended Reading …
I Fired God by Jocelyn Zichtermann