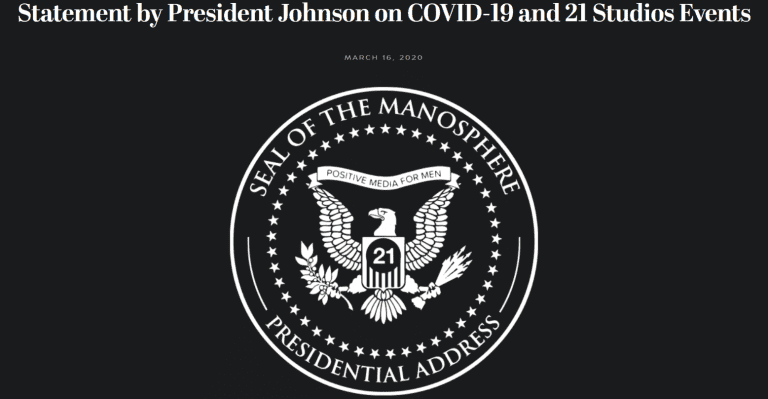 Lots to talk about today and it' s going to be loooong! Not just this fake idiotic presidential seal that is meaningless.
One thing happened yesterday in the world pandemic of COVID 19 that is positive. Not quite as positive as the fish, swans and dolphins returning to the canals of Venice, Italy, but still quite good. Anthony "Dream Beach Muscles" Johnson of that 22 Conference posited as "Make Women Great Again" had has to cancel and reschedule the conference. Moved back to October 2020. God, or something, works in mysterious ways and has a sense of humor.
In other news of the deluded and delusional evangelist Rodney Howard Brown is openly flouting legitimate medical news and proven sources to claim this is some sort of global plan to establish a New World Order. This goes well beyond guys like Pat Robertson pushing sauerkraut and Jim Bakker's useless silver solution. Here's what he's actually saying:
"20 percent of the world's population will be infected. People's mobility will be blocked, airports will be closed. Sports events will be canceled, shops closed, theaters closed, churches astounded. A pandemic will produce shortages, including disinfectants and toilet paper. If people refuse the vaccine, they will not be allowed to travel. Political assemblies will be illegal, public protests will be banned. Martial law will be introduced and the new global control system will come into effect. People around the world will be open to sharing their security rights. "
There are even large crowds of Evangelicals convinced this is some sort of scheme following his fetid fantasies and further promoting the idea of ignoring CDC recommendations. Like this one called "Prophets For Trump"
Right now all those "Godly Prophets" are flipping out over the idea that many prisons are preparing to do an inmate release of many of the non violent offenders in our prisons. Prisons that are even less well prepared for an epidemic behind their walls than the general public. I don't see why they are so afraid considering prison and justice reform is a bipartisan issue agreed upon by both Democrats and Republicans. Those incarcerated has just as much right to a safe environment as we do, plus the prison population is filled with people serving sentences for marijuana law violations no longer even on the books in many places.
Onto today's press conference led by our president Donald J. Trump. As usual it was filled with misinterpretations, twisted facts and downright lies. I watched the entire thing, just like I have been since Trump has been forced to address the issues of this pandemic. It was a new low.
First, Trump has no earthly idea how the FDA approves new drugs. He spoke about the many years long process for new drug approvals. He claimed he has ordered the FDA to bypass all of that and approve of new drugs quickly.
Here's the thing about that. The FDA has always had the power to approve of new drugs within months instead years. Without presidential approval. For many years when a revolutionary new drug comes along, like those biologics I have been on, if it is a drug of last choice, meaning most people don't need it but a few have run out of options, it's sped through approval. I was on a immuniosuppressant DNA recombiant drug for over 12 years that was rushed through the FDA approval process in months, not years. That drug is now black boxed by the FDA because it was discovered after approval that there is a risk for death from it. If the benefit outweighs the risk the FDA can move quickly on drug approval, and allow side effects investigations later.
Two of the medications that Trump kept stumbling over the names that show promise already have FDA approval for other conditions, meaning you might likely be able to get a physician to prescribe an off label compassionate usage for you now. One of my prescriptions is an off label use that works well for me. That's good news because it speeds up the possibility of being widely prescribed very quickly.
Some of the drugs being looked at to aid killing the pandemic are:
Remdesivir

– an antiviral that has shown real promise in clinical trials and may be soon available under compassionate new investigation drug trail.

Chloroquine/hydroxychloroquine – already available as an anti malarial and is showing strong promise in Chinese trials.

Lopinavir-ritonavir

a protease inhibitor being used successfully in HIV patients.

Tocilizumab

– Trials ongoing in China right now. I don't have much information on it but the ending of the name "mab" tells me this is likely a DNA recombiant drug, a biologic.
And now we must talk about masks. Why? Because it's going around the Fundamentalist and Evangelical world that the way to stay safe is to wear a mask. To the point where women trying to be uber-housewives and cultural influencers are posting directions for making masks online and making a number of false claims.
Remember, the CDC has stated that only health care workers and those sick, or with chronic medical conditions need masks. The standard medical mask and the one posted above are standard "Splatter" masks. They only protect you for being splattered in the face by someone else sneeze or cough. Or if you are ill from spreading your own germs. It's a poor defense for most people.
Even the cloth professional mask only offer a limited protection. If you are going to invest in a mask make sure it's a multi layer one with tightly woven medical grade fabric and a filter that can be changed out. The mask must be washable. This is the kind of mask I use routinely for avoiding asthma triggers like smoke or strong chemicals. It is imperfect, but it's better than a paper or one layer cloth mask.
The problem with masks is the same one with nitrile gloves. To be truly 100% effective they must be less porous than an atom can pass through. The gloves and masks are far more porous than that. An atom can be 0.5 to one angstroms. This virus is 5 angstroms. You can inhale a 5 angstrom particle right down into your lung oh so easily and not know it, masked or not.
Viruses are just DNA with a protein coat that hijack your body's cells to produce virus. They are tiny.
On the flip side a physician friend of mine says that taking Mucinex helps because it has properties that keep those nasty angstroms from sticking in your lungs. But I am seeing no evidence supporting that. It does thin your lung secretions which is good in the case of this disease.
Stay well and keep away from others if you can.
Stay in touch! Like No Longer Quivering on Facebook:
If this is your first time visiting NLQ please read our Welcome page and our Comment Policy! Commenting here means you agree to abide by our policies but our main rule is this – Do not be a dick!
Copyright notice: If you use any content from NLQ, including any of our research or Quoting Quiverfull quotes, please give us credit and a link back to this site. All original content is owned by No Longer Quivering and Patheos.com
Read our hate mail at Jerks 4 Jesus
Check out today's NLQ News at NLQ Newspaper
Contact NLQ at SuzanneNLQ@gmail.com
Comments open below
NLQ Recommended Reading …
I Fired God by Jocelyn Zichtermann