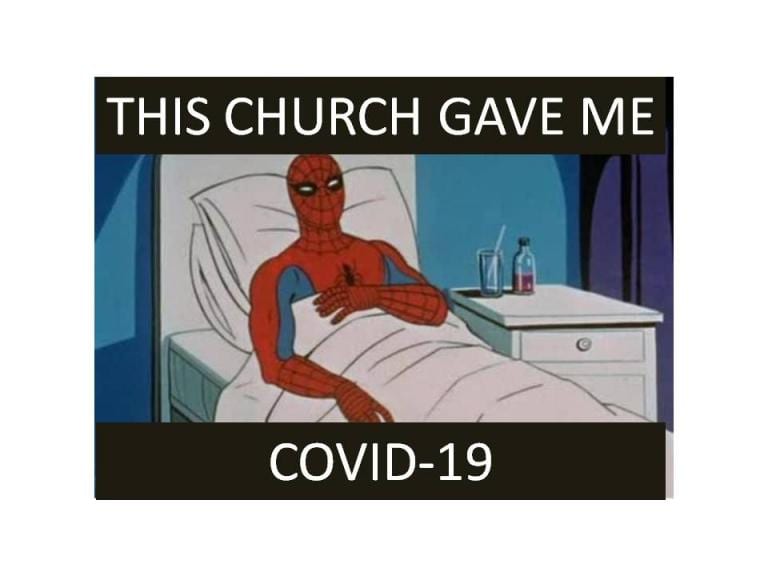 I hardly know where to start. I watched the official U.S. government press briefing last night and could not believe the level of falsehoods spilled from President Trump's lips over drug options. Last night he rattled on about hydroxychloroquine making all sorts of claims. Jaw dropping claims that are completely false. Mostly about the effectiveness and safety of the drug. It's not appropriate for everyone, there are side effects, and no one really knows if it will help. Testing trials are ongoing.
It is incredibly irresponsible for President Trump to peddle it as the cure to Coronavirus at this early stage, but he went all in. I thought the commentators last night on CNN were going to have heart attacks over this. The response from the media was swift and brutal, as it should have been. Now we'll have people trying to take it, and have some of the deaths that India has had from people taking large doses.
But the most worrisome thing is that Trump said that if you take the hydroycholorquine before you contract the Coronavirus you will be protected! There is literally not one speck of information out there that supports this!
For doctors, nurses and first responders, Trump suggested the drugs could be taken as a preventative. "They say taking it before the fact is good, but what do you have to lose?"

Experts do not suggest taking hydroxychloroquine as a preventive for Covid-19 because there is no evidence yet to suggest it protects against contracting the virus.

"They say take it," said Trump, without citing any experts or sources. "I'm not looking at it one way or the other, but we want to get out of this. If it does work, it would be a shame if we didn't do it early. But we have some very good signs."
More reasons why Trump needs to be decisively defeated in November. He openly spewed the kinds of lies that get people killed on top of his complete botching and mishandling the crisis. Turns out there is significant discord behind the scenes within his own administration over this drug as well. Please, someone stop allowing him to speak at these COVID 19 press conferences. He's just muddying the information waters with what he calls "Fake news."
And then we move on to news in the Evangelical and Quiverfull world. Pat Robertson also needs to step down. This is what he said about the origins of the virus: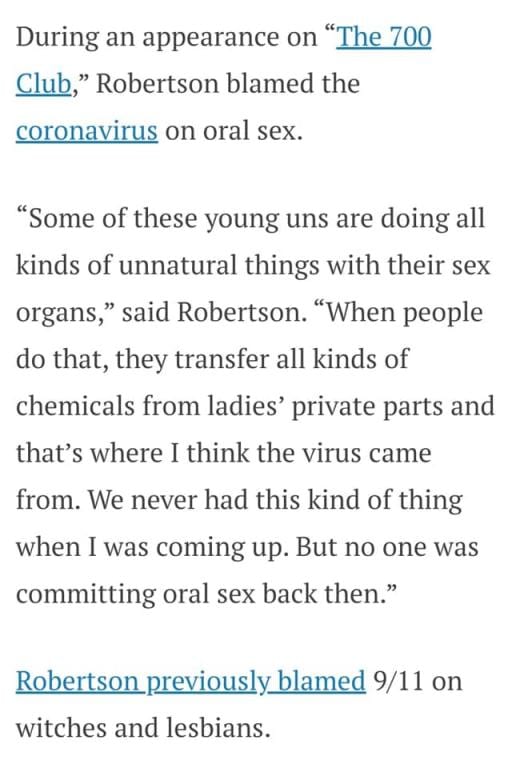 Oh Pat! I have news for him. History shows that oral sex has been happening for thousands of years. This is also not how you get it. I'm just surprised he's not blaming his favorite punching bag – the gay population.
Kenneth Copeland had an unusual response. This:
Well, that was decidedly weird!
And then there was this. Social undistancing Christians praying at the hospital for the staff. Mixed feelings here about what they are doing. From Facebook.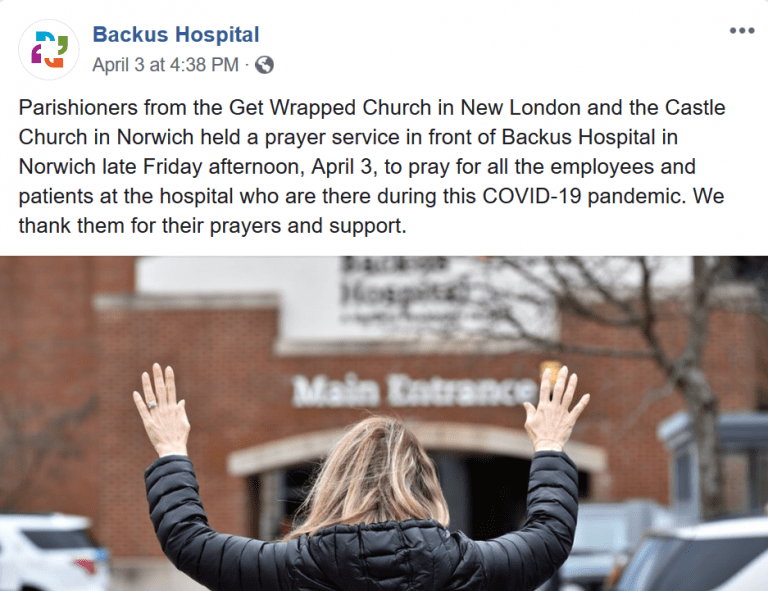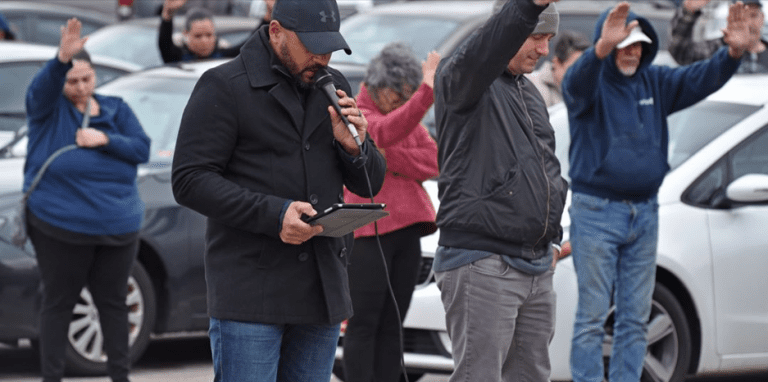 But at least Rodney Howard Browne didn't expose anyone by holding services in Tampa, Florida yesterday. It turns out that Browne cancelled services only because he lost his insurance on the church.
Now, on to Larry Solomon of Biblical Gender Roles. Larry must be incredibly bored, or not working because he's put up an entire series on his site about what men owe their wives. It's the special brand of toxic only Larry provides:
Teaching your wife:
"You should also be looking to apply God's Word for your wife in to things she reads in books or things she sees on television."
In other words in Larry-world everything is literally forced upon a woman through the cracked and warped lens of the man. Wonder what Larry considers proper tv, certainly not "Law & Order: SVU" or "Tiger King"?
Listening to your wife:
"And sometimes after a husband listens to his wife, he may need to correct her thinking, just as God corrects our thinking through the Holy Spirit and through his Word."
I have to give Larry a tiny bit of credit. He follows this by saying if you will not listen to your wife, then God will not listen to you. But this all just leads back to punishment and control again.
Disciplining your wife:
"The humanist invention of the "adult" social class is a perversion and attempt to give women the same rights, responsibilities and privileges as men, something God never did."
He links to that awful piece he wrote years ago about doing things like taking away all money, trips and purchases from your wife to assure compliance and for punishment purposes. He's really going into crazy extra Biblical territory here.
Skipping another long, l-o-n-g piece on God not hearing the prayers of men if they do not listen to their wives. Lather, rinse, repeat ad infinitum.
Washing your dirty wives? Oh my! LOL…
"When a woman speaks disrespectfully to her husband or does not show proper deference her husband, that is her acting in a dirty way toward her husband. When a wife refuses to submit any part of her life to her husband's spiritual leadership that is her acting in a dirty way. Sometimes it may not be her actions, but it may in fact be her attitudes and beliefs that are dirty."
In other words anything that does not indicate he is King Turd up on Crap Mountain is sin. No having differing views.
"You could liken this to how you might wash your car. You look over that car and make sure every dirt spot and blemish are gone and that it shines so good you can see your reflection in it. It is the same idea with your wife spiritually. After you wash her, her views and behaviors should be a reflection of the things you have taught her from God's Word."
Larry never comes out and says it, but this stupid washing metaphor of just another version of his ideas on discipline, as if wives are small naughty" children.
"The washing of your wife requires a combination of knowing her, listening to her, teaching her, correcting her and yes disciplining her. The washing of your wife will sometimes require great sacrifice on your part as the washing of his wife required great sacrifice on the part of Christ. Sometimes it means temporarily sacrificing the peace in your home to rebuke your wife. It might mean sacrificing time you might have spent doing things that were more enjoyable. But it is a sacrifice that is necessary on the part of every Christian husband."
More punishment of grown adults. This is abuse yet again. Are you surprised?
Praise your wife, but only for cooking and sex:
"The Bible is not talking about men praising women as the world would have us do today. It is not about praising women for accomplishments outside the home in places God never meant them to be in. It is not about praising women for acting like men."
I have to wonder if this is all knee jerk reaction to the fact that he is living in Michigan and Michigan is a state rules by a white Democrat woman governor Gretchen Whitmer. I am sure that factoid, and her taking charge during the Covid 19 epidemic just chaps his rear end.
Stay in touch! Like No Longer Quivering on Facebook:
If this is your first time visiting NLQ please read our Welcome page and our Comment Policy! Commenting here means you agree to abide by our policies but our main rule is this – Do not be a dick!
Copyright notice: If you use any content from NLQ, including any of our research or Quoting Quiverfull quotes, please give us credit and a link back to this site. All original content is owned by No Longer Quivering and Patheos.com
Read our hate mail at Jerks 4 Jesus
Check out today's NLQ News at NLQ Newspaper
Contact NLQ at Suzanne.calulu@gmail.com
Comments open below
NLQ Recommended Reading …
I Fired God by Jocelyn Zichtermann